"I saw the angel in the marble and carved until I set him free." Michelangelo Buonarroti
It's virtually impossible to get through life without having to contend with adversity, difficulties, inconvenience, pain, obstacles and hardships. We are all on a journey, and it can be tough, full of ups and downs.
But it's how we allow these adversities to affect us, and whether we choose to give up or fight on, whether we become acrimonious or empathetic, that potentially shapes the very outcome of our life.
"Show me someone who has done something worthwhile, and I'll show you someone who has overcome adversity." Lou Holtz.
We develop through adversity. By adversity I don't just mean an unfortunate event or incident, I'm referring more to a state, condition, or instance of serious or continued difficulties and hardships. Adversity can cause a state of great suffering and distress, if we let it. Alternatively it can be used to improve and change us.
Of course when adversity strikes, it's tough to stay strong, dealing with everything that it throws at us. But how worse off would we be if we just surrendered to it.
In dealing with adversity we find our inner strength, the power that comes from inside ourselves giving us the ability to withstand adverse situations.
This inner strength demonstrates itself most intensely in our hour of need giving us the ability, the energy, and the power to take on our problems head on, to find our solutions no matter how difficult and come out the other end having successfully seen things through.
No matter how many adversities come your way, how difficult each may be as your inner strength stands firm you are able to resolve the problems never being beaten down.
You experience personal growth from the learning experience you receive from each adversity you meet. Never underestimate the power of adversity to shape us inwardly. Courage, discipline and perseverance flourish when you are tested.
Many moons ago I would see problems in such a negative light. They had the power over me to bring me crumbling down, to make me feel weak, negative, feelings would resonate through me and carry on into everything I did. So I can promise you how empowering it is when you have a complete transformation in your inner thoughts, when instead you look at the problems that come your way as an opportunity, even as a gift offering you the chance to grow, to develop as a person.
That is why I so love the mythical bird that would burn itself to death and remerge from the ashes with a new powerful life. We use the saying "rise like a phoenix from the ashes" to describe the human ability to overcome an apparently insurmountable setbacks and adversities.
You see life is shaped by all the experiences you go through. I wouldn't trade my experiences or change my journey at all. It's what has gotten me to where I am and helped shape me into the person I am today. You've heard the saying that each time you find yourself knocked to the floor just pick yourself up. No matter how hard things are, no matter how it may hurt, in order for us to grow and become stronger within ourselves, we must always pick ourselves up and get back in the race.
When everything is going well, we sail through life. At these times we don't experience a lot of stress we don't have to be at our best. But when adversity comes we begin to draw upon each and every resource that we have in order to support us in our battles. This keeps us sharp and in reality at our best.
Our lives are shaped by how we react. Difficulty and struggle are facts of life. But how do we react when difficulties comes? How do we manage when troubles strike? Do we become disheartened, or do we pick ourselves up and battle through?
Difficult as this maybe, when things aren't going our way, instead of slipping into feeling sorry for ourselves, we should ask, "What are we suppose to learn here? With this type of thinking it can help you to succeed in every area of your life and achieve your dreams. Look I know how difficult this is going to be for you to do. At first thought these things make no sense, there's no justification in them, nothing good can be seen that will come out of it. But keep thinking, find the meaning, search for something positive that you can take out, because there will be something.
No one dreams of going through a trial in their life; yet, we know that hard times and occasionally, nightmares, are a part of a person's journey. Be ready for them, and know you will come through the other side, having learned from the experience and having developed as a person.
Every contact we have with adversity gives us again the opportunity to grow and to forge our character into one that will achieve much later on.
Score Your Way To Good Health - With Our Healthy Lifestyle Plan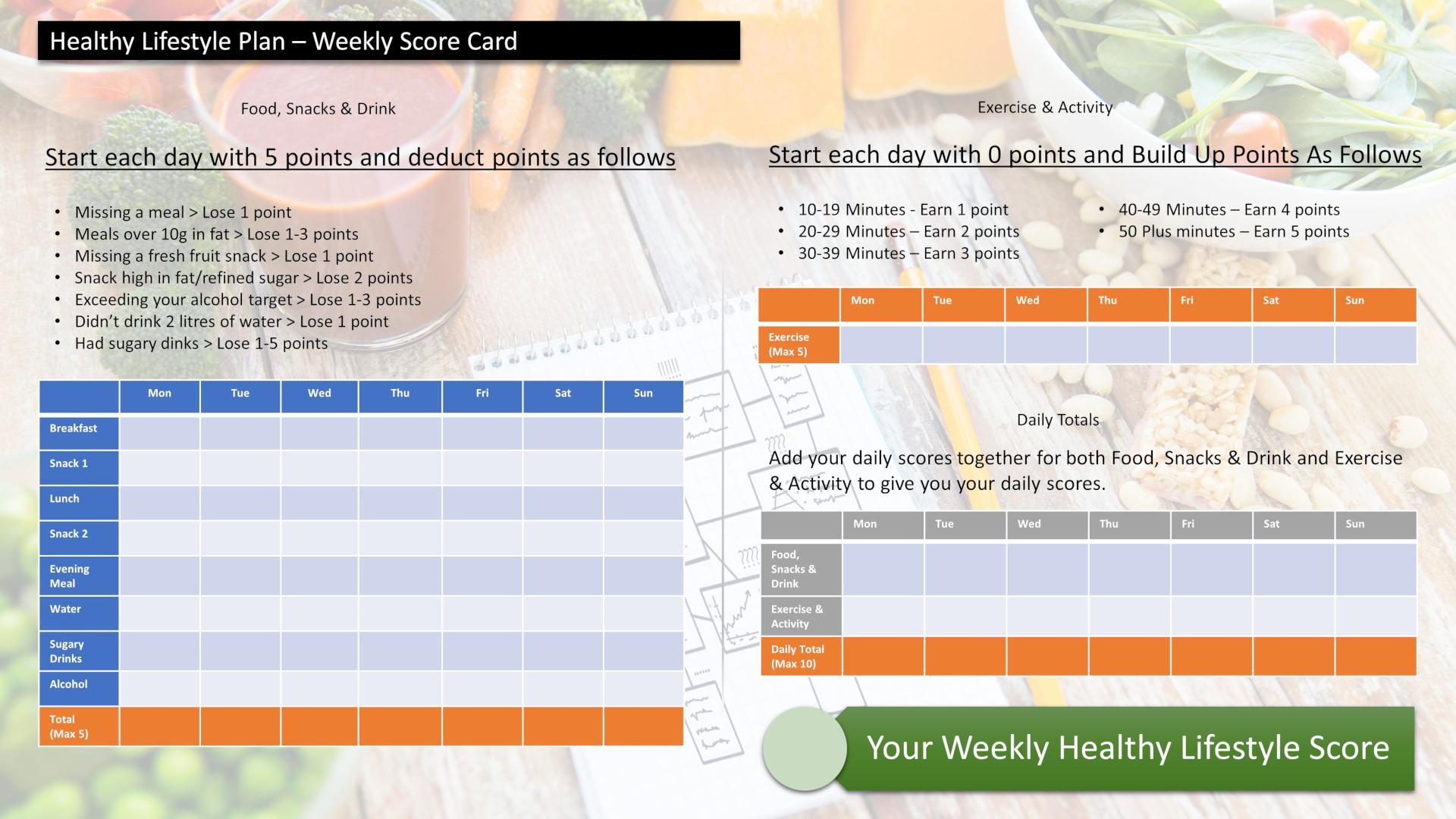 Score your way to good health with our healthy lifestyle plan and it's unique 70 point weekly scorecard!