It's unbelievable how much time you are spending looking backwards. You are angry with others because of what they did to you or perhaps it's what they didn't do for you. There are things you did in the past that you now regret, as well as things you didn't do, that you now wish you had.
At times it may be helpful for you to momentarily look back at the good times you experienced, but it's damaging to dwell on those bad memories and situations. As you can't change what's gone, what has happened has happened, focusing on the past merely leaves you in a constant state of victimhood and gloom.
To find contentment in your life today, you need to stop living in the past, give up your victimhood, and move on in your life, accepting the past is past, and leaving it where it belongs, behind you.
"When one door closes another door opens; but we so often look so long and so regretfully upon the closed door, that we do not see the ones which open for us." Alexander Graham Bell
We don't have a rewind button for life. There's no deleting what has happened. But holding on to your anger or regret over your own actions turns into an obstacle to you leading a complete, happy life. This achieves nothing apart from gluing your anger and regret in place, ensuring that the burden will weigh on you forever. You are letting yourself to live and dwell on the past, retaining all the pain. Over and over you relive it all.
The best advice I can give you is to stop living in the past and embrace the image of yourself as an empowered individual. Once you stop trying to change your past and instead allow yourself to let it go, you'll find the past no longer has control over you.
Let yourself understand that life is full of possibilities and opportunities. Start seeing the positivity in your future. Use the desire to move on from your negative past as the motivation to create a wonderful life for yourself from now on.
You can't change what has happened, so stop wasting time and energy on it. The future is yet unwritten, and it is within your power to forge a fantastic life for yourself.
Forgiving allows you to put the past behind you. It lets you stop being a victim. Forgiveness is empowering. You just have to let it go, because holding on to the anger brings you absolutely no reward or benefit. It contributes nothing to your life. You have a choice let the past remain inside of you gnawing away at you, or release it and set yourself free. You can hold on to your anger and regret or you can let it go.
"You build on failure. You use it as a stepping stone. Close the door on the past. You don't try to forget the mistakes, but you don't dwell on it. You don't let it have any of your energy, or any of your time, or any of your space". Johnny Cash
When you have spent years looking back and holding on to the distress from your past, it just makes sense, surely, to now let things go. Resolve today to allow yourself to get past your past, and to now set your thoughts constants on today and on your future.
Letting go is one of the most difficult lessons in life, but we have to learn to let go. We have to let go of situations, things, memories, people and our mistakes. Until you do, you simply can't move forward.
"When I let go of what I am, I become what I might be." Lao Tzu
Score Your Way To Good Health - With Our Healthy Lifestyle Plan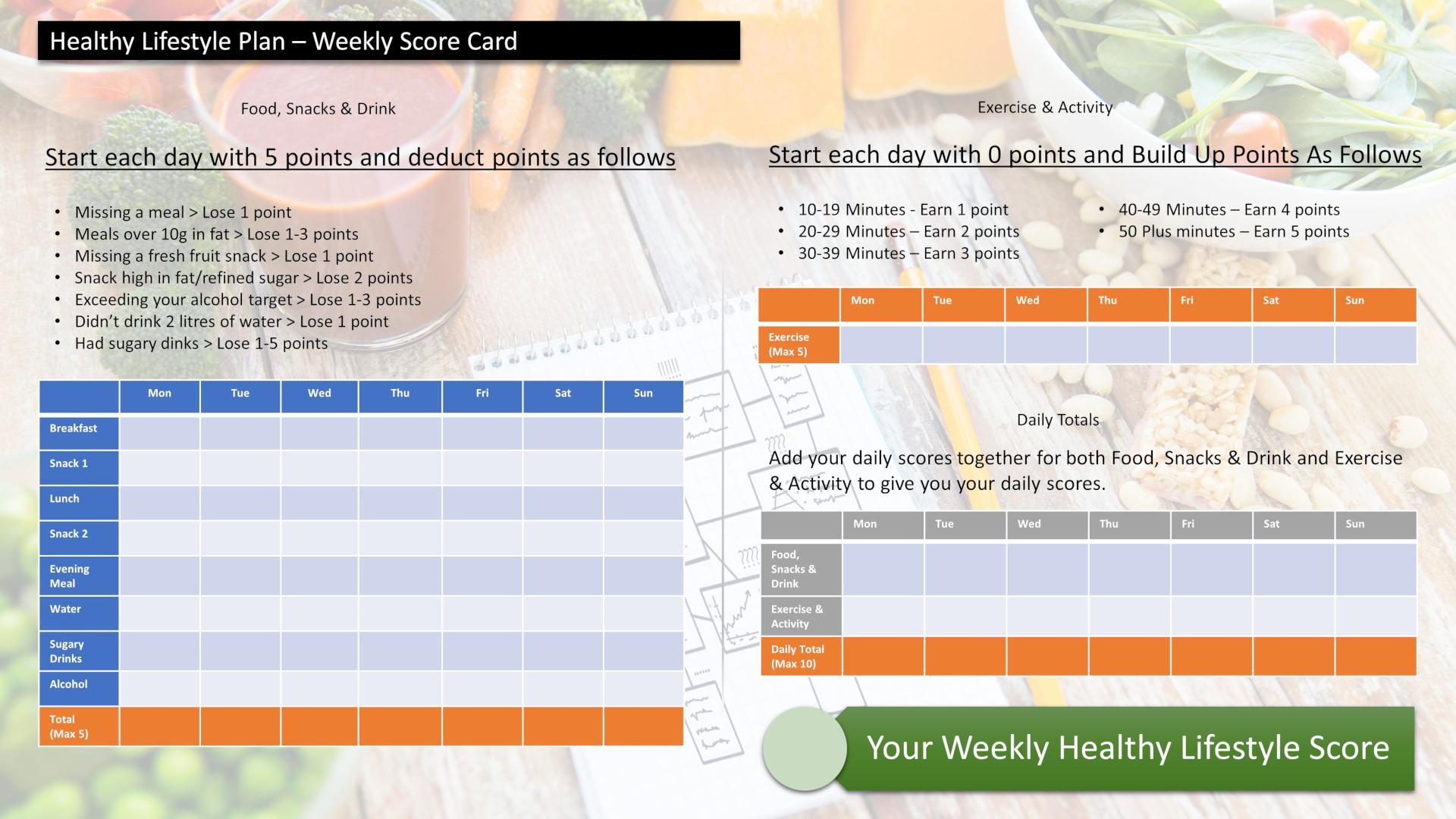 Score your way to good health with our healthy lifestyle plan and it's unique 70 point weekly scorecard!