Time never stops, tick tock, another second goes by, before you know it a minute will be gone, then an hour, a day, a week, a month. Nothing you do can slow it down. You can't get it back, and you can't make extra time. We all get 24 hours a day, that is it, no more.
My question is do you use time to its best. This is not an article about time management. But maybe it is. Yet I'm not looking at how you organise your day, nor am I considering writing about a daily schedule with all the roles and responsibilities you have to break down into the necessary actions you have to take on a daily basis. To me this is allowing time to be the most important thing we have. It becomes your controller. You then try to get as much done in the time you have and that becomes your priority.
I don't believe it is. I believe time is only important when it's gone. When we have no time left. You know that day when all your loved ones gather together with friends to wish you farewell as you're lowered into the ground.
I feel it in my heart and soul that we need to make the greatest use of our time while we can. My mum, who now has departed, lost many years of her life to that dreadful thing called dementia. Too many of her last years were lost in the grips of this illness, and to honour her I want to make sure that not only I, but the lives I touch, go on to ensure they spend their time wisely, doing something significant. Most people want to do great things with their life. Your inner soul is crying out to do something significant. Too often you ignore this yearning and allow life to just be, dare I say it, insignificant.
Have you ever felt like you have been wasting time away? Have you ever got to the end of the day, or maybe even a week, thinking about how little you've either done or achieved.
It's time to do something significant, so you leave a truly important mark with the time you've spent here. To build a significant life you have to discover meaning and purpose.
Every person has a longing to be significant; to make a contribution; to be a part of something noble and purposeful. John C. Maxwell
I genuinely believe that when you do something important that you love and know has significance, you in return appreciate your life and the wonderful journey you're on.
You're happiest while you're making the greatest contribution. Robert F. Kennedy
You were born to do something wonderful with your life. There has never been and never will be anyone just like you. You are unique. Your special combination of talents, abilities, emotions, ideas, attitudes, and philosophy makes you distinct from all other beings who will ever live. You have a major role to play in your lifetime, it may not have surfaced yet but it sure will if you keep looking for it.
One of the most important questions you can ever ask and answer is this: "What kind of difference do I want to make with my life?"
In leaving a legacy and making a difference with your life you have to connect with something that means a lot to you. So start thinking, where is this meant to be taking you?
What is your passion? What problems or needs in society do you really care about? What do you find yourself naturally attracted to and interested in? What sort of issues do you find yourself discussing, arguing, and debating? Where is it you are meant to be helping?
Time is ticking, now start to live a significant life.
Score Your Way To Good Health - With Our Healthy Lifestyle Plan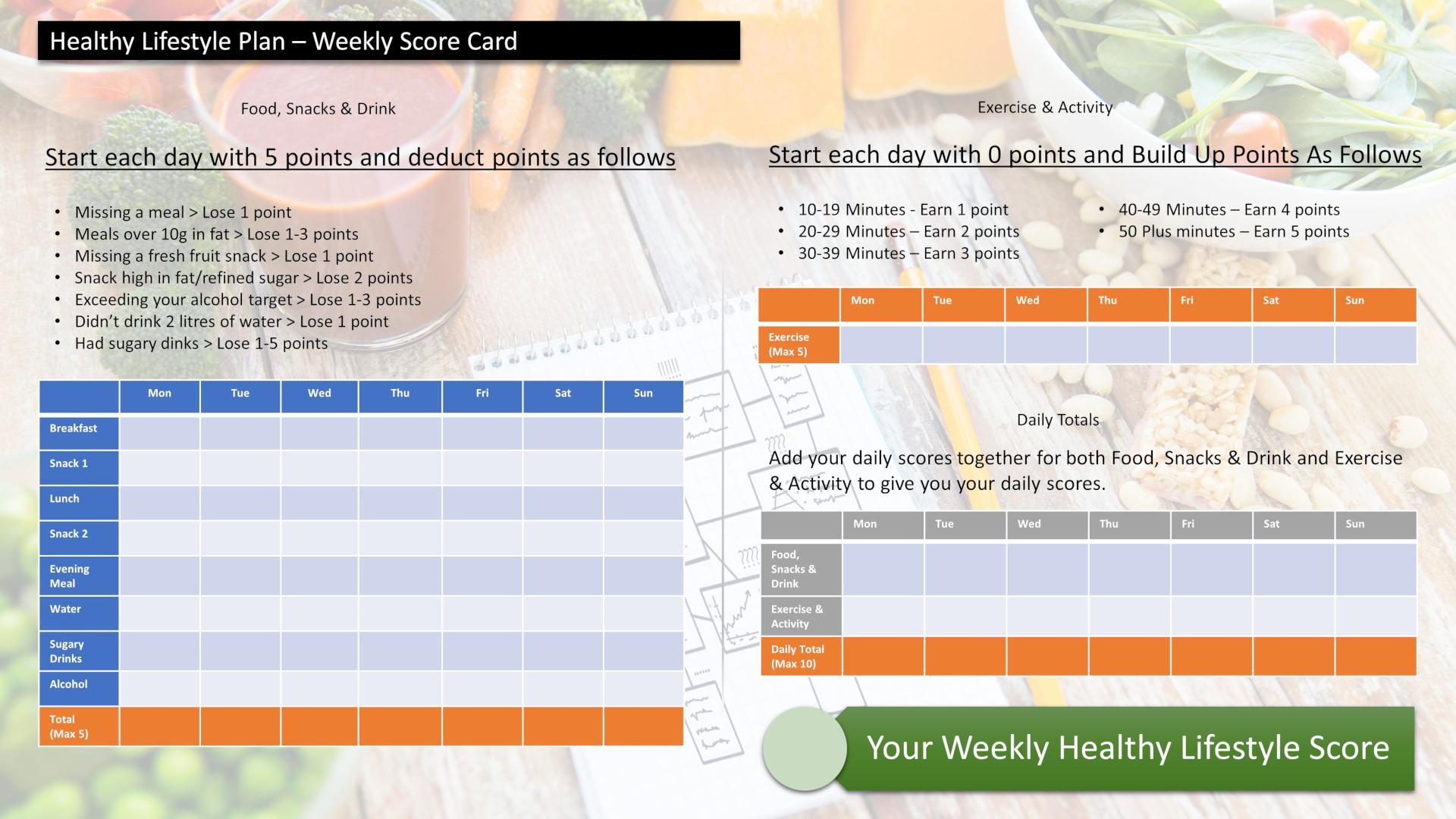 Score your way to good health with our healthy lifestyle plan and it's unique 70 point weekly scorecard!