Your life happens now, today, and is not a dress rehearsal for when you have achieved all those dreams and ambitions of yours.
Living the life you want now invigorates and strengthens you. It gives you a sense of wellbeing, and happiness. Living your life now makes you 'alive'. This is your life, your only life, so make the most of it right now.
"I think, therefore I am" said the French philosopher Descartes, but most people are thinking in a chaotic and unstructured way.
Too many people put too much focus on to their future and forget about enjoying their life day by day, that they end up unhappy, dissatisfied and looking for meaning in their lives. They have given up having a satisfying life and bury themselves in work and business.
They stop living excusing themselves by just saying they're postponing it until "I'm rich enough," "When I've made it." They shut off living, but when things aren't working out as fast as they want, or as well as they expected they say things like "is this all there is?" or "is this as good as it gets?"
They make so many sacrifices in the name of 'success', punishing themselves with excessively demanding working hour, rarely taking breaks, criticising themselves for not doing enough, always pushing themselves to do more, yet denying themselves by not allowing themselves to enjoy any form of fun or relaxation. The harder they push and the more relentlessly they pursue success, the worse they feel.
You need to realise that the harder you drive yourself, the more you demand of yourself does not necessarily create the results you want in your life. Eventually you will wear out out, have less energy, and therefore lose your efficiency. You will burn out your physical and mental capabilities. By constantly pushing yourself you end up stressed. Worse still you are not giving yourself time to life and you are sacrificing your feeling of well being.
You can slow down and things will still get done. Take time throughout each day to attend to your needs, your health, your relationships and your personal interests. Tending to your life in this way does not waste time. It's not a delay, and there really is nothing better to do. Work will still be there tomorrow.
Be powered by life itself, in all its parts. Let it energise you and allow yourself to enjoy your life as it is right now. Your life will improve and you will feel better. Take the time to tend for yourself. The magic of life will return and you will be powered with more energy throughout the day, more mental agility to be proficient and successful, and more time to build strong relationships and enjoy the things that are fun and interesting to you, as well as your career and life goals.
Put yourself first instead of the tasks and things on your to-do list.
Score Your Way To Good Health - With Our Healthy Lifestyle Plan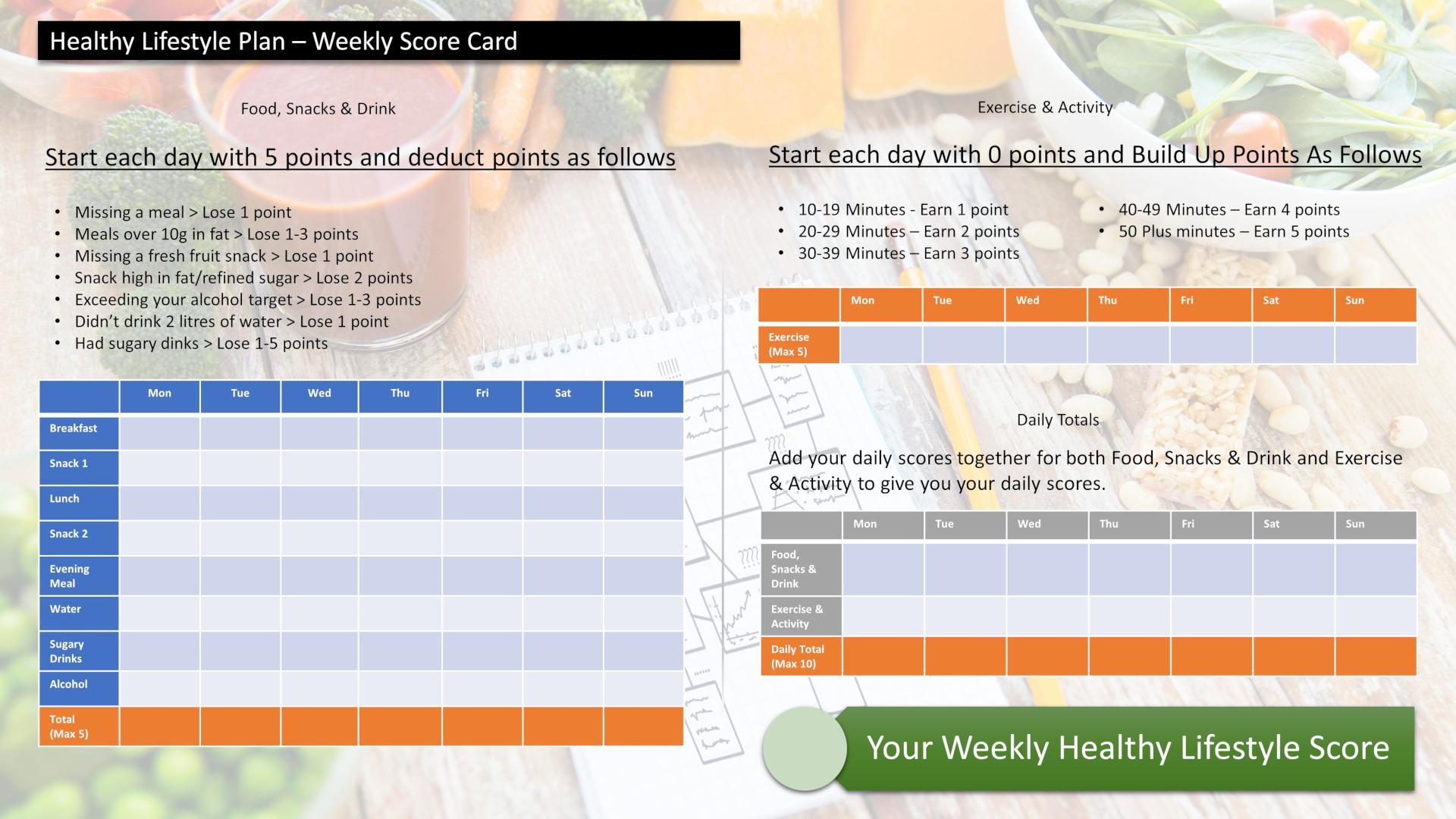 Score your way to good health with our healthy lifestyle plan and it's unique 70 point weekly scorecard!