The Power Of Passion Course How will it make a difference?
Are you there? Now you are probably wondering what all the commotion is? The Power of Passion Course is virtually ready to be launched. Just another course you say. Yes there are many courses out there all asking for your credit card and then still leaving you to figure out how to put all the pieces together. So this Power of Passion Course How will it make a difference for me?
I'll tell you a story and hopefully demonstrate to you the possibilities of The Power Of Passion Course.
About a year ago I was busily chatting on face book when a young man by the name of James Oncys befriended me. His profile picture was pretty smart and he looked very intelligent. It looked like his family were doing pretty well for themselves. He was standing on a long staircase in a mansion. So I had no hesitation to add him as a friend.
First impressions lie.
It turns out that first impressions can lie. James told me about his country Haiti and how poor it was and that there were no jobs. He continued to pour out his heart and told me that after the earthquake rocked the country and flattened most of the shelters to rubble people were starving. Now it wasn't long before James became comfortable enough to ask for some money. I politely told him that I would not just give him money, I would however find a way to get him to provide a service so he could earn the money. Of course James was eager to please and do anything possible to help his starving family. Ohh you may be wandering about his house, the mansion that I spoke about. So was I . I found out later that the mansion belonged to a rich English woman and that James' family were cleaning it and looking after it for her.
James The Translator
I visited James' profile and and noticed that he was able to translate information into French. In fact he was a qualified interpreter. It just so turned out that I needed some information to be translated into French. Of course I was very sceptical at first, however I proceeded to employ James' services as a translator. I saw this as a way of getting my translation done and also helping James' plight to feed his family. The next few weeks saw us going back and forth with information and proof reading to make sure it was satisfactory. To cut a long story short. James delivered with an excellent piece of work. So I had no hesitation about sending him his pay for the work he had submitted.
James shows gratitude.
The relationship we had formed strengthened and solidified when James sent me this message in face book.
James face book message of gratitude.
mom bought some food with the money
Rice $10
Oil $5
6 Spaghetti $11
Pears $7
Water $8
Sugar $6
and Mom Take the rest to give at church because she says that when you receive from someone you have to give 5 percent at church in that you receive
this is what Mom doing with the money
and we have food for 10 days
thanks so much
When I received this message I knew that my instincts had been correct and that started an incredible journey for both of us. James continued on doing work for me and eventually bought himself a lap top and commenced a scholarship course to develop his knowledge on how to use it.
Sorry, I have digressed but I had to paint the picture for you. Here we have a young man with drive and ambition. Yet at this point in time he is living four hundred miles from his family as he has been quarantined so that his family don't catch tuberculosis from him. Somehow he manages to use his laptop to communicate with me through face book?
The Power Of Passion Course How will it make a difference in James' Life?
James Ocnys has already demonstrated a resolve and a passion to change his life. How can he do it now that the eyes of the world are no longer focussed on the tiny island nation of Haiti. Now that all the aid and the media scrutiny has disappeared. How can James turn his passion of being a diplomat and make a difference for his people play out? Will it be just a dream or will his determination to succeed win out?
The Power of Passion course will guide and mentor James to further ignite that passion into a red hot burning desire. This will become his drive and persistence to never give up until he achieves his goal.
The Power of Passion course will direct and fan the flames of his burning desire towards obtaining the skills he needs to achieve his goals.
How is all this possible you ask? Well James has initiated a chain of events to make it possible. His reaching out and befriending me on facebook has led him to The Power Of Passion Course. Ok I am not shirking the issue here.
The how you achieve it is by having a guide and a mentor help you realise your brilliance. Read Larry Lewis article on you were born to be brilliant. Once you have the mindset that you want to discover this brilliance within you. Larry and the team will inspire you motivate you and provide you with ongoing tasks, to achieve your thirst to find your own brilliance. And you too can be brilliant beyond your wildest imagination.
Yes it is personal development of the highest quality and might I add for free.
The process of discovering your brilliance doesn't happen overnight.
It is a process and will be treated as such. You will be free to ask all the questions you need to ask. You will have a plethora of free resources at your disposal. All this ongoing personal growth will culminate with a weekly webinar to touch base and provide your next work assignment.
Please remember that time factor is totally dependent upon your entry point and where you find yourself on the road to discovering your brilliance through your passion.
I am not sure where you fit in here , some people have little baggage to throw away and shine whilst most have decades of built up baggage to overcome. If you have hit rock bottom as Larry's article states then please remember that you have found the hand you need to help you up again.
Is this making sense? The Power Of Passion Course will change your life because it will unleash your ability to identify and achieve your white hot burning desire.
What happens when you have the white hot burning desire?
Ok so now you are all charged up and buzzing with excitement and energy, so what happens next? This is the power of the course you are not just left like a shag on a rock until the fire subsides. We want to channel that energy and that new found brilliance into you making a success of your life and business.
How can you do that? My you ask a lot of questions. Look around the blog and see what's happening. Look at Mary's health corner, look at Larry Lewis's passion for making a positive difference with personal development. Look at my new found passion of shining the spotlight on dyslexia. Look at Neil's passion for the technological side of the blog. How do you think we used our brilliance to develop this amazing platform for establishing your brilliance and directing it to success?
Score Your Way To Good Health - With Our Healthy Lifestyle Plan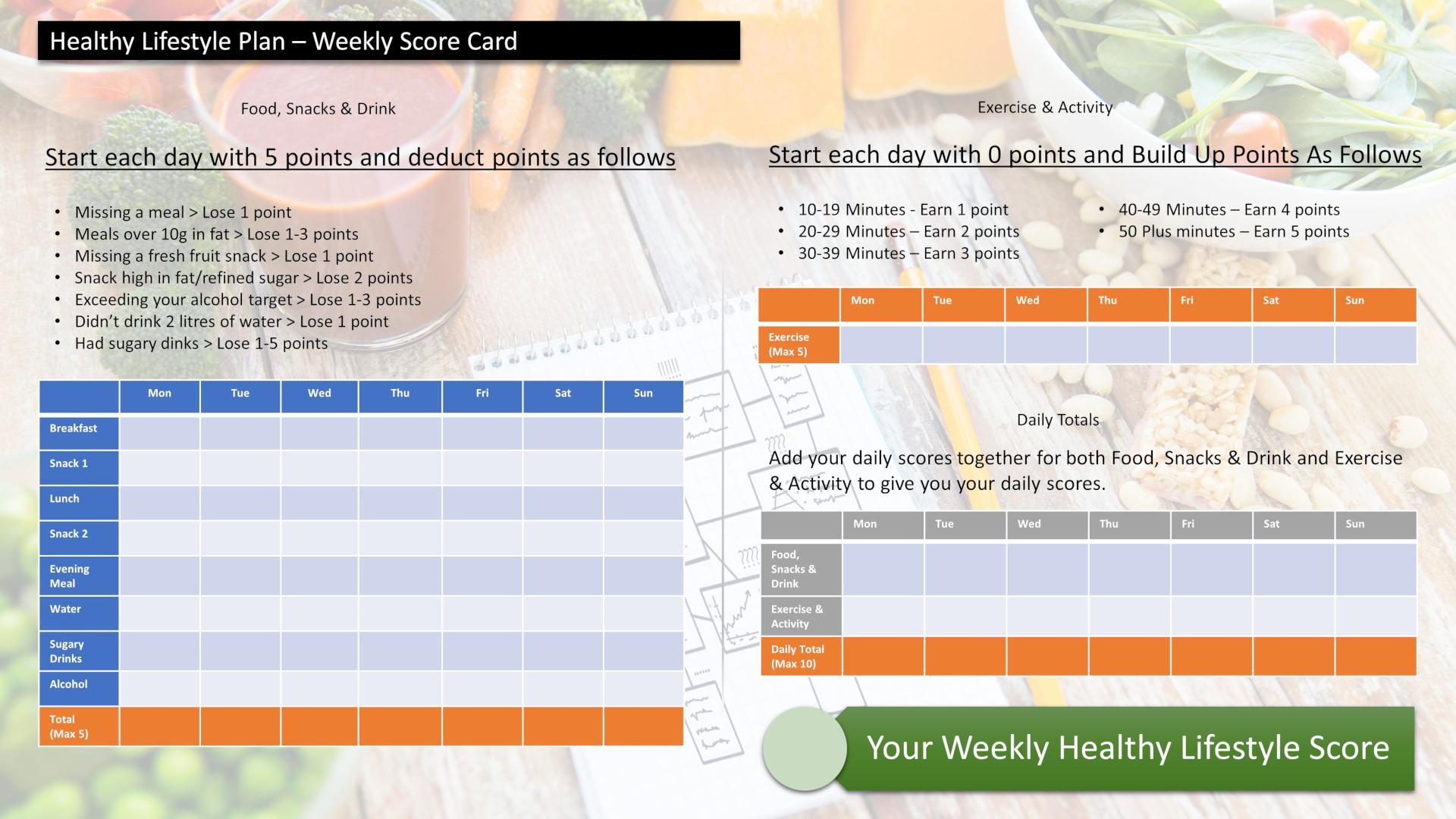 Score your way to good health with our healthy lifestyle plan and it's unique 70 point weekly scorecard!