From a very young age, the passion of sport has been inside me. One of the things I most miss living in the North East of England is being able to watch my beloved Arsenal Football Club play. This feeling is at its greatest right now as I'm sitting waiting for the kick off to our game against our local rivals Tottenham. I best get this post written before the match starts because my mood is likely to fluctuate dramatically during the 90 minutes of the game, and dependent on the result my normal positive mindset may be put on ice for a little while.
In the lead up to the match I saw an advert for sky sports. It featured Gary Neville, the ex Manchester United defender. Now he is a commentator, and a great one at that, I'll forgive him his past. But this advert sums up for me, why we fall in love with football.
"One of my earliest memories is reminding my Dad to take me to football
We come to the same café every time
To the Home Arenas Grill
When you go to your first game as a kid
Why do you fall in love with football
Those big stands
That special atmosphere
Songs that you hear on the terraces
When you walk up those steps and see the pitch for the first time
There's no other feeling like it."
I certainly am one of those that can emphasise with these words. My first memories were being taken to watch Hendon play in the Rothmans Isthmian League, a lower level near amateur tier. I was immediately hooked, and for two years we would go to watch all their home games, and many away. Then I went with a friend to Highbury, the home of Arsenal, standing in the Clock end, and I knew immediately this is where I wanted to be, cheering my number one team on, singing the songs and praying for a victory. That was it, I went from them on to every game, and did so for many years. My weekends were wonderful when Arsenal won, and dreadful when we lost. Football, and more particularly my love for my team Arsenal meant everything to me.
This adoration was recently aroused by my visit to the Emirates Stadium, Arsenal's new stadium. Rachel gave this to me as a present, and I loved looking around the stadium, learning more about the history of my club and seeing videos which brought back many memories. I certainly will be writing a blog about this one day soon.
It really isn't uncommon to feel dejected, angry and even cry when your team loses. Don't believe the saying "It's just a game after all". It's said by somebody who has no passion for sport or strong allegiances to one team. The level of devotion you feel is intense, and is great when things go well, and dreadful when they don't.
All over the world, in so many different sports, dedicated sports fans are devoted to their team. Their allegiance is unbreakable, their passion knows no bounds. Your loyalty and devotion to your team is a major part in your life. Hey I think of Arsenal every time I have a mug of tea, because I always drink it out of my Arsenal Mug.
I suppose having developed this passion for football, and in particular my team Arsenal there can be no surprise that I grew up to believe in the importance of passion and following your dreams. After all at the beginning of every seasons don't we sports fans dream of our team winning the championship or the cup.
I suppose all kids want to become famous sports men or women playing for their favourite team, but once this maybe unrealistic dream disappears it has to be replaced by something that we as individuals can strive to be the best we possibly can be at something else we love doing.
But I never lost my love for football. I didn't just love football as a spectator I also loved playing. From a young age I was at my happiest kicking a ball around, whether up against a wall or in the park with friends. I progressed to playing for my school and playing in amateur leagues into my mid 30's.
My message to every one, young and old, is that it doesn't matter what your sport is, but what is important is each of you should find a sport that you want to participate in, not only is it good for your health but it will be something you really enjoy, and be a fantastic escape from every day living.
As a footnote my beloved Arsenal alas lost to our arch rivals, but I must be getting old, because although I'm disappointed, my world doesn't feel like it has come to an end.
Score Your Way To Good Health - With Our Healthy Lifestyle Plan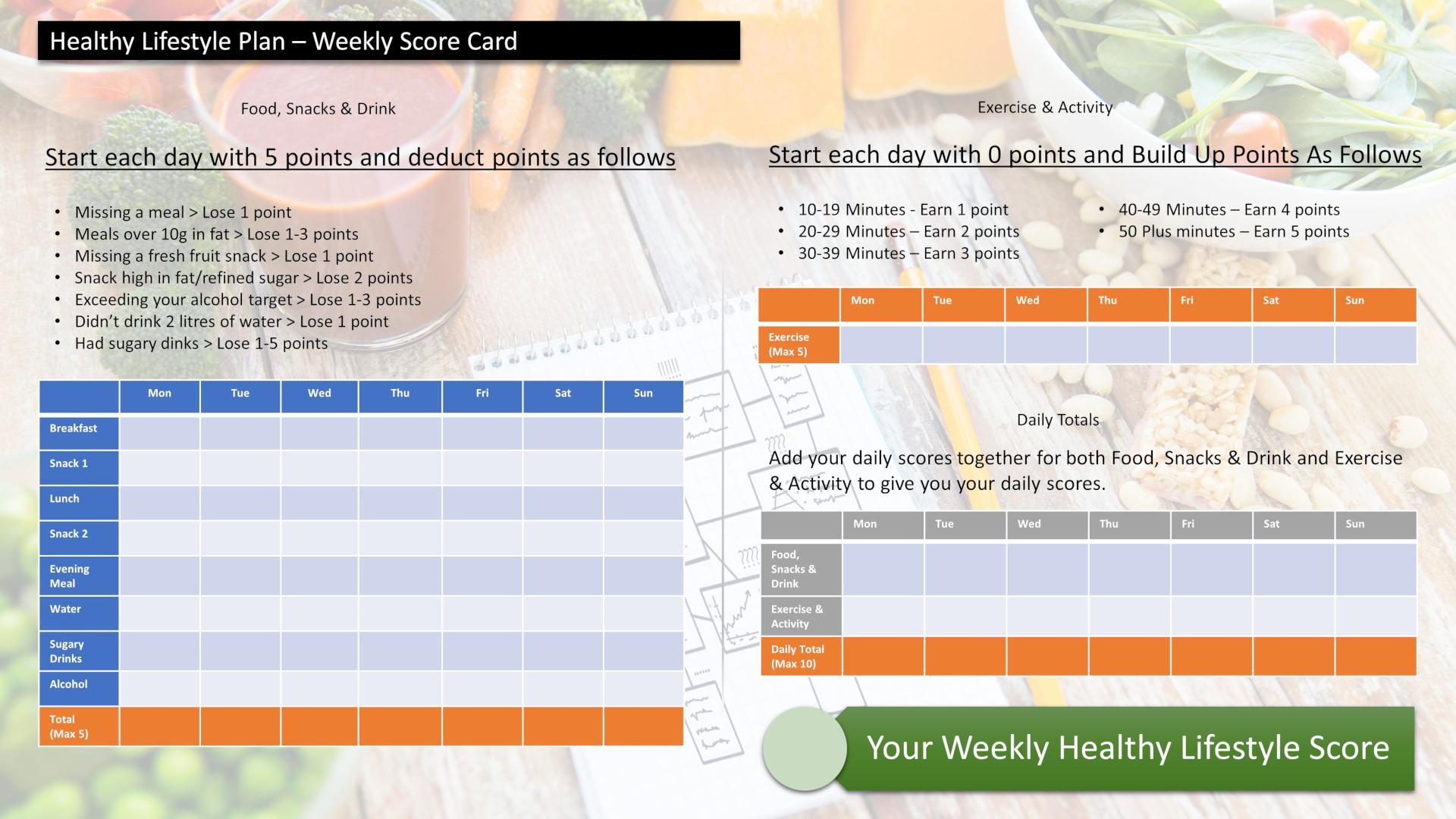 Score your way to good health with our healthy lifestyle plan and it's unique 70 point weekly scorecard!