What is success? We all have different definitions for success but I believe success is achieving goals. I am extremely goal focused orientated.
Success can be defined in relation to the achievement of our individual and material desires or wishes, the specific things we want.
I have a lot of great goals for my blog; I see it being extremely successful and nothing can stop me from achieving this. This unwavering belief gives me the strength and determination to continue.
"Be sure that, as you scramble up the ladder of success, it is leaning against the right building" Stephen Covey
How pointless it is to put so much time and energy into achieving a goal that you think you want to achieve, yet when you reach it, you find only to find that you get no satisfaction from its accomplishment. You say to yourself "Is this all there is?"
There is always a cost when trying to achieve a goal. In my field of health and fitness, you have to set yourself really high standards for how you're going to live your life and then work every day to live up to those standards. This can be so difficult, fighting so many temptations that come your way. You can not succeed without showing self-discipline, self-mastery, and self-control with regards to your diet and exercise. The end reward in my eyes for the achievement of this though makes it all worth while, because the fact is that those who follow rigidly a healthy lifestyle will live longer, and enjoy a healthier life than those who don't.
Everything you do or achieve in your life, every thought, feeling, or action, is controlled and determined by your thoughts. Everything that you accomplish in your outer world is a result of your inner thoughts.
Everyone of us creates our thoughts. Sometimes we manifest the things we desire, sometimes the things we fear; sometimes we create things into our life consciously, other times unconsciously. The key to personal success is learning the ability to set and hold a thought that is positive in its intention so as to develop your conscious desires, rather than unconscious fears.
Your responsibility to yourself is to throw off all those self limiting, negative beliefs and accept that you are capable of achieving anything you set your mind to. You can be, do, have everything you desire.
"You are engineered for greatness and designed for success" Brian Tracy.
Within us all we have the ability and power to accomplish almost any goal you set for yourself as long as you are willing to work long enough and hard enough to achieve it.
If you completely believe that you can achieve something, deny any other possibility, have 100% faith that you will reach your goal, then as long as you put the effort in to accomplishing this, you will. You have to walk, talk, and act as if nothing can stand in your way of success.
"Within every difficulty or obstacle, there is the seed of an equal or greater advantage or benefit." Napoleon Hill
Successful people look for the good in every situation. They know that it is always there. No matter how many reversals and setbacks they experience, they expect to get something good out of everything that happens to them. They believe that every setback is just a lesson you must learn on the road to achieving success, and dealing with them successfully is moving them inexorably toward achieving the great success that is inevitable for them. Nothing will stop you with this mentality from moving upwards and onwards toward achieving your goals.
Never doubt your own abilities nor fear failure. If you want something bad enough go for it. To me wanting something, yet not even bothering trying has to be far worse than failing. I read once that when you are on your death bed, you shouldn't have any regrets about the things you didn't do. So if you want something, go get it.
If I want to be a top blogger, an A-rated blogger you've got to do the things they do. If I really want to be the next Darren Rowse of Pro Blogger I'd have to "act as if " I were already like him, with his qualities and talents. I'd have to organise my work habits the way he does. I would use him as my role model. Read everything he has written, everything written about him. I would go to him and ask his advice on how to get ahead more rapidly. And whatever advice he gave me I would follow it immediately. I would take action. I would start to make things happen. One thing is certain, if I determine this to be one of my must have goals, then I would do everything in my power to bring it about.
All you have to do is figure out the mental, emotional and physical combination that will allow you to unlock your potential, creating the right formula to create the success you desire.
My focus would be to increase my knowledge and skills in the field of my goal field to the point where I'd feel equal to any demand or challenge, fully knowledgeable so that I could deal with any situation, answer any question..
I would make sure that everything I say and do from now on would be consistent with my belief that I will achieve my goal. The goal I choose would have to fill me with passion, excitement and joy. I would put myself out there. Talk to everyone. Learn as much as I could.
If you think you can, you can, if you think you can't you can't – and either way you're right.
What is success to you? What does being successful mean? Does it mean being financially successful, having a fulfilling career, having a wonderful family, being highly respected, living a healthy life? Success means different things to different people, at different times.
"Most people search high and wide for the keys to success, if they only knew, the key to their dream lies within". George Washington Carver
Success doesn't happen by accident. Success happens for a reason. Everything that happens to us is caused by our actions, behaviours and thoughts.
Successful people think successful thoughts. Planting the right, positive thoughts is like seeding your garden, each seed will grow onto successful, beautiful resultys. Start developing a success mindset where failure ids not even a possibility. Remember every setback is nothing more than a learning opportunity, a signpost pointing out the right path forward.
Personal development to me was originally a way to change the things in my life I wasn't happy with. It taught me to keep stepping up, constantly putting effort in towards being the best I could be. It has taught me that personal development, and success is an ongoing process.
"There is no end destination, merely a sense of direction and a reason to travel". Brian Mayne
As a healthy lifestyle blogger real success to me is to play a small part in helping you achieve all that you wish for in life, showing you some of the ways that you can turn your dreams into wonderful realities.
Score Your Way To Good Health - With Our Healthy Lifestyle Plan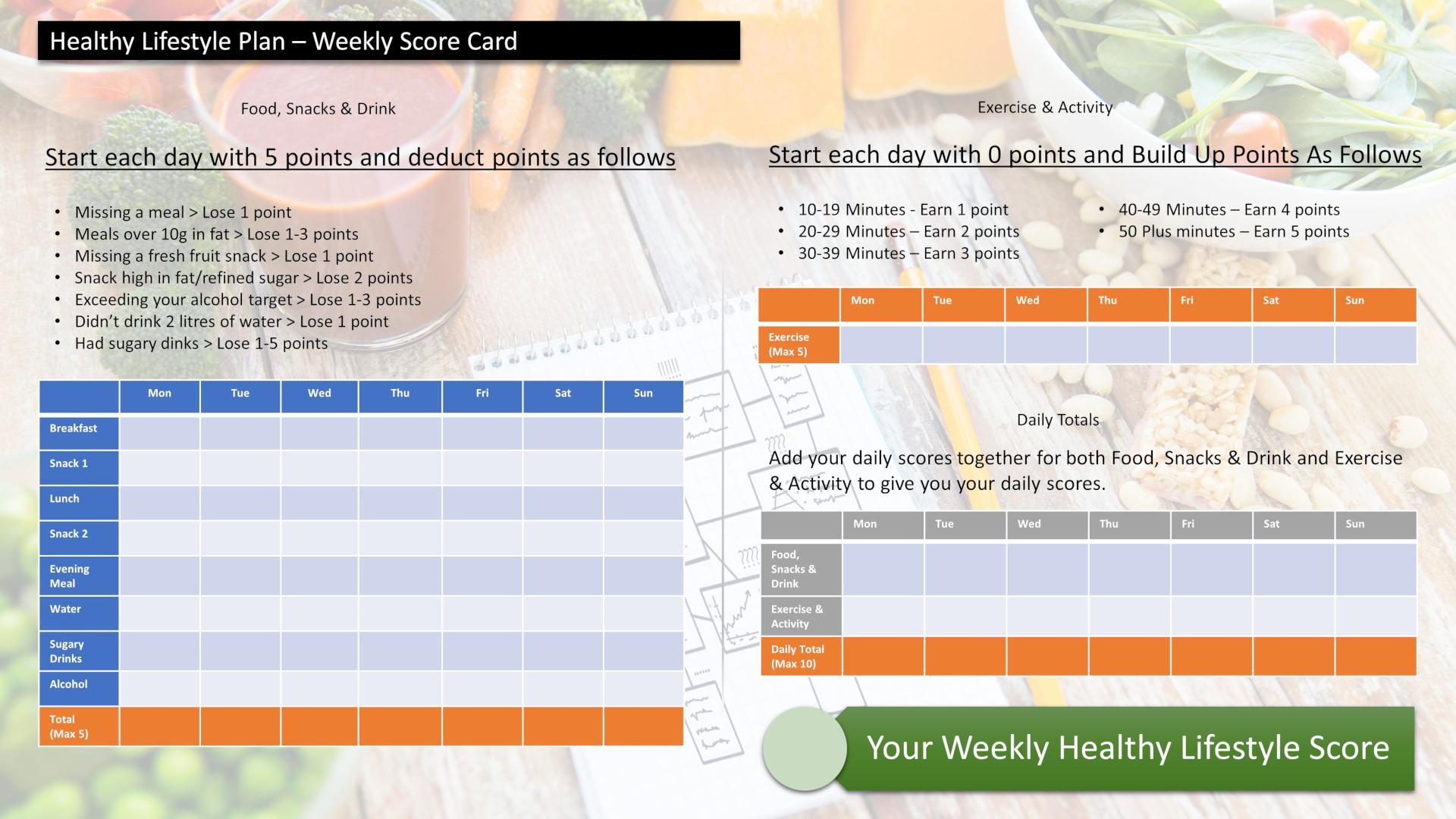 Score your way to good health with our healthy lifestyle plan and it's unique 70 point weekly scorecard!