When you think of self development, what comes to your mind? You can't underestimate the importance of self development. The dictionary equates the process of self development to personal change, growth, progress, advancement, and improvement. It's an evolutionary process toward personal excellence or a state of being outstanding.
Most people's interest in self development starts when they realise they want more from their life that what they are currently experiencing. This generally leads them to start reading and learning about the ways for them to create what they specifically want in their lives. Maybe that is what has brought you to a blog like Healthy Lifestyles Living.
When we hear the term self development, two things come to mind. First, it is a process to enhance one's skills, knowledge, and competencies in order to improve work performance or to achieve future career aspirations.
Second, it is the actions a person takes to enrich the quality of his or her life now and in the future-perhaps by balancing work, family, and personal life in order to achieve balance and happiness.
I believe it is crucial we never stop learning and growing, and I am committed to continued life long learning. When we invest in our personal growth and development we endeavour to be the best that we can be, and strive to achieve our full potential.
When you speak of self-development, what do we mean? We are talking about developing our "self."
To me, there is a mind-body-spirit connection so I try to address these three areas of my "self."
A simple definition of self development is "moving from where you are now to where you want to be". The decision to develop your 'self' is a pursuit of self-knowledge and self-understanding. Once we get to know ourselves and understand what makes us tick, we really give ourselves the potential to move our life forward at a lightning pace.
How to live up to your greatest potential is one of the biggest issues that brings people to personal development. They realise they are not fulfilling all that they can be, and they are desperate to turn this situation around.
If you go to bed happy every night, satisfied with your accomplishments throughout the day, you may well be living up to your full potential.
How often do you get to the end of the day and say "Yes! It was a good day!"
Alternatively are you selling yourself short?
You need to get your priorities clear so that your time and energy are focused. When you do then you have the best chance to fulfil your potential.
You need to create your vision for the future. This will become your driving force. Write down at least ten goals you would like to achieve personally and professionally in the area of personal development. From that list, determine the one goal that would make the biggest impact on your life and start working out a schedule, with firm timelines and benchmarks for achieving it. Don't delay. Once you do this you are truly beginning a journey of self development.
Do you desire to be more successful in life than you are? Most people do, as it provides our inspiration to perform day by day.
To believe we have the potential to improve our life is essential for being motivated to excel at everything we do and to be optimistic about your future. If we do not believe in our potential to be a better you, life has nothing exciting to offer. We will see just one long struggle ahead. A life of mediocrity.
"There is no passion to be found playing small, in settling for a life that is less than the one you are capable of living." Nelson Mandela
I would like to ask you a question, "who do you want to be – a person living up to your complete potential, or a person who ends up living a life full of excuses?"
By being on this blog I believe your answer will be based on the fact that you want to achieve all that you are capable of being. So perhaps a better question to ask is, "at your best, what are you capable of becoming?"
Start to answer that, begin your journey of self development.
Score Your Way To Good Health - With Our Healthy Lifestyle Plan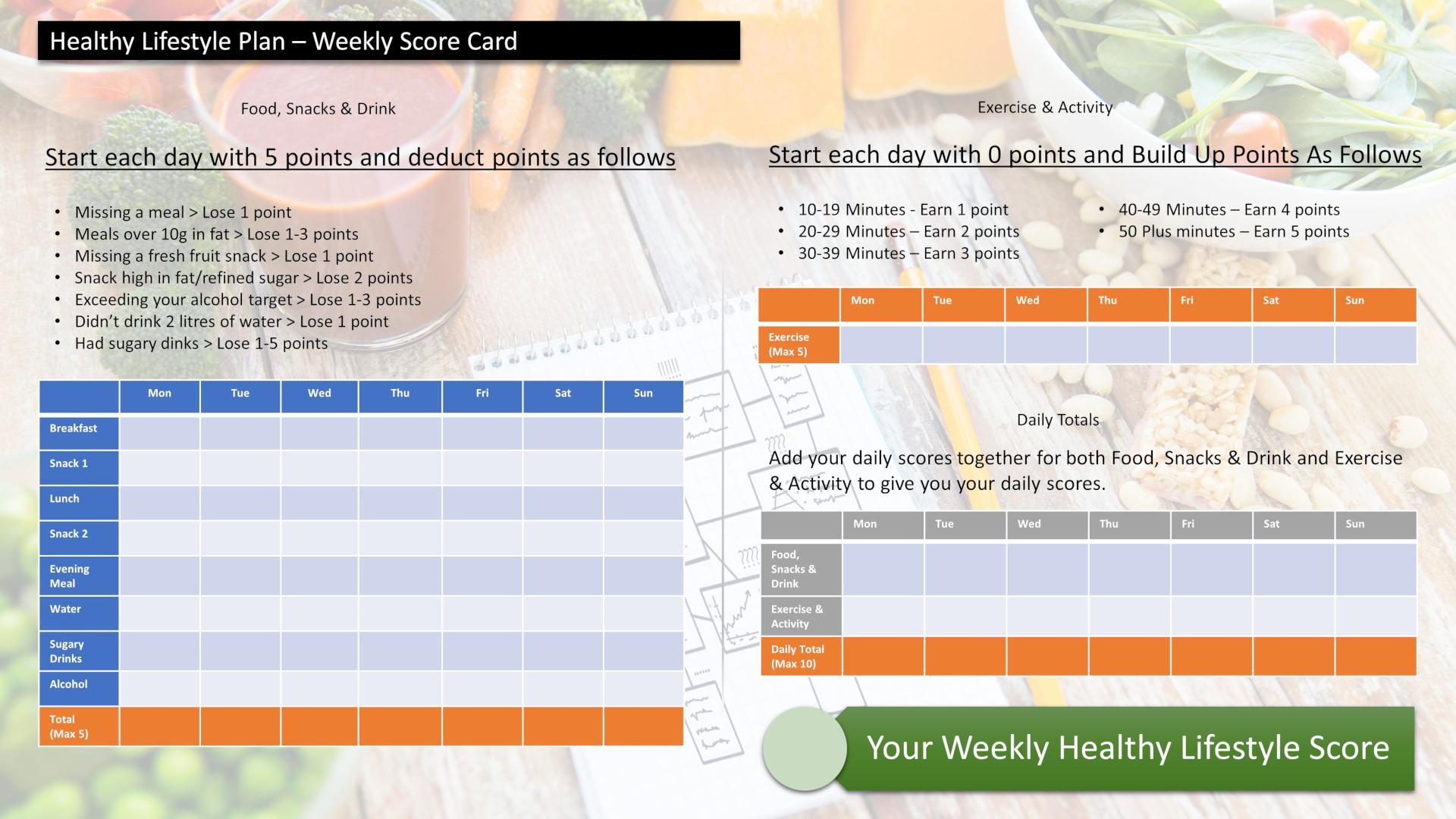 Score your way to good health with our healthy lifestyle plan and it's unique 70 point weekly scorecard!