Today I want to offer you some of the best personal development books that I would recommend to all my readers to delve into. There have been so many brilliant contributors to the world of personal development.
Today I just want to mention 10 of the books that I believe are classics. Each of these has taught me something and helped me to be the person that I am. Each of them recognizes our right to dream, then they show us how to make the dream a reality, in both a powerful and valuable way. These books will inspire you, and go some way to transforming your life.
Self-help ideas expand our idea of what is possible. They make us believe in our dreams and think big. So start reading ad let them empower you.
1. James Allen – As a Man Thinketh
Allen believed that the unconscious mind generates as much action as the conscious mind, and while we may be able to sustain the illusion of control through the conscious mind alone, in reality we are continually faced with a question: "Why cannot I make myself do this or achieve that?" We are the sum of our thoughts. It teaches that most of what we get in life depends on our thoughts. So our relationships, our life, the events related to us depend on positive thoughts and ideas.
2. Dale Carnegie – How to Win Friends and Influence People
How to Win Friends put firmly into the public's mind the fact that human relations are more understandable than we think, and that people skills can be systematically learned. Carnegie explains, the majority of our success in life depends on our ability to communicate and manage personal relationships effectively, and he shows you how to adopt a positive approach in your communication with others.
3. Stephen Covey – The 7 Habits of Highly Effective People
This is both a self-help book and a leadership/management manual. It is a guide to reengineering your life. This book says that character is a collection of our habits, and habits have a powerful role in our lives. Habits consist of knowledge, skill, and desire. Knowledge allows us to know what to do, skill gives us the ability to know how to do it, and desire is the motivation to do it. Read it to learn the 7 habits you need to be effective in life.
4. John Gray – Men Are from Mars, Women Are from Venus
The goal of this book is to focus on the sex differences that exist so as to be able to help you move beyond them, and improve communication between each. Gray provides a unique, practical and proven way for men and women to communicate and relate better by acknowledging the differences between them, offering practical suggestions on how to reduce conflict. This book shows how men and women react differently in conversation and how they can learn to fulfil each other's emotional needs.
5. Louise Hay – You Can Heal Your Life
She attributes the book's success simply to her ability to "help people change without laying guilt on them" and the book has the calmness of a person who has gone through the worst and survived. The essence of Hay's teaching is love of the self and evaporation of guilt. Her key message is if you are willing to do the mental work, almost anything can be healed. She explains how limiting beliefs and ideas are often the cause of illness, and how you can change your thinking and improve the quality of your life.
6. Susan Jeffers – Feel the Fear and Do It Anyway
Jeffers says that people see fear in totally the wrong way. Rather than being an indicator that you are reaching your limits, it is a green light to keep going; if you are not feeling any fear, you may not be growing. Don't deny the trepidation, but take the step anyway. She provides techniques to turn passivity into assertiveness, how to stop negative thinking patterns and re-educate your mind to think more positively.
7. Norman Vincent Peale – The Power of Positive Thinking
This book promises to "offer techniques and examples" to demonstrate that not only do you need to not feel defeated by anything but that you can have peace of mind, improved health and a never ceasing flow of energy. It urges you to believe in yourself and trust your abilities, as self-confidence leads to self-realization and successful achievement. It says that the highest morality is fulfilment of potential
8. M. Scott Peck – The Road Less Travelled
This book works on the premise that once we know the worst, we are free to see what is beyond it. The Road Less Travelled is inspirational putting self-discipline at the top of the list of values for a good life. Peck suggests ways in which facing our difficulties can enable us to reach a higher level of self-understanding.
9. Anthony Robbins – Awaken the Giant Within
Anthony Robbins is a leader in the personal development industry today. Unleash the sleeping giant that lies within you by harnessing your untapped abilities, talents and skills. Awaken the Giant Within gives you the tools you need to immediately improve the quality of every aspect of your life personal or business, physical or emotional.
10. Jack Canfield – The Success
Canfield reveals 64 principles that he and others have utilized to achieve great levels of success. He presents his set of rules for success that led him to become the multi-million copy bestselling author of the Chicken Soup for the Soul series, and shows how anyone can follow these principles to achieve their own dreams.
These powerful books can help you make astonishing changes in your life and create extraordinary results in all areas of your life, from your career to your relationships.
Score Your Way To Good Health - With Our Healthy Lifestyle Plan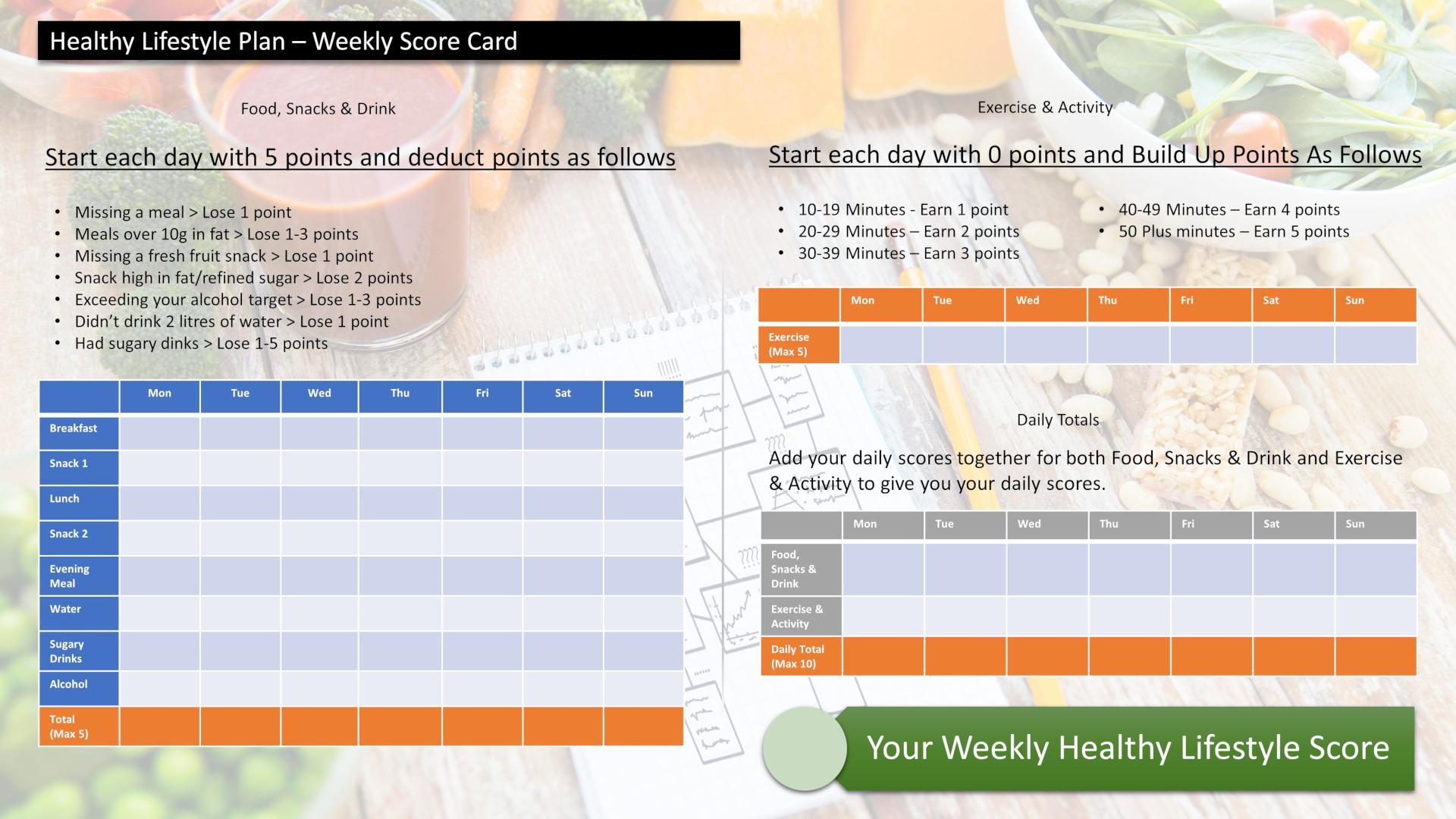 Score your way to good health with our healthy lifestyle plan and it's unique 70 point weekly scorecard!