Do you want to know a secret formula for success? Are you ready to read a solution to your life's woes?
Once I give you the answer you will need to commit 8 to 10 hours a week, plus one weekend a month for the rest of your life to doing it.
Ok here it is … take time out from your work. Rest up. Give yourself some precious time to recharge your batteries.
Yes you heard me right. I'm talking about rejuvenation time, quiet time, alone time, personal time, self-care . . . ME TIME! You deserve it, and you need it.
No matter how busy your life is, everyone needs to get some balance in life, finding time for relaxation, remembering to take care of themselves. Everyone needs to take time out to look and feel their best!
Every now and again you have to just take time out from your busy schedule, before things begin to get on top of you, and take time out to unwind and recharge your batteries.

"Most people are so busy knocking themselves out trying to do everything they think they should do, they never get around to what they want to do." Kathleen Winsor
In today's fast-paced society, most people feel that they don't have enough time in the day. They find themselves rushing around from one thing to the next, not stopping until the day is over. The easiest sacrifice people find themselves making is to not take time for themselves. Yet for both our health, and our success we need to give ourselves time to sit quietly, to think, and to recharge every single day.
You know that you are taking a huge risk with your health by over stretching yourself at work and under-committing to your own health, family, friends and your pursuit of pleasure. It's so easy to lose sight of what you really want out of life because there are so many demands placed on your time, you rarely have time to stop and even think about it. But you have to start right now.
So many people spend so much of their life trying to make money to survive that they totally lose track of where they want to go with their life. They live life as if it were one giant emergency. They're always running in the fast lane, until their health causes another type of emergency.
Most of the time you don't have a moment to even enjoy life, you they find yourself moving along the tidal flow of daily work. The simple problem is that there are only 24 hours a day, and you simply can't do it all. You have to start making choices about how you will spend your valuable, limited time. Whether you like it or not you have to start taking time out.
When was the last time you allowed a day that you did no work at all? The last time you thoroughly enjoyed yourself completely?. Finally ask yourself 'Do you want to live a life fuelled by passion or one where you just never have enough time to get anything done?'
So please, do yourself a huge favour, start giving yourself enough quality time for yourself. Give yourself a chance to find balance in this hectic world by taking time out of your busy schedule and make an appointment with your self.
Take a break from life and shut off the mobile phone and close the lid of your lap top so you can rejuvenate your senses and better manage the pressures of working life. By doing this you will relax and be better able to handle your work when you go back to it.
Score Your Way To Good Health - With Our Healthy Lifestyle Plan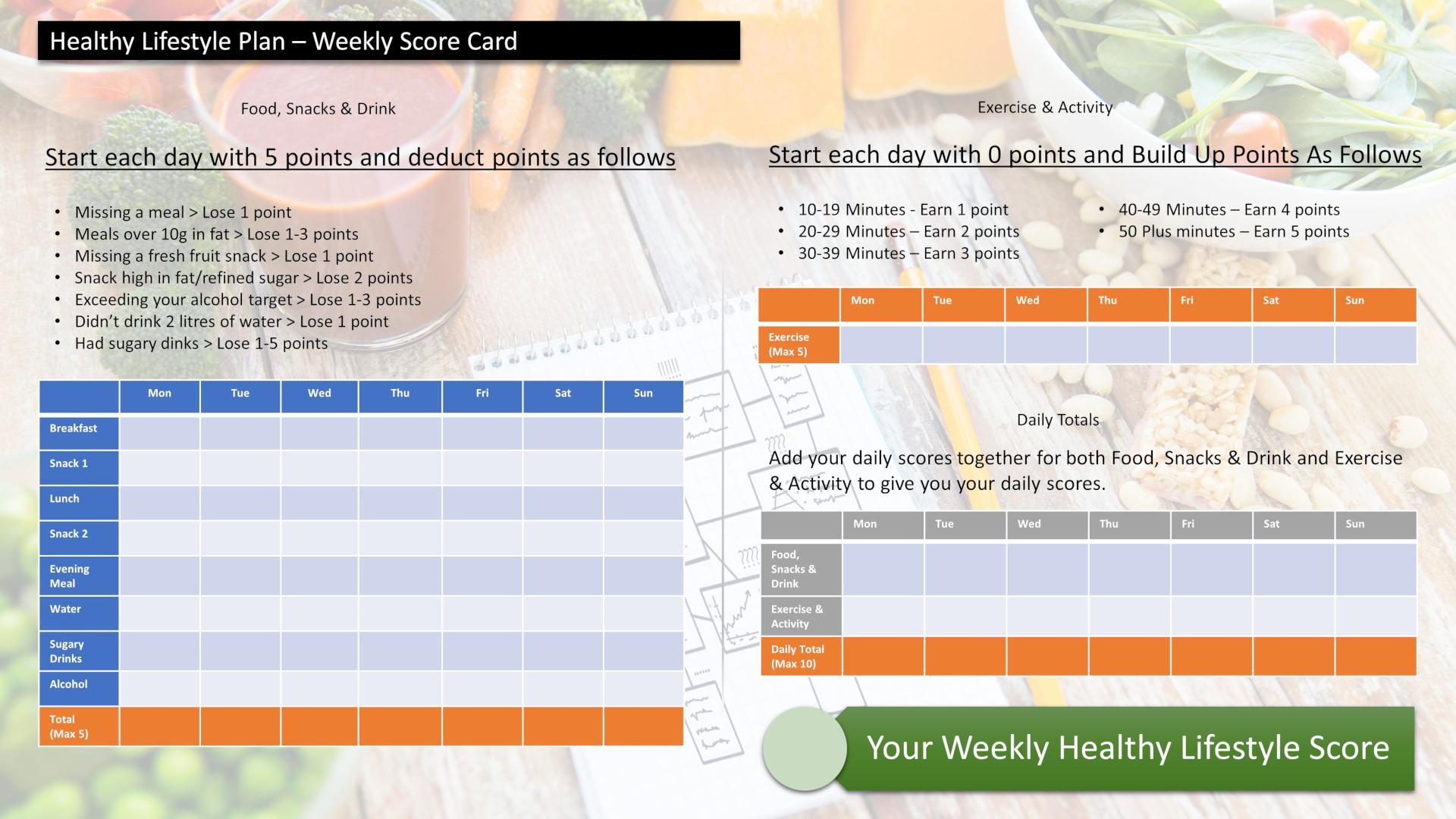 Score your way to good health with our healthy lifestyle plan and it's unique 70 point weekly scorecard!