Certain events in my life right now make it a good time for me to give myself a spring clean, physically, emotionally and mentally. It is a great way to set myself up to maximise the growth I seek, personally and professionally.
By spring-cleaning our body, mind & soul helps to put us on the road to growth and development. At many points in your life you may feel the desire or need to clear up things in your life, so you can undertake a personal spring cleaning at any time.
To fully spring-clean your life you need to work on clearing across the three plains of the body (physical, mental and emotional), dusting cobwebs from the body, mind and soul. There are things we can do today so that we not only maintain our sanity, but find simplicity and contentment, which will make way for living with greater purpose and balance. Learning to release those things that keep us suppressed allows us to move forward.
Letting go of all the clutter in our life allows us to focus on the important things. The trivial things are just that, trivial. But when I put the focus on those things that have meaning in my life, it helps me move in the direction that was meant to be.
I start by taking inventory of where I am in my life's journey. I deliberately look for the things that don't serve me and letting them go. I dig deep within me to de-clutter all the negativity and to find the positive side of life.
It's about making time to think about you, increasing your self-awareness, getting clear about what's important and your priorities, then making changes easily on your terms in simple steps.
Look at everything in your life and ask yourself, 'Are these things good for me, are these habits healthy for me and how am I getting on?'
The concept of Spring cleaning is to get rid of the things in your life that are "weighing you down", the dead-clutter that needs to be swept away to make the best of your life.
You will be amazed at how much of your energy is invested in the stuff that is "lying" around in your life and when you get to clean out all those things, there's a sense of release, relief and a notable shift in your energy. By taking control and ridding our lives of crap, we can make a more fulfilling world for ourselves.
Let me help start you off on the road to a good spring clean by getting you to Ask yourselves some questions:
Health
How's your health?
Are you ignoring any aches and pain, any little niggles?
When was the last time you had an eye test, health check or went to the dentist?
Exercise
Do you do any exercise regularly?
What kind of exercise do you love doing?
Are you taking good care of your body?
Diet
How's your diet?
Do you eat healthily overall or do snacks dominate?
How could you ensure that you have healthy food to hand especially when you're busy or stressed?
Do you have your main three meals every day?
Environment
Does your home environment give you the space and comforts that you desire?
How could you make it more 'you'?
Is your working area set up to enable you to work productively?
Relationships
Are your relationships happy and fulfilling or do some feel one-sided or draining of your energy with little coming back?
Are you spending too much time with negative people?
Do you spend enough time with your loved ones?
Self Image
How are you feeling about how you look?
Do your clothes do you justice?
When was the last time you invested on yourself, hair, beauty, make over?
Job Satisfaction
Do you love your job?
How satisfied do you feel at work?
What changes could you make, small or drastic so that your work becomes more enjoyable?
Computer
Is your computer an antique that is always crashing with years' of old files clogging it up?
How and when do you back up your data?
Are you managing your e mails as efficiently as you could do?
What software could make your life easier?
Filing
Can you put your hands on the info you need within seconds or does it take hours to find papers?
How could you overhaul your filing so that you waste a minimum of time?
Space Utilisation
Are you using all the space in your home/office as much as you could?
What crafty ways would free up more space, giving your home and/or office less clutter and more calm and space?
Emotional health
How are you feeling in yourself?
How good do you feel most of the time?
How do you manage difficult emotions?
Mental Stimulation
Does your brain feel stimulated?
Do you keep your mind stimulated and challenged?
What could you offer your brain to keep it alive and your memory sharp?
Energy and Sleep
Are you getting enough sleep?
How much water do you drink each day?
What easy ways can you think of to give yourself more energy?
Sense of Purpose
Do you have a sense of purpose for your life?
Do you know what's important to you and do you live your life spending time doing things that are important to you?
Contribution
How do you contribute to the world?
What could be one small way you could contribute?
Goals
What are you focusing on this year?
How motivated do you feel about your goals?
How and when do you make time to focus on your goals?
Habits and Behaviours
What habits and behaviours would you like to change?
Financial Health
How's your Bank balance?
Are your credit cards getting out of control?
What provision have you made for your future?
When was the last time you reviewed your finances?
Self-Talk
What do you say to yourself?
Do you have an inner critic that keeps on putting you down?
How could you change this self-talk so that it's more positive and supportive?
Support Systems
Who or what could enable you to live and work smarter?
What for you would make all the difference to free you up to have more time doing what you enjoy – doing more wants and less 'shoulds'?
Carry on from here. Look deeply into your life, and see what works and what doesn't. Then make the necessary changes.
Begin now clearing up the confusion, clutter or stagnation and feeling more peace, joy and success in your relationships, finances, health and spirituality. You will focus on each part of your life and make clear definitive steps to experience immediate relief and progress.
Score Your Way To Good Health - With Our Healthy Lifestyle Plan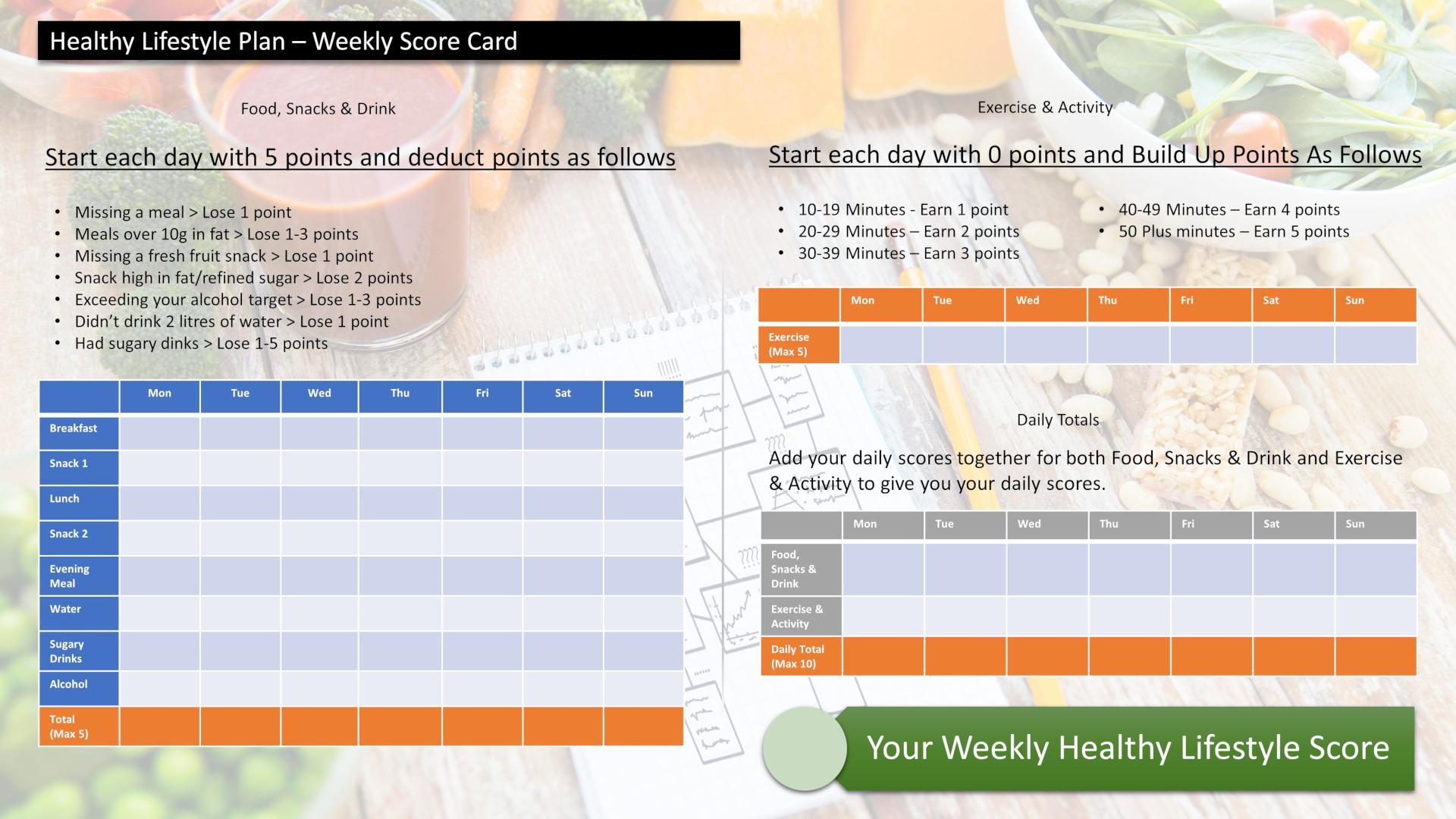 Score your way to good health with our healthy lifestyle plan and it's unique 70 point weekly scorecard!