Spending time on your personal development enables you to work towards achieving your goals in life.
How much time do you really spend on your personal development?
I think about it once in a while.
Once a year; when I'm thinking about my New Year's Resolutions!
I'll read a self help book every now and again.
I've skimmed through Healthylifestylesliving.com blog.
Daily, I invest in my personal development.
If you're stuck in a rut, tired and frustrated with your life, then it's time for you to spend time on your personal development.
Personal development is so incredibly yet few take it as seriously as they should. However, by making personal development a part of your life, you can create the life of your dreams. Take personal development seriously.
I have all my life. My mother introduced me to the writings of Jose Silva and from that moment I was hooked on absorbing as much positive writings as I could from all the phenomenal personal development authors whose books sat on the shelves at my favourite shop Waterstones. My library now is filled with over 2000 books.
My life journey hasn't run smoothly. I've had many ups but also some dramatic, nasty downs. These down moments could have knocked me totally off course and assured I would never realise my dreams. I believe with all my heart that my passion for personal development allowed me the strength and belief to get off the floor every time I got knocked down, kept me going and see myself move on from those huge trouble spots.
To me personal development is all about being the best you can be, thinking and believing that your goals are achievable and aiming for your dreams. You virtually are programming yourself for success.
I have to admit that I am a personal development addict. Any book, video, audio or live seminar that has to do with the field I will buy it, watch it, listen to it or attend. I love taking in new knowledge and being influenced by the world's greatest motivators.
Once you allow personal development into your life you will never want to give up on it.
It is my hope to help you move forward in your life. It is your journey but by allowing personal development to be at the centre of it you will focus on your growth, work on it daily and live your dreams. That is what it is all about.
Let me give you a few m ore sites to help you explore the world of personal development.
TinyBuddha – a blog that provides wisdom, happiness, motivation, and mindfulness.
Positivity Blog – for anyone looking for a boost in self esteem and happiness.
Life Optimizer – sharing personal development to bring out one's full potential.
Dumb Little Man – just a great resource for all things personal development.
Michael Hyatt – I admit this is my favourite blog out there, so check it out and you'll see why.
Spending my life immersed in personal development has been the best thing I could have done for my life, and it will be so beneficial for you to.
Score Your Way To Good Health - With Our Healthy Lifestyle Plan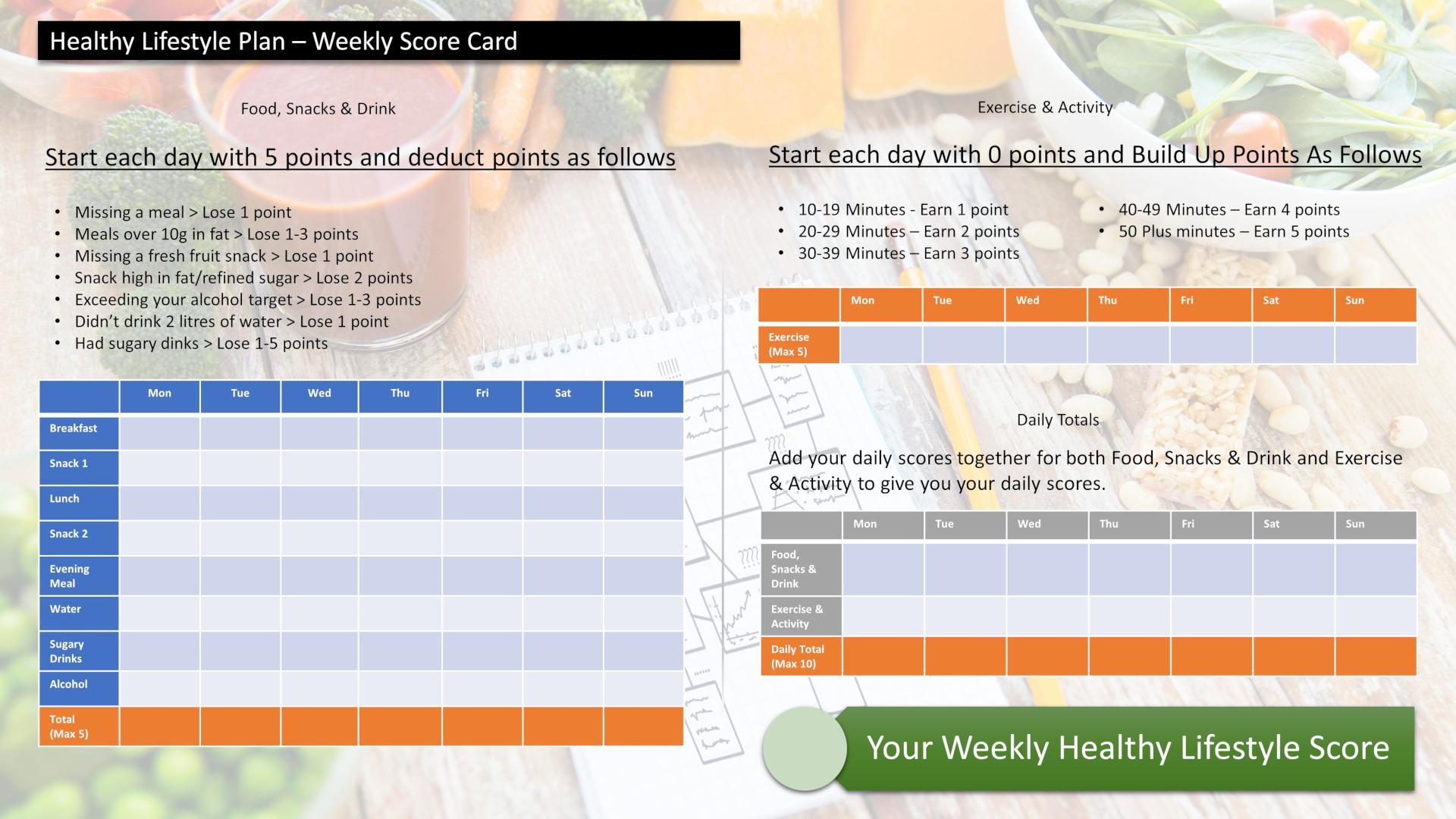 Score your way to good health with our healthy lifestyle plan and it's unique 70 point weekly scorecard!