We all need to have an attitude that is hopeful and with it a can-do approach to life, seeing ourselves successfully riding the waves of life. Alas many of you continuously feel sorry for yourself allowing the waves of life to knock you off course, and drowning you under their weight. It is time for you to make a conscious choice to start loving life and believing in your possibilities and seeking the right opportunities awaiting you.
No matter how things may be right now, you have to ask yourself what is going to do you the most favours in life.
Thinking of yourself as a victim with little or no control over it. In this headspace you feel sorry for yourself, the world seems to be against you and you get stuck. Little to no action is taken and you get lost in a negative spiral. Day by day you just seem to meander through, doing nothing, achieving no more than the day before struggling to just survive. You allow the waves to keep you submerged and heading in the direction they send you.
Alternatively you can see yourself as still being in control of the course of your life. You will believe not only in yourself but also in the outcomes you'll eventually achieve in your life. You will constantly strive to better yourself, working hard to make this happen.
It's like the story of Christopher Columbus. I was watching Conquest of Paradise last night and these words stuck out:
"Every man is afraid when he does something for the first time. But those who overcome their fears will rightly earn their rewards."
Maybe life at the moment seems to be an impossible struggle but until you stop feeling sorry for yourself, you will not be able to bring your mind to look at your problems and determine your possible solutions.
I truly believe in the saying "Every problem is a solution waiting to be found."
If life has challenged you and you feel like you keep getting swept under the waves, perhaps it is time to figure out how to ride the wave! So many things can feel like crashing waves coming down on us. Finances, health, relationships, children, jobs and more can have a harrowing effect on us. Some situations are far worse than others, but ultimately it is up to you to how you handle the waves crashing in on you.
Our lives are continually in motion, buoyed by the wave that is the universe's flow. As the wave rises and falls, we are carried forward, through life's high and low points. You need to ride those waves, "stay above water" and keep moving forward believing you'll reach your chosen destination.
Ride the waves of life
Some are going to be high, some fierce, some will push you off your path
But you'll not be washed away by them, if you keep moving, keep trying
If you can ride the waves of life you will succeed
So, stop feeling sorry for yourself, handle what ever confronts you. All the time you spend feeling sorry for yourself is time wasted, the only thing it creates is making you feel miserable. How many hours, days – even months have you spent feeling hard done by, sorry for yourself, sad, alone, in pain and unsupported?
Try this simple exercise.Write out all your gripes, sadnesses, problems, stresses or challenges – just keep writing till you dry up and then do a ceremonial burning of the writing. I suggest this is done with pen and paper, not keyboard and computer.
One useful starting point is to write your symptoms on a sheet of paper, particularly the mental and emotional ones. Write down also your reactions to any recent. Add any major life events, sadnesses, problems or issues.
It really is time for you to take control of your life, believe in yourself and successfully at long last begin riding the waves of life.
Score Your Way To Good Health - With Our Healthy Lifestyle Plan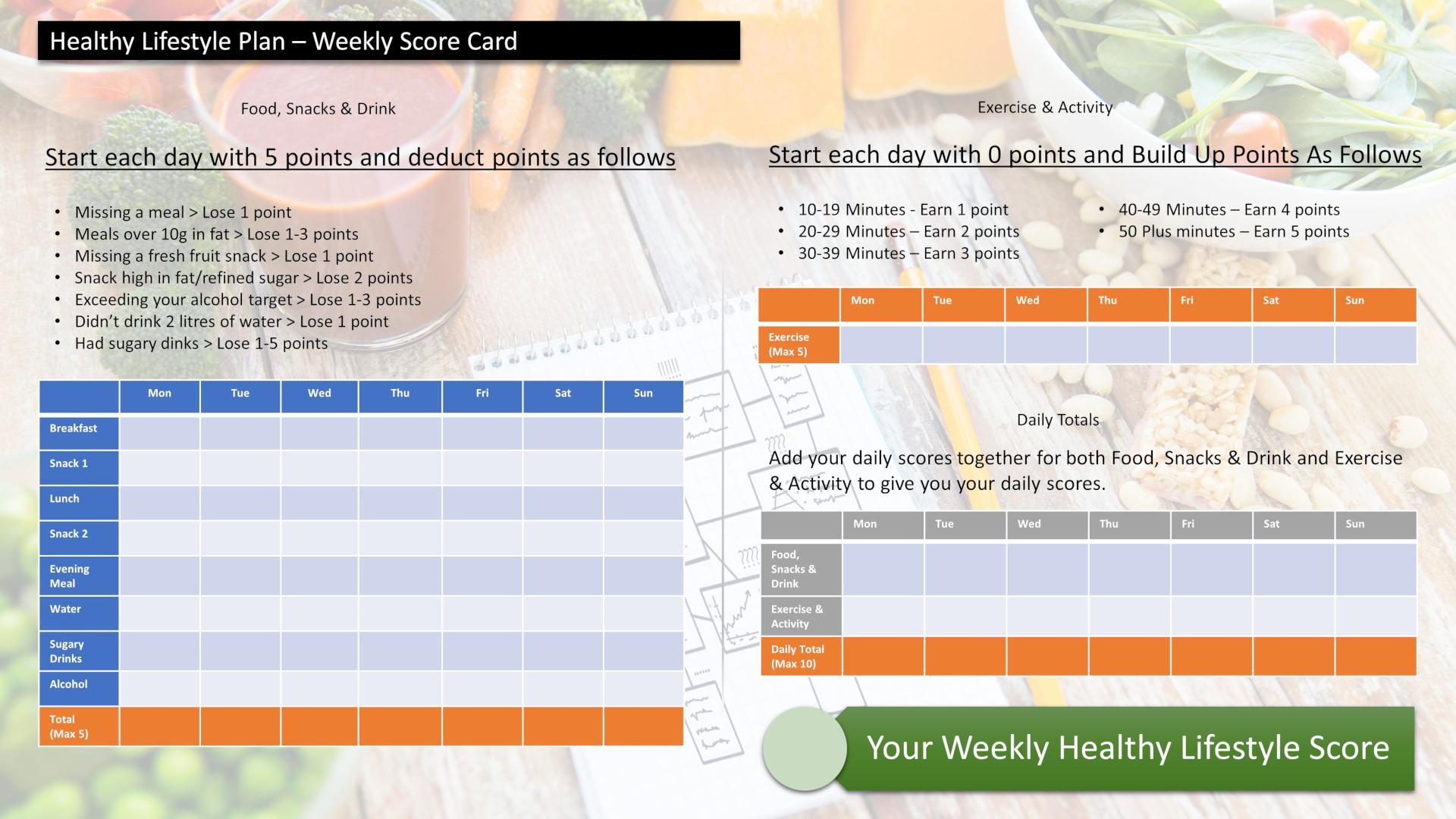 Score your way to good health with our healthy lifestyle plan and it's unique 70 point weekly scorecard!