I mentioned in my Friday post that I had worked flat out all week at work and was starting to flag, in fact I began to feel run down and exhausted, I knew that my battery levels were dropping low, and I had to recharge them. This is a very important part of living a healthy lifestyle.
"My body is a little bit sore from all of the practicing and playing and training, and your mind gets a little tired of it, too. Its nice to be able to recharge and come back fresh for the remainder of the year".- Tiger Woods
We human beings are no different to machines in this way, we both run on batteries. If we don't take time out to recharge them, we will drain them of energy, letting them run down leaving us exhausted and debilitated.
It's important that you can see when your battery is beginning to lose charge and take action to remedy this. A big part of creating a healthy lifestyle is to always ensure you keep your batteries topped up. Of course what's best is to take measures to keep your batteries at a healthy level all the time. That way you don't feel down and tired all the time and you can stay at near enough peak performance. But at times you will end up pushing yourself too far, then you have to take immediate action to remedy this.
In today's economic climate we are always having to put as much as we can into our production and performance at work that we rarely find the time for ourselves. Our days can be so busy, rushing from one thing to another that we hardly have time to breathe let alone do much else. Before we realise it, another day has rushed by. If we do nothing about this pace of life we face the possibility of burning out.
How many of you really struggle with your energy levels? When you finish your days work, and get home are you capable of doing anything more than capable of crashing on the sofa, making a microwave meal, watching television and nodding off. Then each day you repeat the same routine of exhaustion!
When I get to a point where I start feeling some what de-energised I take a Wellness Day Break which never fails to give me a burst of energy, improves my mood and outlook. All of these things combine to improve my life in many ways. I use this day to revitalise and refresh myself, leaving me feeling more alive and alert and healthier in body and mind. Surely you deserve a day like this every now and again, don't you?
So let me give you an example of a Wellness Day Break.
Get enough Sleep the night before – Getting enough sleep is the number one way of recharging our batteries. On an average working day, people rarely get enough sleep so when you do have an opportunity to get a full eight hours in, make the most of it. It will set you up perfectly.
Start with some relaxation – Just take 20 minutes of quiet time to relax your mind at the start of this new day. Visualise for yourself the day ahead seeing laughter, fun, happiness. Just take the time to let your mind relax.
Do some Exercise – Doing exercise is one of the best ways to recharge your batteries. Exercise releases positive chemicals in the brain and is great for de-stressing and focusing your mind. What's more, if you do it regularly it reduces fatigue and improves your overall energy levels.
Break your normal routines – today you are going to do things differently. Your weeks are normally made up of the same activities and responsibilities. But today you are getting away from all the stress of your normal working day. You are giving your emotions a break from demanding colleagues, overbearing bosses and irritating clients. Get away from it all just for one day, you are worth it. Mentally dump your work worries in a big bin outside the door.
No mobile phones, no email, no contact – It's no good taking a break and trying to relax if you're still plugged in to all your modern modes of communication. Wind up loose ends at work and at home so that they don't interrupt you during the day when you're trying to recharge.
Don't feel guilty – Don't feel guilty for taking a day out and relaxing, you deserve it. You work hard enough and you'll be back to it soon enough. No one can keep going at top speed 24/7, 7 days a week. But you'll feel refreshed and raring to go having taken this time out to recharge your batteries. When working you focus 100% on your work; today take the time to focus 100% on yourself.
Connect with Others – We all need to feel appreciated, and we all need to appreciate others. When we're with people who we love, the world suddenly becomes a much brighter place to be. Spend the day together with your closest friends or family and just enjoy each other's company. Don't think about your work, or other obligations, just enjoy this well-earned time with the people you love. If you improve your relationships, then you should end up feeling more secure, happier, appreciated, and able to take on all the challenges life can throw at you. Improving your relationships is just another way to improve your life even more.
Hectic work schedules, financial concerns and competing demands on time can take their toll on the amount of time families spend together. A day out offers you all a chance to get away from both internal stresses within the family and external pressures. Take this time to reconnect. In my life every day out with my kids strengthens our bond and builds shared family experiences and memories that are so important to me
Get outside – You probably spend the majority of your time inside, whether at home or in an office. Today you need to call on nature to help you by getting out into the countryside, to the beach, a park or at least to an outdoor location where you can relax and chill out. Sunlight and fresh air work wonders, so a quick walk can be massively beneficial. Fresh air helps your brain work better, so you'll be a better worker when you return. Sunlight helps to improve your mood – who doesn't smile when they wake up and see it's a sunny day?
Give the alcohol and caffeine a rest today – When your body needs to recharge, it will benefit the most from drinking water. Dehydration is a direct cause of fatigue, and consequently, it is one factor you can address immediately and effectively when you want to recharge your batteries. Drinking water will kick-start your metabolism and allow you to ride a sustainable level of energy and alertness.
So get out and have fun.
Tell me, what do you rely on to recharge your batteries?
"Take time to recharge your batteries. It's hard to see where you're going when your lights are dim" – Robert H. Connelly
Score Your Way To Good Health - With Our Healthy Lifestyle Plan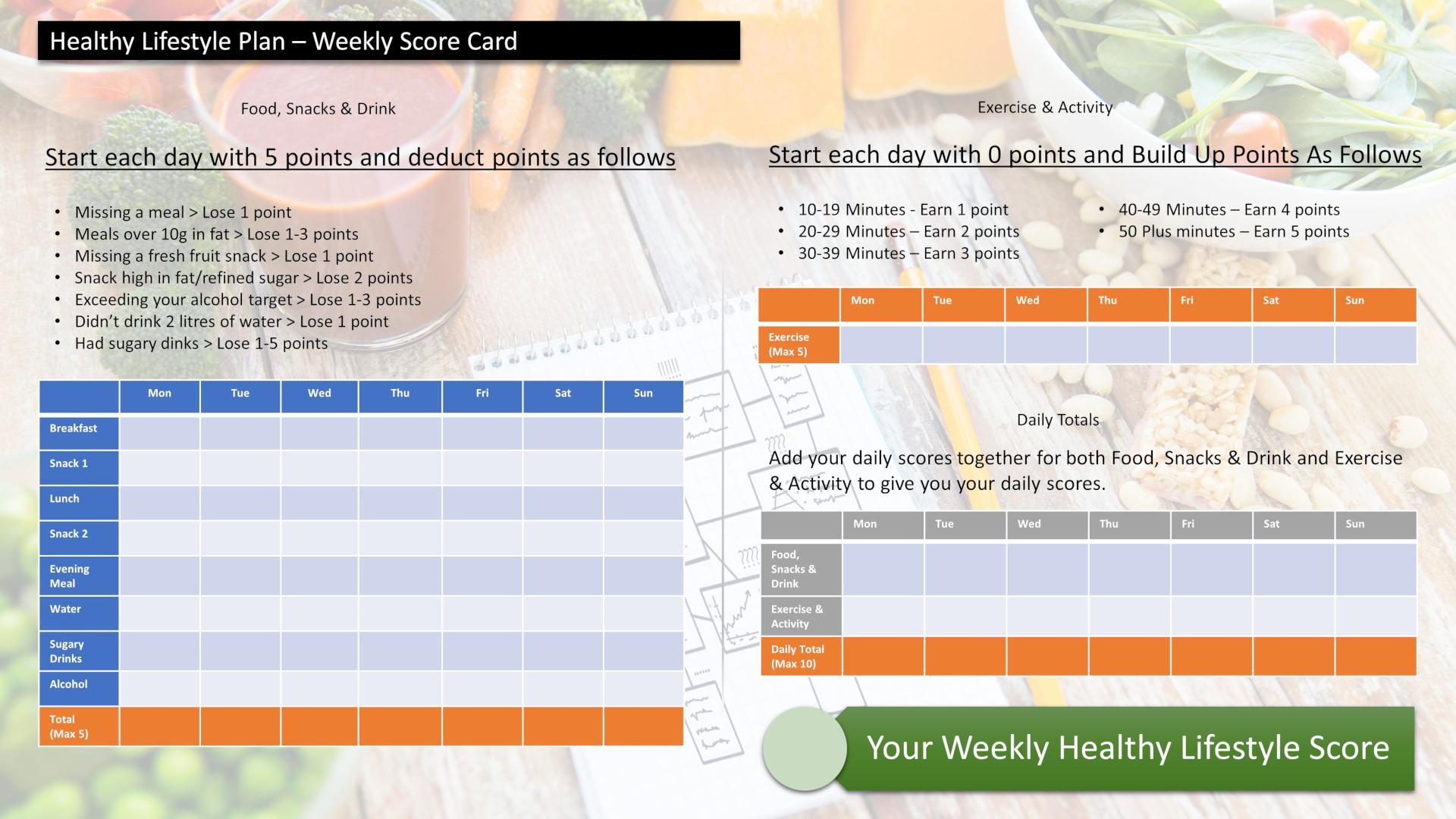 Score your way to good health with our healthy lifestyle plan and it's unique 70 point weekly scorecard!