You need to begin developing for yourself quick fixes for self-belief issues if you are someone who has no belief in yourself. If you don't then you will have very little hope of achieving anything of significance in your life.
A lack of self-belief shows that essentially you do not believe that you are good enough or worthy enough to achieve your goals and objectives. You have no confidence in your personal abilities and foresee only failure and unhappiness.
Your inner feelings about your worthiness and capabilities undermine your confidence. This leaves you incredibly susceptible to the negative emotions of frustration, anger, disappointment and that feeling of 'not good enough.' Overall you will go through life with a victim's mentality never seeing yourself succeeding in anything.
Self-Belief is about having a deep, internal sense of confidence in yourself and your abilities, despite what the world throws your way. It's about believing you can even when everyone else tells you that you can't. It's about having faith that good things can and will happen for you.
For anyone wanting to change or improve their life their level of self-belief is of huge importance. Self-belief not only will push you towards success and achievements, it will also fill you with positive feelings and high energy. When you have a deep self-belief, you will see opportunities and always act on them, always believing in yourself and your capabilities to overcome everything.
The truth is once you begin actually liking yourself then you can achieve almost anything. Self-belief is the fuel for achieving the goals you desire and gives you the power you need to overcome obstacles that stand in your way.
Try to imagine what your life will look like when you possess self-belief. It will change your whole reality!
Why don't you try it for real? You can switch your perspective anytime you want of how you see yourself, your life, other people and your relationships with others. To do this you must change your inner settings, particularly your subconscious mind. When you replace your old conditioning, your whole reality will change. That is a fact.
Having a powerful sense of self belief is going to strengthen your self-confidence. You will be proud of who you are.
There are plenty of ways to improve your self-confidence. Some may work better for you than others. The most important thing to do is use the power of your mind adopting a positive mental attitude.
"Self-Belief is knowing that I can achieve any goal that I set for myself, and not caring about what anyone else says or thinks." Jamie Howard
I could now give you hundreds of ways to bring about change to your self-belief but I want to make it simple for you. So I offer you one awesome and powerful quick fix for self-belief that will start working right away.
Self-Belief starts with you making a simple commitment to yourself- a positive decision, that you are going to believe in yourself. No matter what. Even in the face of failure.
You're going to practice using affirmations, positive affirmations which are statements which affirm something to be true. They enable you to overwrite your limiting or negative beliefs about yourself and replace them with positive thoughts and beliefs.
So go and stand in front of the nearest mirror and say these words to the 'perfect' person looking back at you:
"I believe in you. I choose to believe in you every single day for the rest of your life. I commit to believing in you and your abilities regardless of what other people say or do. You are perfect"
This quick fix for self-belief doesn't happen on its own. You have to keep repeating this action. Every day at least 5 times a day simply stand in front of your mirror and repeat your affirmation. It requires persistence for you to achieve results.
When you first start saying your positive affirmations, you may not believe in them, but with repetition they sink into your subconscious mind, you really start to believe them, and eventually they become your reality, they become a self-fulfilling prophecy and actually become true.
Let everyone know by commenting here in the future the day you actually say to yourself 'I believe in these words, I believe in me.' You will!
Score Your Way To Good Health - With Our Healthy Lifestyle Plan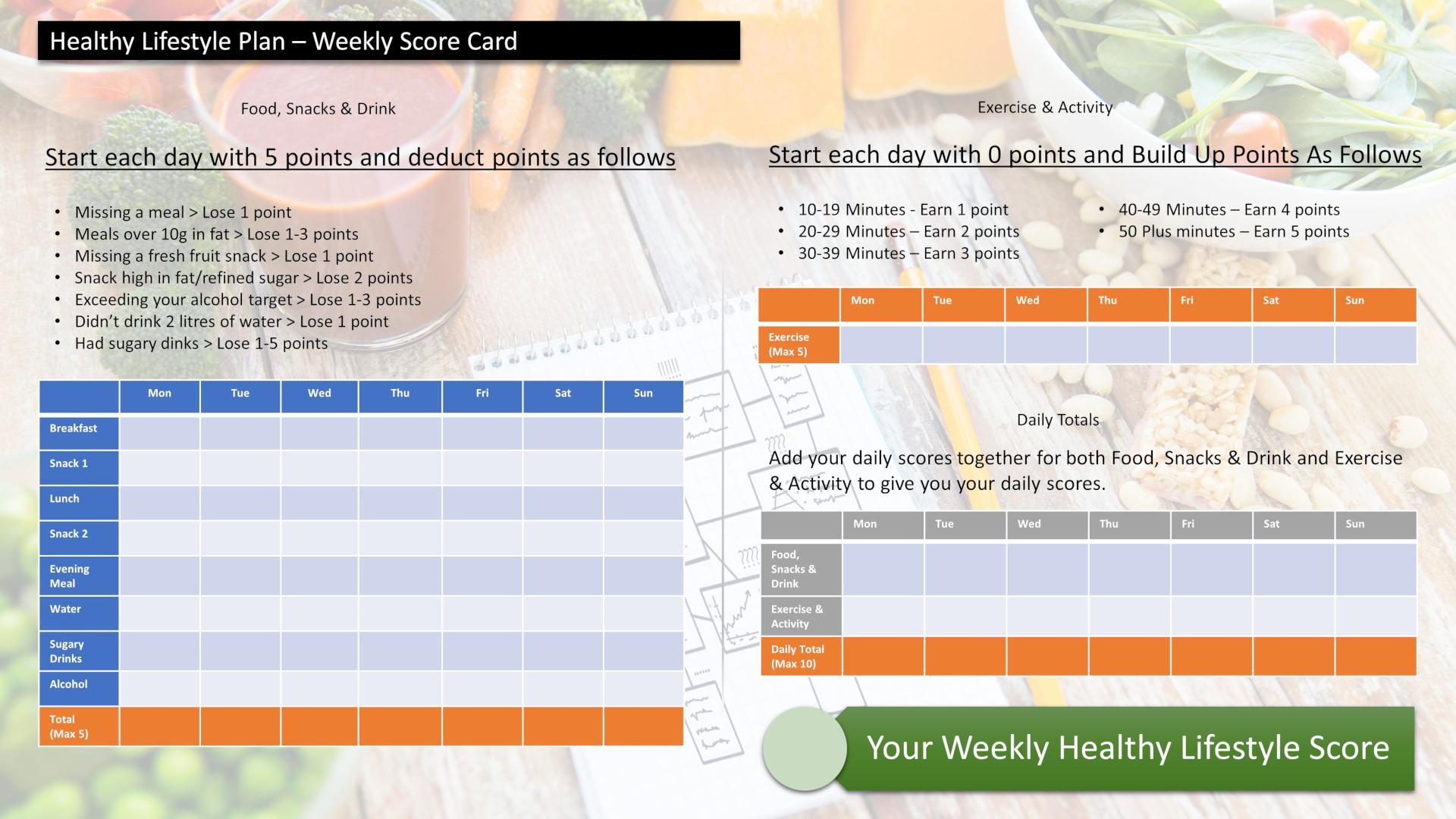 Score your way to good health with our healthy lifestyle plan and it's unique 70 point weekly scorecard!