Power your future by having a big dream driving you every day into taking action. This will provide you with an amazing force to make things right in your life.
The thought of 'what can be' has the ability to drive us to do all that we can do to make it happen. You have to have a driving force so powerful that it becomes your magnificent obsession fuelling your life and giving you the get up and go to get things done.
Life without powerful dreams is simply unfulfilling. To live every day in an unimportant way, with no excitement for your future, no dreams calling you into action, just getting up, doing things, is not making the most of the time you have here on earth. You have to power your future by dreaming big dreams.
You owe it to yourself to let your future be exciting! The more keenly you sense the promise and possibilities of your future, the more positive your attitude becomes. Life seems to take a totally new meaning.
We take charge of our life, and bring what seems like magic to us when we purposely design our future and set specific goals for us to achieve. . Once we have our future mapped out in our mind we experience a level of excitement in anticipation of the day when all that we dream will become a reality. Then we set out to make them happen.
Your dreams won't happen on their own. You will have to discipline yourself to stick with things, work hard and consistently and have a burning desire to make the future better than either the past or the present, and belief that you can turn your dreams into reality. You must have an insatiable desire to make these dreams of yours real. To power your future in the best way possible.
If we are sincere about improving our life, we must have dreams of the future that fuel us into action and excite us about the possibilities. You must be able to see and believe what your future looks like deep within your soul. You know when you are totally driven, when you can't stop thinking about it, and from the minute you open your eyes in the morning you are driven to jump out of bed so you can do something towards making it happen. This same desire keeps you up late into the evening locked onto your targets, doing things towards its attainment.
Isn't it better to be spending time dreaming of your future instead of saddening yourself about how unfulfilling life is.
My life started to shift, in fact went into overdrive the minute I allowed my dreams to come to the forefront of my mind. I wanted to make the difference, coach people, allow personal development to become both my personal driving force and my area of business.
I am now living my dream, as you can be yours.
Let me help you power your future. I can offer you life coaching where my mission is to help you reinvent your life or alternatively, join my next intake at the Reinvention University starting in July.
Thank you for reading my blog today, this is Larry Lewis.
Score Your Way To Good Health - With Our Healthy Lifestyle Plan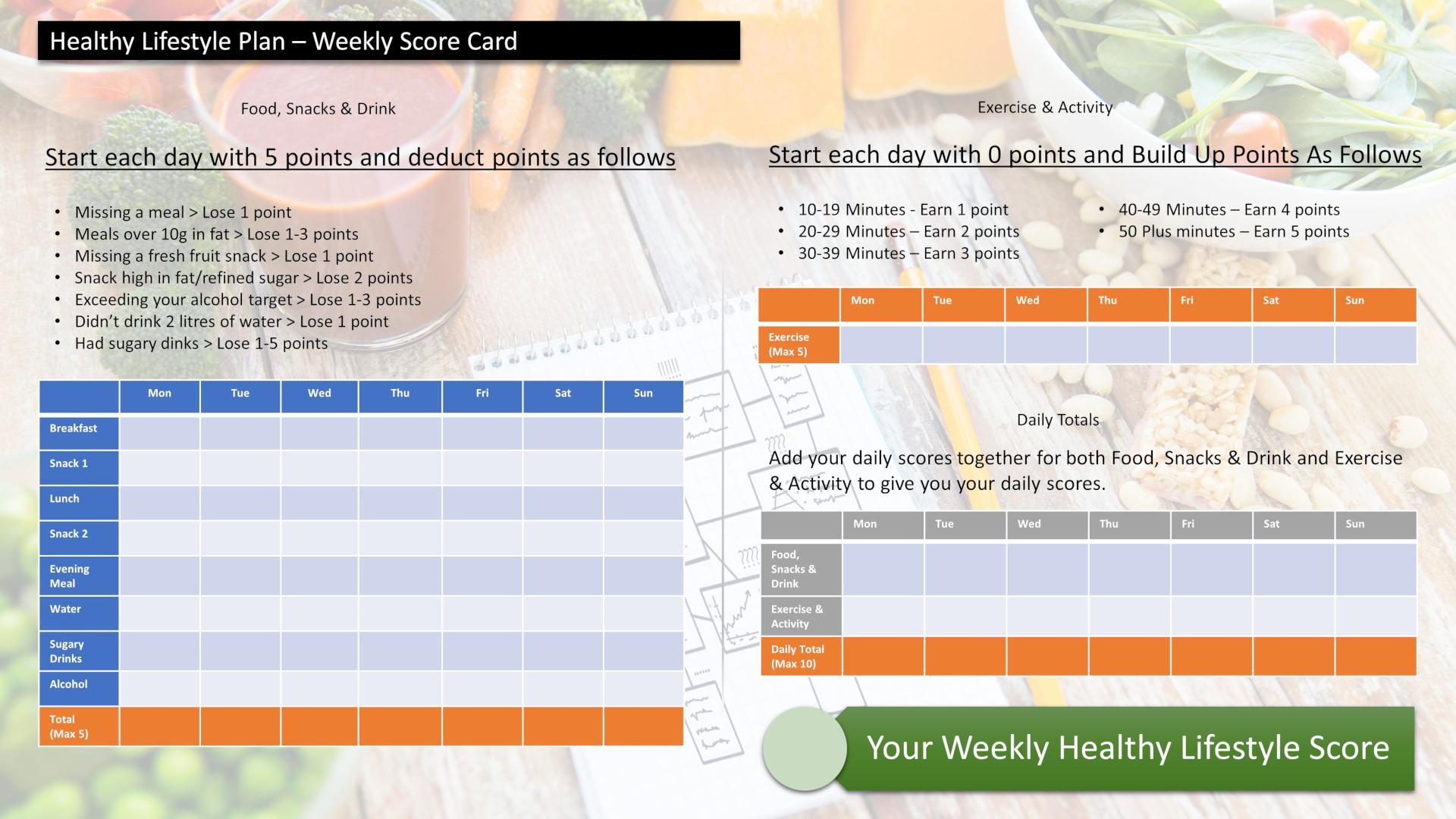 Score your way to good health with our healthy lifestyle plan and it's unique 70 point weekly scorecard!