Do you feel stuck, bored or frustrated with your life? Your saving grace is you believe there could be something more, a greater sense of meaning or excitement waiting for you. Everyone should wake up every morning knowing that the new day brings new possibilities. Without this belief, life can be so tough. With a bigger picture it can be fantastic.
A dream is the bearer of a new possibility, the enlarged horizon, the great hope. Howard Thurman
Can you imagine any top sportsman after a major defeat allowing himself to stay down and traumatised by their defeat. Of course not? They know they'll always get to fight another day. They will be certain that tomorrow could bring them better fortune.
We all have possibilities we don't know about. We can do things we don't even dream we can do. Dale Carnegie
They will shake themselves down, train harder, get their mind right and come back in their next game. After all everyone knows you can't win every time and defeat comes with taking part. That's how I've seen my life. I set about achieving high targets and I believe that I will be successful every time but the reality is that at times I have failed. Yet my vision of the future, my belief in myself keeps me going. Like a sportsman I pick myself up and work harder to win next time around.
I have had a great life, interesting it has been, full of glorious memories, and a few not so good ones. I achieved so much. I had a wonderful lifestyle that most people can only dream about. Then I lost it all. But having tasted success I was determined to achieve it again, but to make sure that I also gave myself time to enjoy the journey. I never gave up believing in my possibilities or the opportunities awaiting me.
You can be anything you want to be, if you only believe with sufficient conviction and act in accordance with your faith; for whatever the mind can conceive and believe, the mind can achieve. Napoleon Hill
You see I have never allowed negative emotions to rule me. I respond to difficulties by taking a proactive approach believing I can come through whatever the problem. I always look at the big picture which helps me come up with creative ways to get back on track. As can you!
When I look back over my life I want to be satisfied when answering this question:
"Did I give it my all?"
You will always stand the best chance of success when you ensure that you give it your all. It is vital that you put your best efforts in to everything you do. That way gives you the best chance to get where you want to go, achieve what you set out to do.
I love believing in my possibilities. Where ever you are in life, there is always new possibilities, new hopes, new jobs, a new start available to you. What are you working toward – what is your goal? Are you prepared to grasp your possibilities and any new opportunities? Do you accept that you have unlimited potential just waiting for you to fulfil it.
No matter how dark things seem to be or actually are, raise your sights and see possibilities – always see them, for they're always there. Norman Vincent Peale
Score Your Way To Good Health - With Our Healthy Lifestyle Plan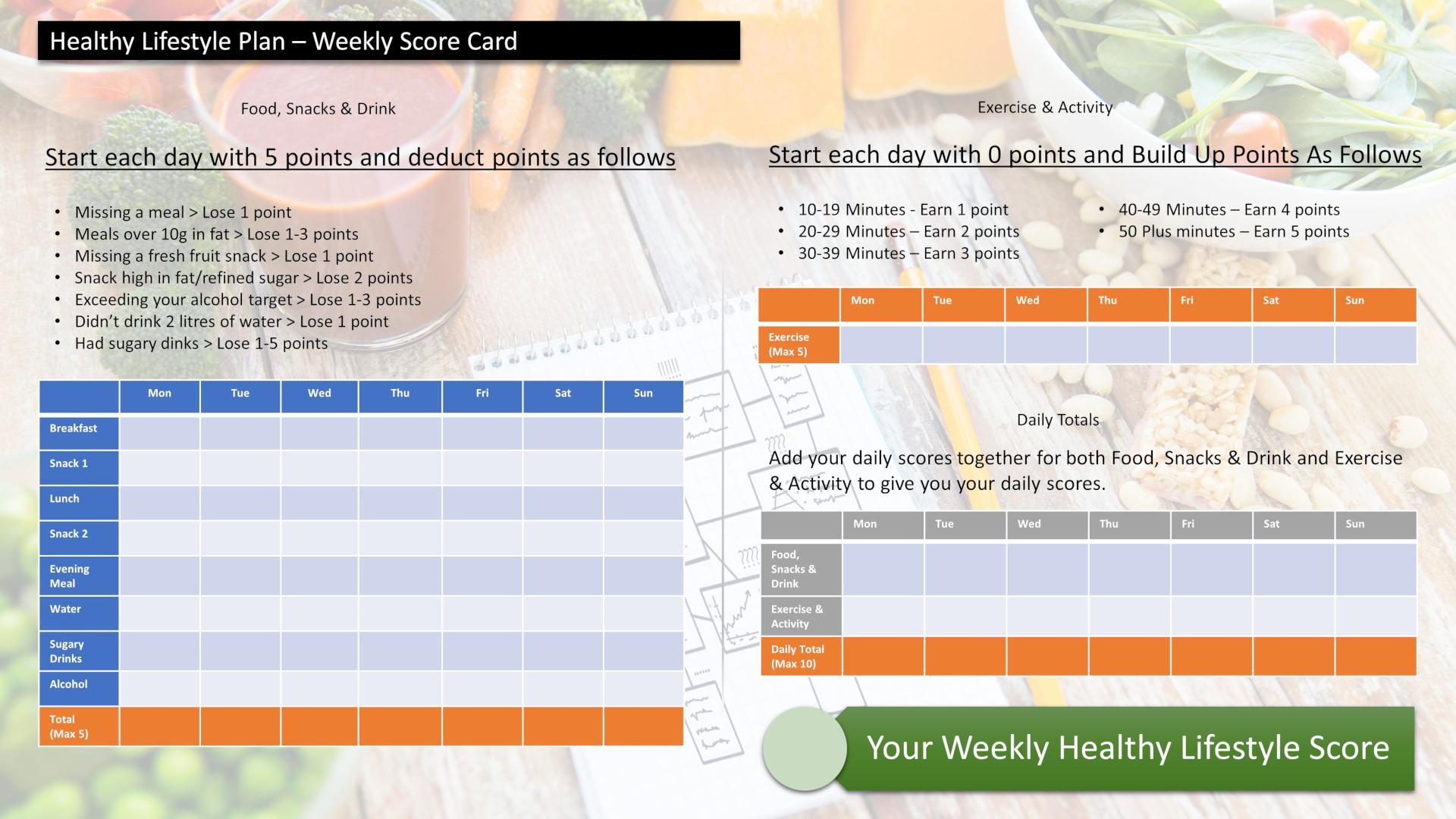 Score your way to good health with our healthy lifestyle plan and it's unique 70 point weekly scorecard!