How many of you just can't seem to get everything done that you need to in a day? I speak to so many people that always seem so tired, stressed, rushed, and unable to complete half the tasks they set out to do on a daily basis. They just don't know how to manage their time in a way that would allow them to get everything done. They often say even if they had 48 hours in a day they still wouldn't be able to get it all done. Do you ever feel like that?
Sometimes we become paralyzed by everything we have to deal with. There is always an endless list of projects that we want to work on or need to complete. If we don't plan properly and build in time to work on these projects we can very quickly become overwhelmed, and in the end we don't complete anything.
Do you get to the end of the week and wonder what you got done? None of the items on your list have been completed.
"The purpose of time management and getting more done in less time is to enable you to spend more face time with the people you care about and doing the things that give you the greatest amount of joy in life." Brian Tracy
Time management skills are essential for anyone who wants to achieve success. It's important to make the best use of your time to enable you to achieve everything you want in life, as well as establishing a healthy balance. It is so important for you to strive for a work/life balance. You need to use your time wisely. Allocating time for work, domestic responsibilities, rest, hobbies, family time, fitness, diet and other important activities.
You must structure and organise everything that you possibly can. Maintaining a good home/work life balance isn't easy! Work and home can often make heavy demands on our time and it's easy to end up juggling rather than managing. For our health, wellbeing and happiness, it's important to maintain a good balance between home and work life.
"What's the one thing you can do in five minutes or less that will help you succeed in life?"
Plan your day before you start it. Spend ten minutes and write down what 3 – 5 things are going to get done today, so you're no longer just reacting to circumstances and treading water. You have to plan your day effectively so you're not spinning your wheels. The most important thing you can do to improve your life is to spend 10 minutes the night before planning your most important priorities for the next day. It's the key to success.
When you plan your day it is amazing how things just seem to work out right. You end up having one of those days where everything just seems to work out great. You just seem to be on a roll, accomplishing everything, knocking out the jobs on your to do list, getting things done and still having time to exercise your body and taking time out to spend with your family. It's all because you did one thing, you spent 10 minutes doing one important task, planning your day.
So now lets tackle how to plan your day. My suggestion to you is to plan your activity in the evening for the next day. Take just 10 minutes. This small time investment will save you hours of time, making a dramatic difference in what you get done. It will give you direction, and focus. It means you increase your productivity eliminating time wasters. The more effective you manage to schedule each day of the week, the more focused you are going to become in getting done what you plan to do and this way you will see more done every day. By really focusing and making the best possible use of the limited time available to you, you can achieve so much more.
Doing this can actually be very simple. You don't need an elaborate, sophisticated system.
Sit down with a blank piece of paper and decide what activities you can do that will make your day the most successful it could be. Plan to do everything you realistically can that will leave you at the end of the day feeling like you've been productive and successful.
Decide when and where you are going to do each thing. Take your calendar and schedule these activities into a time frame.
That's all there is to it.
Then here is a great safety net. One very easy step to make sure you keep on track every day.
Set your phones alarm clock to buzz every hour. When it goes off check your list and ask yourself if you spent your last hour productively. Then look at your calendar and deliberately recommit to how you are going to use the next hour. Manage your day hour by hour. Don't let the hours manage you.
At the end of each day, review your progress. What did you learn that will help you be more productive tomorrow?
Is 10 minutes of your time worth it? Of course it is. Planning your day is a crucial step for determining your daily priorities and for getting your important work done.
Did you enjoy this article? Please share it with others or give it a like!
Score Your Way To Good Health - With Our Healthy Lifestyle Plan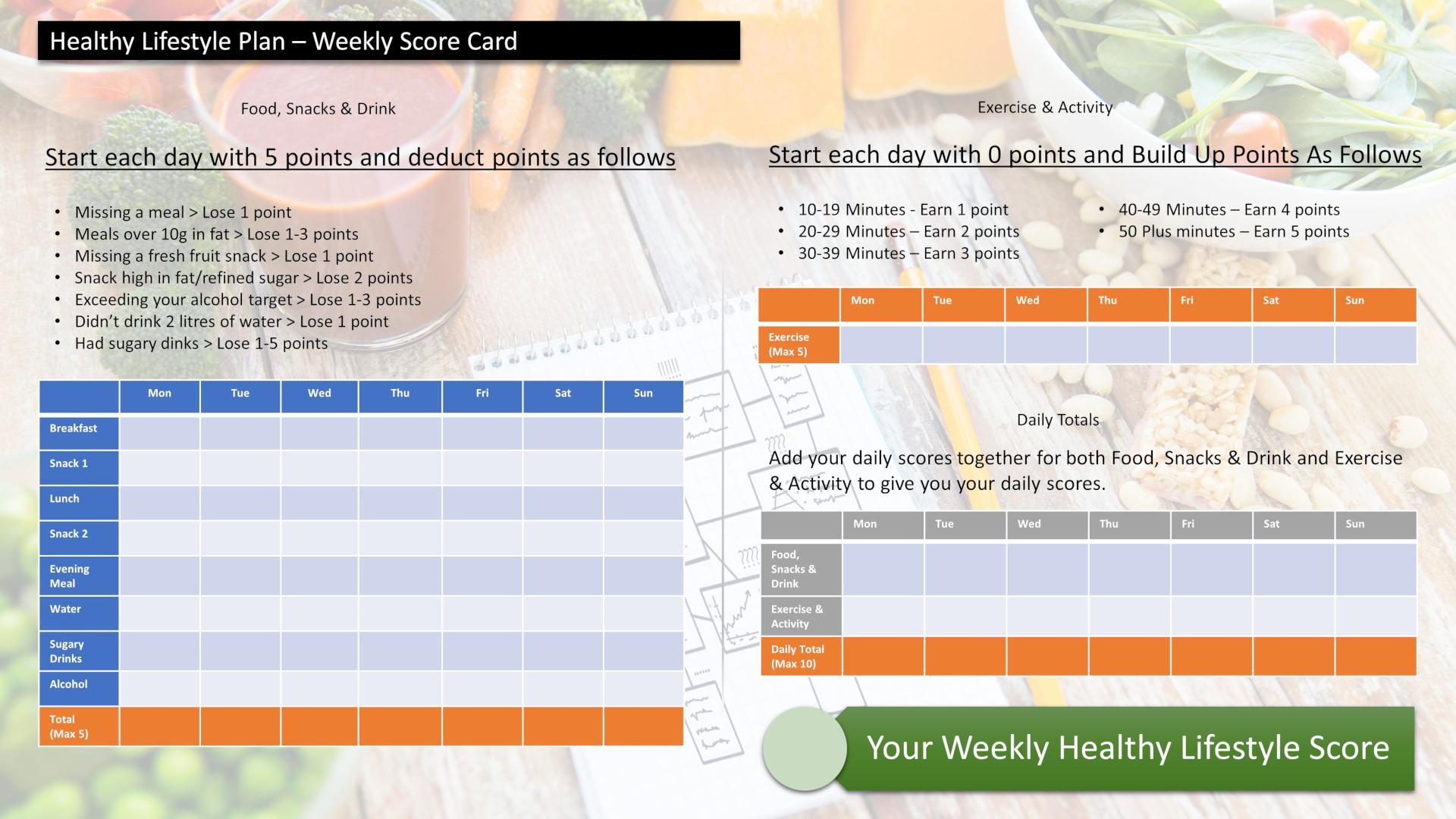 Score your way to good health with our healthy lifestyle plan and it's unique 70 point weekly scorecard!