We should be striving to create personal growth and development day after day. After all personal development is a lifelong process. Every one of us is capable of growing, learning and improving throughout our entire lives. Why is it important? Personal growth is a process that produces personal change and progress. So if you want to make the most of your life it's something you need to be doing. And it starts from within you. Personal development will happen the day you decide you want more from yourself and from your life than you currently have.
Personal growth and development is an individual responsibility. It is a continuous process that starts only if you decide it's something you want to do. Personal growth and development is a journey that demands commitment. It is always going to be far easier to fall back into your bad old ways. But when you stick with it the results you will see through your life are so worth it.
To me one of the most essential lessons I learnt on my personal growth and development journey was identifying what I did best, and doing more of it as well as identifying what I did worst, and stopped doing it.
This is a very simple but so powerful lesson, If you want to be your best and achieve your potential then you need to capitalize on your strengths. This only happens if you develop and focus on the areas you are most skilled, talented, and strong in while avoiding your weaknesses. It takes being disciplined and being intentional if you want to become the best you can be.
Today I want to show you how to reach full potential and how to maximize achievement. A person that wants to reach maximum potential has to start recognizing their talents in order to develop them to strengths. By developing your strengths you will be able to maximize your achievements. And this is something surely you want.
I returned home last night feeling absolutely exhilarated. It had been an early start. I was asked to assist in a Skype Business call at 7am. Then for the rest of the day I was in meetings with some great people where it was my responsibility to coach them to find their strengths, to see where their greatest potential lay. I finished the day working on the gym floor doing a few 1-2-1 personal training coaching sessions for a couple of my members who asked for my support. It was a whole day where I was working to my strength, because coaching is just what I'm good at, it's what I love to do, and it was only when I came to realise this that my life started to head in the right direction. When you know what you're good at, and you love doing it, then you can maximize your personal growth and development and at the same time help others achieve theirs.
It's like now I'm doing something else that's a strength of mine, one that develops and improves day after day. It is something I knew nothing about two years ago, and certainly would never have put it down as one of my potential strengths. It's my role as a blogger. This thing I'm doing right now as I tap the keys putting this article together. I'm not a writer in the traditional sense because my magic isn't created by the words I use. I see my skill as being able to put together motivational messages , providing life changing information which I put over in the same way as I would say it. What I do know is I've impacted many people's lives helping so many achieve their very own personal growth and development.
But the change is not down to me. Your growth and development will depend on how you apply what you read, or what you are coached. You must embrace change fully for yourself, you must want it, if you're to become a better and more successful person.
I may be a coach now, but previously I was a well paid trainer. I had the responsibility of teaching other people how to sell gym memberships and how to create a sales pipeline and all things marketing. When performing this role I could always spot who was going to succeed and who wasn't. Many would be there at the insistence of their employers, yet they had no desires to be 'sales people.' Even though I believed their role wasn't as a sales person, but as someone who could help another human being make a lifestyle change that would lead to them avoiding obesity, diabetes or another illness, they didn't want to know, and just went through the motions. They showed no interest, they had no passions, they didn't bring any strengths to the forefront.
How refreshing it is for me now, to coach people who want to be coached, who want to improve, who want to make something special of their lives.
And a key to it all, is help them find and then develop their strengths.
In the simplest of terms, when you identify your strengths and engage yourself more often with it, and you show discipline And determination to improve you are connecting with the very foundations of personal growth and development
So if you have the passion within you for change, that burning desire to become more than you currently are, find your strengths.
Discover your strengths and talents by evaluating all the things you can do really well. You will see: you might even discover some abilities that have developed some time ago, but neglected in the recent past. All these talents are your neglected potentials. Start to reactivate them by practicing them and try to reach full potential in these areas.
My point today is simply that everyone has special gifts and talents that they can use to make their world a better place. Just build your life around your strengths, gifts, talents and abilities, plan your life around them.
You can achieve, be, do, have anything you want in life. All the success, happiness and prosperity you've ever dreamed of is within your reach when you focus on your strengths. The possibilities are endless.
Score Your Way To Good Health - With Our Healthy Lifestyle Plan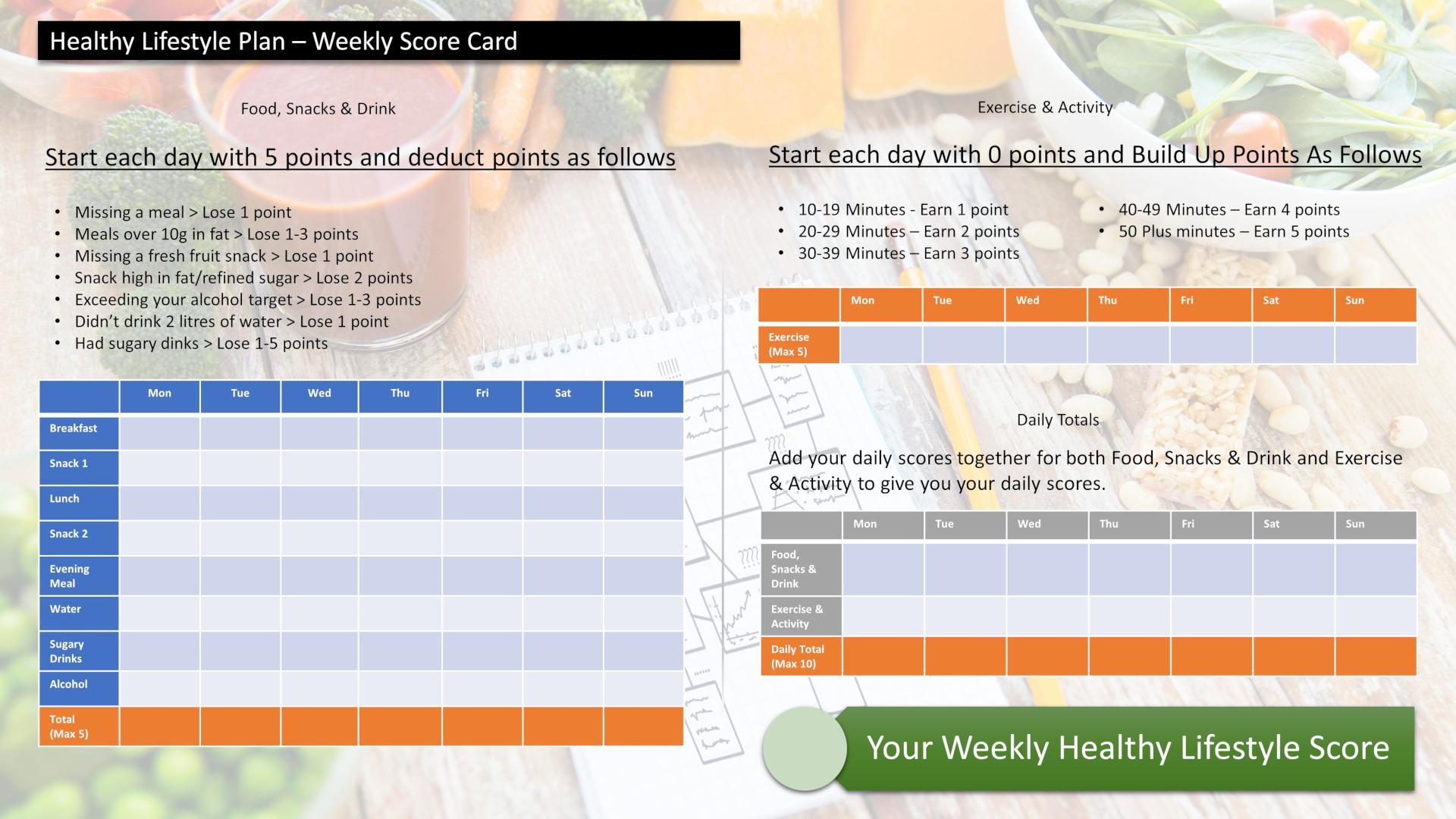 Score your way to good health with our healthy lifestyle plan and it's unique 70 point weekly scorecard!