Why bother with Personal Development Planning, is a question I get asked at times. I will always respond with another question, 'Are you happy with who and what you are? Do you see yourself as the finished product? Have you reached the point in life where you are perfectly content?
The truth is, most of us have at least one area of our lives in which we'd like to make some serious life improvement. There are things we'd desperately like to change, we just don't know how to.
Personal development happens when you finally decide to change the way you live your life for the better.
Maybe what I'm about to say will be controversial, in fact you may not like reading this bit at all. I expect some of you may even throw your toys out the pram, and vow never to return to this blog again. But I owe it to you that I say things as they are.
You are what you allow yourself to be. The things that define you today have taken place because you have allowed them. If you are not happy with the person you are, and where you find yourself, you have no one to put the blame on but yourself. Even your environment cannot be held responsible for the person that you are. But the good news, is that you hold the keys to improving your life. You are 100% responsible for the results you will get from your life, and from your personal development initiatives.
Life can be absolutely fantastic, and if you hear yourself asking such things as "Is this all there is?" then it is time for you to make changes. Whatever reason you are visiting my blog today, remember January is the month where you will make your New Year Resolutions, so this year get yourself in the position where they will make a huge difference to your life.
Finding meaning in our lives starts when we begin investigating who we are and what is going on around us. We are the only one that can say for certain what is deeply important to us, so if we get so very busy that we don't take the time to stop and look at our life, it may fill up with things that don't give us the kinds of joy and meaning we truly want.
Start empowering yourself by asking the right questions. Here are a set of questions you can ask yourself as you go through your day that will help you figure this out for yourself:
What do I really desire in my life?
What would I like to experience right here and right now?
What would truly motivate me to take action?
Is what I'm about to do going to get me the results I really want?
Is what I'm doing now really what I want to do?
Just know that in the process of questioning, there are no hard and fast rules, no good or bad answers, their purpose is to get you to begin taking time for your personal development, to at last show that your life is worth more than it is right now.
First off, you need to have a system in place to allow you to nurture your personal development. There is absolutely no point simply talking about how badly you want to improve things yet put no plan in place to enable you to do this.
Allow me to introduce personal development planning. This allows you to take a good look at your life and determine where you'd like to make some major changes. It then allows you to create a plan that will enable you to work towards the person you want to be. Personal Development Planning will help you to define and explore your goals and map out ways to turn them into reality. It will enable you to open up opportunities for your future.
So the first thing that you have to do is to create a plan. A plan, after all, is the first step to anything. You need to know your goals so write them down. Then you can direct your attention to planning how you will achieve your goals. This step is crucial to personal development. It will act as a constant reminder of what you want to achieve. This makes your goal even more real. You need to place it where you would always be able to see it.
You need to read it daily until you know it by heart – until it has fully submerged into your subconscious.
You may have enough motivation or positive thoughts, but if you do not take action today, your personal development will never become a reality. So, start now and begin this new part of your journey and enjoy the improvements you will make.
If you would like to get started, you can download a personal development plan and get started.
Personal development does not need to be difficult. Don't expect to change your situation overnight. It will take time, a lot of hard work and persistence, but you can change and grow over time.
Be driven by your motivations towards Personal Development. You will continually be challenging yourself and be motivated to dig deeper and reach higher to maximise yourself as a person. By taking control of your personal growth and forcing yourself not to stay still and become stuck , you will better yourself and your future.
If you are motivated to begin your journey toward self-improvement, but don't have a clear sense of direction, let me help you create a personal development plan and then support you in actioning it. Take a look at my personal development coaching page, and get in contact with me.
Score Your Way To Good Health - With Our Healthy Lifestyle Plan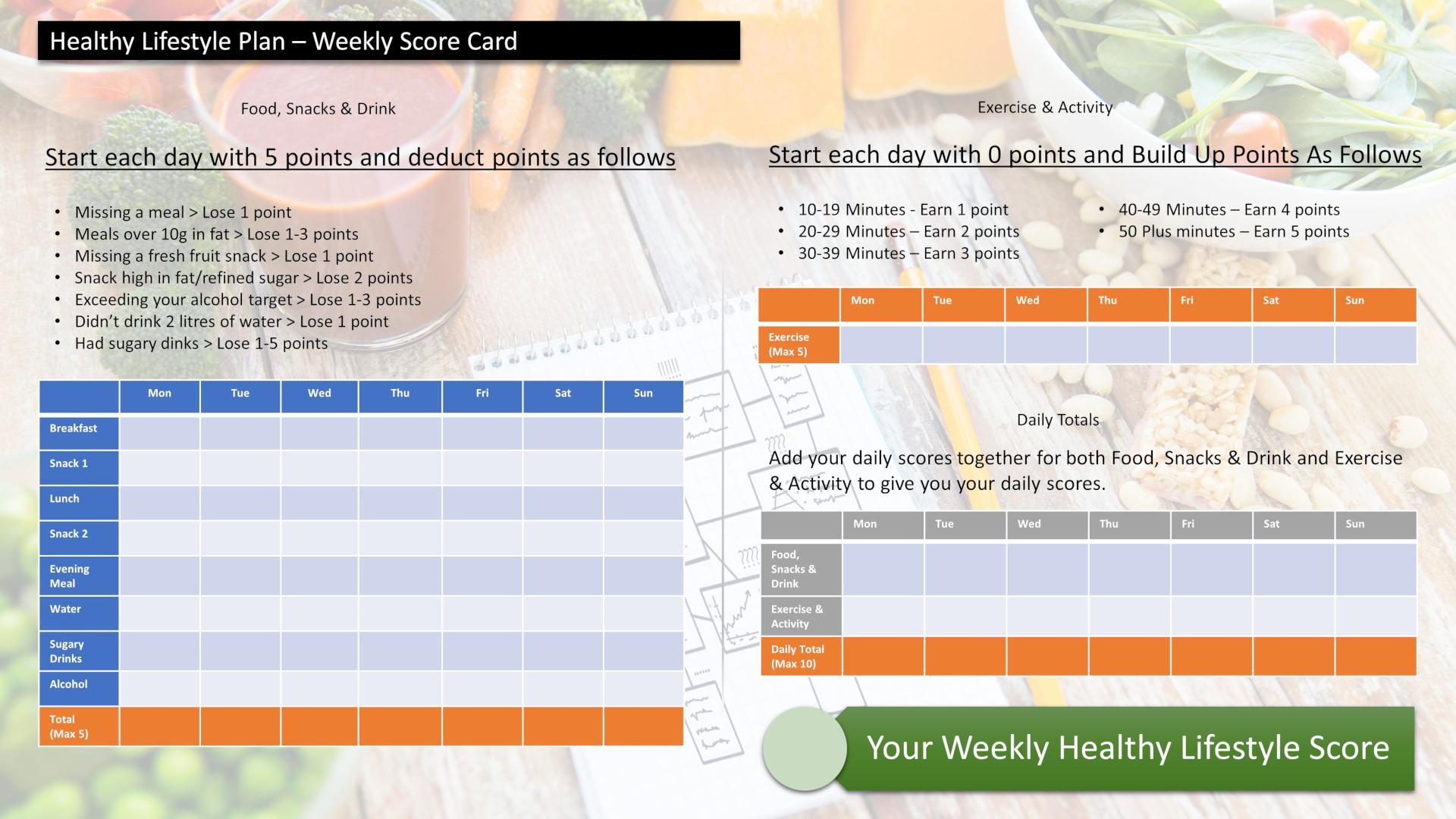 Score your way to good health with our healthy lifestyle plan and it's unique 70 point weekly scorecard!