Today I want to write about Personal Development Growth. Life should be a journey of constant and never ending growth – an adventure, but throughout which you strive to better yourself and evolve as an individual. Yes life will be full of bumps and bruises, but when we have made the conscious decision to keep growing, to keep improving no matter what life throws at us we will press on fulfilling our potential.
Personal development as defined by Wikipedia, the free encyclopaedia includes activities that improve awareness and identity, develop talents and potential, build human capital and facilitates employability, enhance quality of life and contribute to the realization of dreams and aspirations. The concept is not limited to self-help but includes formal and informal activities for developing others, in roles such as teacher, guide, counsellor, manager, coach, or mentor. A definition of growth as found on The Merriam Webster Dictionary says it to be
(1): a stage in the process of growing
(2): the process of growing
(3) progressive development : evolution
Personal Development Growth is a desirable aspect of life. It involves moving from step of life to another. It is both a conscious and unconscious process of developing and bringing forth your talents and strengths – in the domains of the mind, body and soul.
You can't avoid growth. Simply by being you will evolve over time. So my philosophy has always been to take control over my life, and consciously take charge of my personal development growth.
Are you willing to commit yourself to a journey of lifelong learning? Are you really dedicated to hasten your success and achieve your dream life?
The goal of this article is to raise your awareness to your true potential and help you understand how important personal development growth is to you and your life. How it can help you get from where you are today, to where you want to be.
So let me define another word today, that being potential ….
'Capable of being but not yet in existence; latent'. Your potential is an unlimited source of infinite possibilities which you have the choice to pursue. You, my reader, whoever you are, have an incredible capacity to constantly grow and improve. A while back I wrote an article called "Without Passion you are Just an Underdeveloped Force with Latent Possibilities"http://www.healthylifestylesliving.com/uncategorized/without-passion-you-are-just-an-underdeveloped-force-with-latent-possibilities/. Passion has definitely been for me something that i have pursued with vigour throughout my life and has been the catalyst for much of what i have achieved.
I've just asked you whether you are prepared to dedicate yourself to a journey of life long learning. Now I will ask you, are you consistently pursuing your potential? Do you live a life where you are trying to fully maximize your potential and pursuing your dreams?
You see I can find lots of definitions to words in dictionaries. I can ask lots of questions to my readers. But only you can go within yourself and provide answers. To often though you don't make the time to ask yourself inspiring questions. Worst still you don't give yourself time for personal development growth.
Yes I know you are reading my blog. I thank you for that. But when you think of personal development growth what comes to your mind? Is it an evolutionary process towards maximizing your potential, instead of just settling for mediocrity? Are you constantly looking for ways to make improvements to your life? When you find methods applicable to you that can help make radical improvements, are you quick to act on what you've learnt? Or do you just come here to read but take no action.
I hope not. In all likelihood, you're someone that's seeking improvement, whose determined to make the most of this journey we call life. My wish is you read this blog because you believe in personal development growth, and you have the right attitude to life.
Get ready for the launch of our totally new and yes totally FREE "Power of Passion" Course. It starts on the 10th April, 2012. Places are limited, so don't miss out. Reserve your spot by subscribing to www.healthylifestylesliving.com this will ensure you get a copy of the ebook "Power Of Passion." Your passions will fuel your personal development growth.
Download Personal Development Growth MP3
Score Your Way To Good Health - With Our Healthy Lifestyle Plan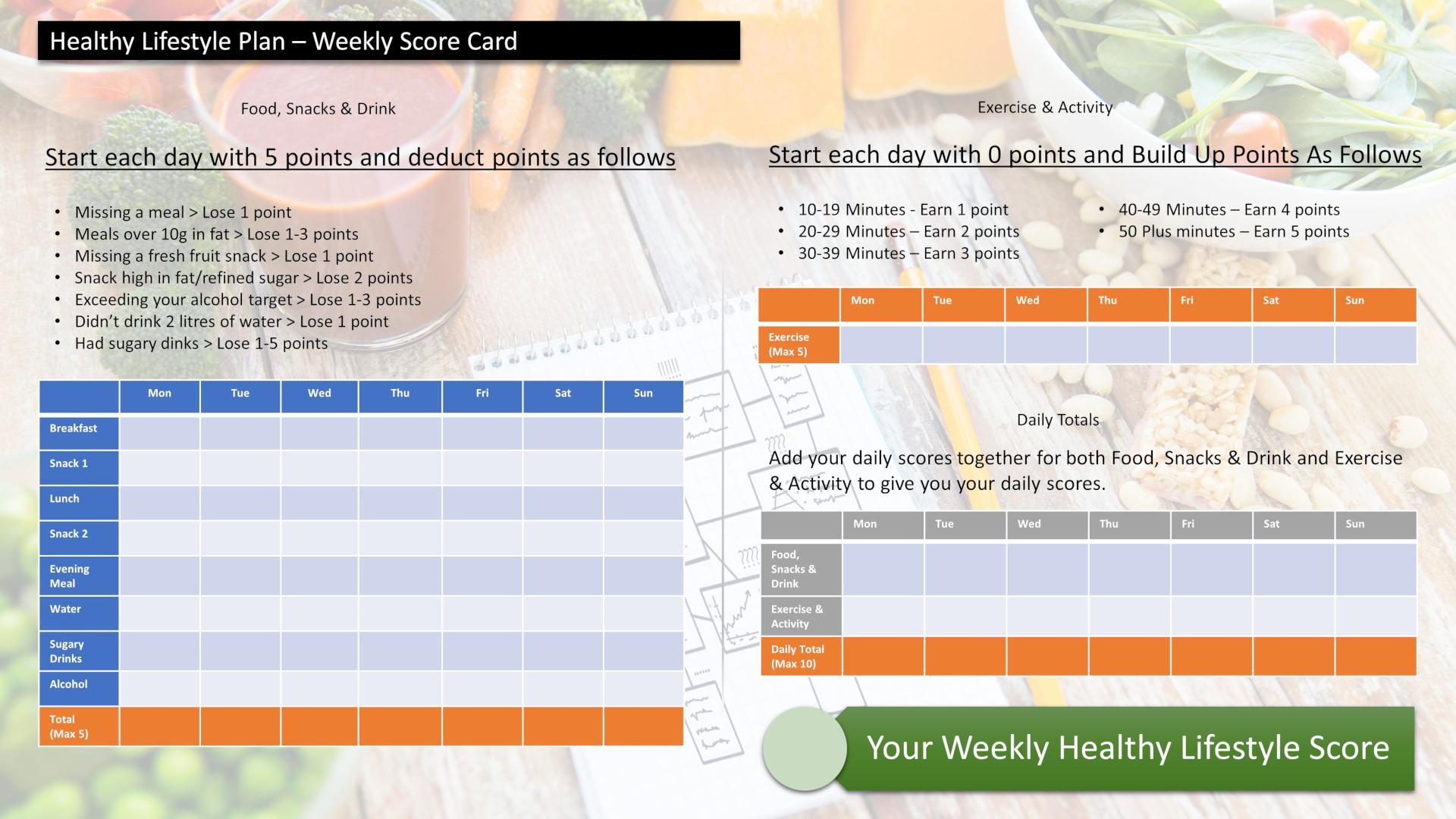 Score your way to good health with our healthy lifestyle plan and it's unique 70 point weekly scorecard!