I really appreciate each and every one of you for visiting my blog, and reading my articles. You honour me with your time. A question I admit to often asking myself is 'how much do you honour yourselves by taking time to focus on your personal development?'
I truly hope that something I write will help you to begin the journey to genuinely and conscientiously work on your personal development. I just know how important this will be for you, in fact life changing. Personal development will help you find your passion for living and living the life of your dreams.
We all want to live full, productive lives, but sometimes, we just don't know where to begin. There is so much information 'out there' that it can be overwhelming and hard to sort out.
Personal Development, when you really break it down, is all about furthering yourself, investing in your own growth. Seeking genuine personal development takes determination but it is definitely worth every moment that you put into it. It does take time, but the end results will simply be awesome, completely life transforming.
Personal growth MUST be a priority in your life. You must never stop learning. You must never stop growing. You must never stop adapting to the changes around you.
Charles Darwin said, "It is not the strongest of the species that survives, nor the most intelligent. It is the one that is most adaptable to change."
If you're truly ready to stop dreaming and start living the life you believe you deserve, it's time to get serious about personal development.
Some of the barriers to personal development include:
Poor Time Management
Disorganization
Unresolved fears
Self-sabotaging behaviours
Procrastination
Blaming others or external circumstances for your problems
Feeling sorry for yourself
Lack of self-confidence
Victim's Mentality
A good thing to consider when it comes to personal development is to truly put a value on those things that are important to you in your life. Determine which aspects of your life you truly value, and begin to work on these.
Then you have to be flexible and adaptable This is an essential ingredient to succeed in life. Initially things will stay pretty much the same, you will face your normal day to day difficulties, delays and frustrations in both your work and life. Circumstances will try to derail all your efforts to stay on the journey of personal development.
"I am a man of fixed and unbending principles, the first of which is to be flexible at all times." – Everett Dirksen
You have to adapt to everything life throws at you. You have to be open to any new challenges or changing situations, never telling yourself this is something I can't handle, or I know I won't like this.
This is already something that is holding you back in life , stopping you from achieving what you are capable of. You tell yourself things such as: I can't do that, that will be to difficult, no way can I get through that, that's it there's no way I'm going to get that done.
You may not always know where a new life situation will lead, but approaching it with a positive attitude, belief in yourself, and giving it your best effort, more often than not you will end up producing a positive result.
Life is all about change, and if you don't keep pace with that change you will be left behind.
Change is absolutely necessary for personal growth and success especially if what you have done have not worked out. When you improve yourself, your world will change for the better.
Do things differently. You have to decide to do things differently to experience different results.
"I am a man of fixed and unbending principles, the first of which is to be flexible at all times." – Everett Dirksen
One of the skills desperately needed in today's fast-paced world is the ability to adapt quickly and effectively to change. If you are willing to welcome change instead of constantly fight it, your life is going to be great!
Personal development is an on going process and journey. As you continue on the journey of personal development, you will become aware that there is so much more knowledge and information to be discovered, and uncovered, than you ever thought possible – knowledge about yourself, knowledge about others, knowledge about life and the world around you. So keep learning. Keep growing. I hope that my blog can continue to be a source of inspiration to you.
Don't forget, for further support join our FREE support group.
It is a process and by joining our free support group you allow us to guide and support you on your journey towards personal development.
Score Your Way To Good Health - With Our Healthy Lifestyle Plan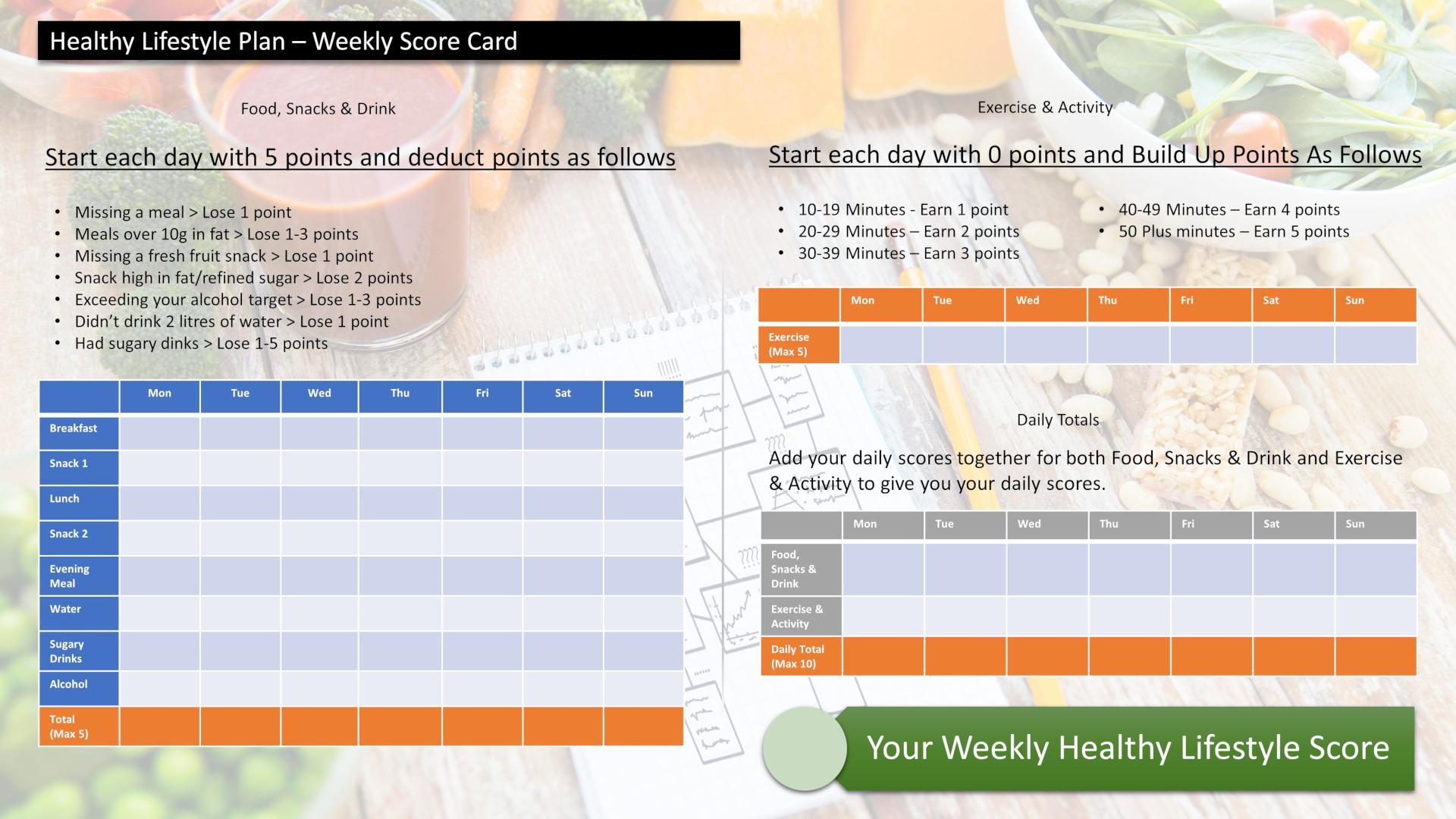 Score your way to good health with our healthy lifestyle plan and it's unique 70 point weekly scorecard!