A good friend is a few days away from her 60 something birthday, and finds herself struggling adapting to change taking place in her life. She's aging. Getting older by the year. Dare I tell her, we all do, and considering she hasn't suffered from any form of ill health for longer than she can remember she's doing a lot better than most her contemporaries. She walks every day and will often cover 5 miles without breaking a sweat. I mean perspire as she's female. She's also excited by her life although retired she's always doing something. Next month she's off on a cruise and next year A Safari in South Africa. We all need to remember that every day is an opportunity for adventure, after all nothing stays the same, everything changes and we may as well be in control of the changes that occur in our life
This weekend I went for a walk at Seaton Carew and saw an amazing site. The oil platform Brent Delta one of 4 platforms that had produced 3 billion barrels of oil 8 per cent of total UK production had been decommissioned and just a few days ago had been transported to Seaton Carew to be scrapped. The Brent Field in the North Sea is seemingly coming to an end as a source of oil. Since 1970 it has had the oil flowing but as we know nothing stays the same.
Such an amazing site that this offered to me. This huge platform comprising an accommodation module, a power station, helipad, drilling derricks and facilities to produce and export oil and gas. It was magnificent. But maybe age and time had caught up with it.
The one thing that nobody can stop is time. It's always going to be moving forward. It doesn't stand still and as the saying goes it waits for no man or oil platform it seems.
Change is the one thing we must expect through our life, after all nothing stays the same forever, so whatever changes we experience we have to accept them & simply continue our journey not allowing anything to knock us down or cause us unnecessary stress and concern. We must be able to see ourselves successfully adapting to change.
So why do so many people fear change?
I know that now I'm looking forward to my future and what it could bring. Yet for so long I couldn't handle, accept or see myself adapting to change as enforced on me through illness. I felt like that oil platform decommissioned and ready to be scrapped.
Accepting what we don't like may be one of the most difficult aspects of life. Yet adapting to change that it brings a major determinant in how things work out for us.
Perhaps you are fed up wasting time feeling sorry for yourself, and lamenting the things you cannot do. You know that adapting to change, no matter how unwanted these changes have been, will make the difference too living a life of sadness and disappointment and happiness and achievement. It is essential you learn to accept those things that you can't stop change and not allow them to overwhelm you another second.
One thing we know is nothing stays the same.
Yet how many times have you said 'Why can't everything stay the same?'
"There are things I can't force. I must adjust. There are times when the greatest change needed is a change of my viewpoint." Denis Diderot
A key principle you must adopt for the rest of your life is to accept change and adjust to it, even when confronted with unforeseen changes in your life.
You will learn you can adapt and adjust to any situation.
"Happy is he who learns to bear what he cannot change." J. C. F. von Schiller
Throughout your life you will have made many gains, shifts, losses, and transitions, some big others small. However, when we experience a great loss we can temporarily crumble as I did following my loss of vision and the subsequent period of chronic ill health.
What I have discovered is first adapting to change is essential, and then to improve the quality of your life you must take responsibility and dare to dream.
One of the reasons people do not take the time to improve the quality of their life, is that they think things will just get better then they decide things never will improve.
I simply want to give you something to think about. If it clicks you will not only see yourself successfully adapting to change but will go on to significantly improve your life.
Read these lines and think about what they're telling you.
Your success comes from your results.
Your results come from your actions.
Your actions come from your thoughts.
So, when you think more effectively, you take better actions, which leads to better results.
Now ask yourself what has held you back?
What can you now do to take your life forward?
Thoughts …. actions …. results!
Do you want to know who you are? Don't ask. Act! Action will delineate and define you. Thomas Jefferson
Score Your Way To Good Health - With Our Healthy Lifestyle Plan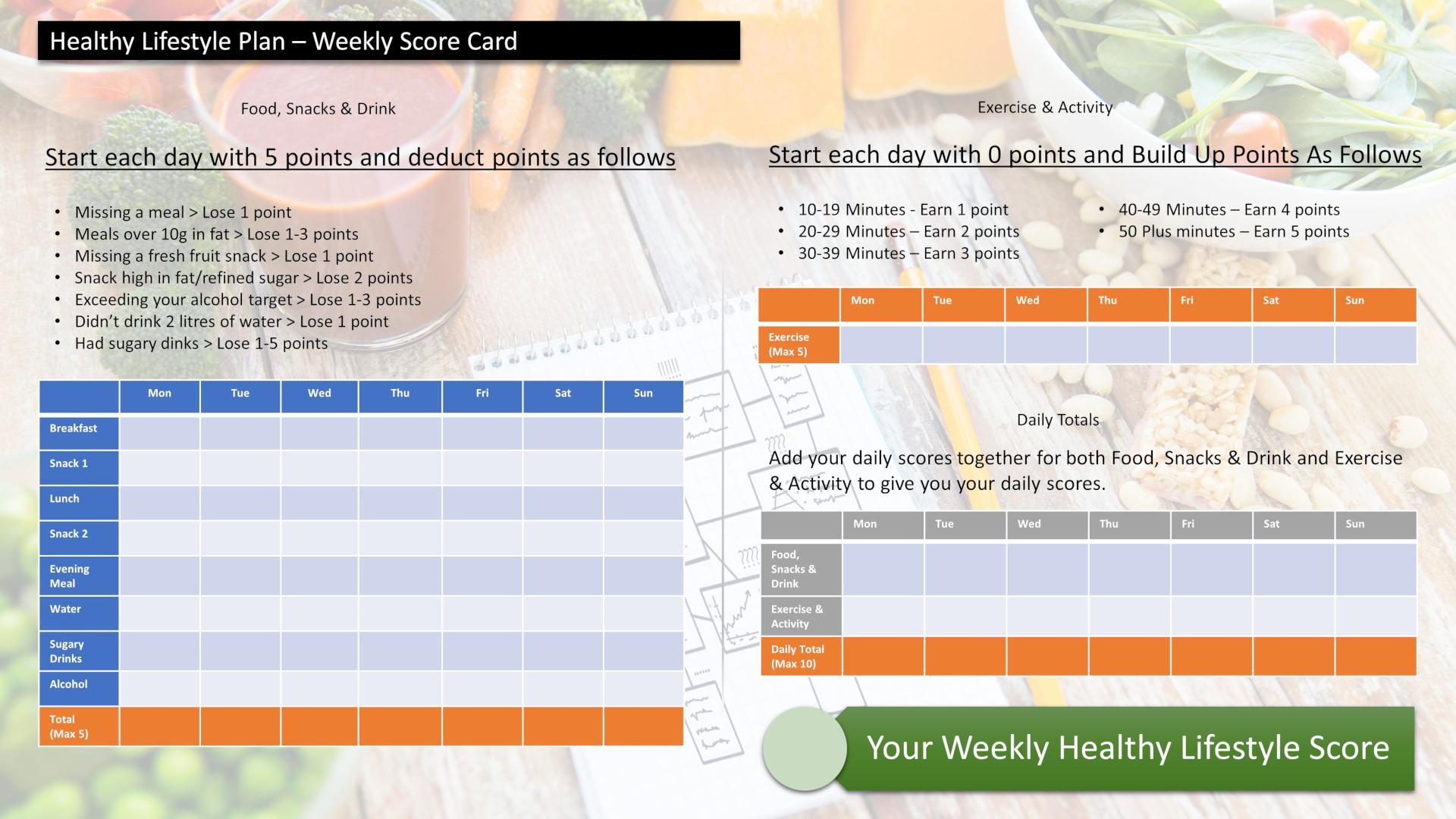 Score your way to good health with our healthy lifestyle plan and it's unique 70 point weekly scorecard!