I was watching Andy Murray win the Rome Masters beating world No 1 Novak Djokovic in the final where he proved that you must never settle for failure. It shows persistence and the never give up attitude is a strong force. The head to head record so far between these two has not been good for Andy Murray, but he refused to settle for failure and trained hard to close the gap between the two.
No sportsman after failure in a tournament would allow themselves to stay down and traumatised by their defeat. They would shake themselves down, train harder, get their mind right and come back in the next tournament and do their utmost to win. After all we can't win every time and defeat comes with taking part. That's how I've seen my life. I set about achieving high targets and I believe that I will be successful every time but the reality is that at times I have failed, yet I would never settle for failure.
I had a great run. I achieved so much. I had a wonderful lifestyle that most people can only dream about. Then I lost it all. But having tasted success I was determined to achieve it again. So instead of focusing on my misery, being lost in my anger with other people, bitter about my losses, I set about building a new business, and career from the bottom up.
I would certainly say that one of my strengths, perhaps the one thing that has enabled me to live the life the way I have and taste success not once but twice is the fact that I always look for the silver lining.
You can be anything you want to be, if you only believe with sufficient conviction and act in accordance with your faith; for whatever the mind can conceive and believe, the mind can achieve. Napoleon Hill
You see I have never allowed negative emotions to rule me. I respond to difficulties by taking a proactive approach believing I can come through whatever the problem. I always look at the big picture which helps me come up with creative ways to get back on track.
When I look back over my life I want to be satisfied when answering these questions:
"Did I give it my all? Could I have done more?"
I give everything that I do my very best. I put my total focus, effort and energy into what I do. This of course together with my absolute passion for what I do.
You will always stand the best chance of success when you are passionate about the things you're doing. Bringing passion to whatever you do is a guaranteed way to make sure that you give it your best shot.
I'm not proud of my failures. But I'm proud that I've been able to learn from them. My biggest regret is how long it took me to recover and pick myself up following my failures. I am determined to help others avoid doing this themselves. It was such a waste of time and effort. I know I should have got to grips with my feelings much sooner, but I believe the battles I went through took a lot out of me mentally and physically. This was my way to rest up, keeping me out of new battlegrounds for a while. I needed time to recoup and keep out of the rat race. But once I went back to it, I put everything on the line that I could. One should never do those things that are important to them in half measures.
I have come a long way, but still have a long way to go. I have learnt much from my mistakes and I try to improve myself every day.
Human beings are driven by two connected motivations: to feel pleasure and avoid pain. Most of us devote more energy to the latter than the former. Getting back of my knees and fighting again to rebuild my life to a better place was or a time harder than just settling into a dull routine which was going to get me nowhere. It was simply a break I needed for a little while.
Pain is part of life, and we can't avoid it by resisting it. We can only minimize it by accepting it and dealing with it well. That means feeling the pain and knowing it will pass. No feeling lasts forever. It means sitting in the discomfort and waiting before acting. There will come a time when you feel healed and empowered. Once you do, move on!
I'm not a religious man, but I loved this quote I read:
"For God did not give us a spirit of timidity (of cowardice, of craven and cringing and fawning fear), but (He has given us a spirit) of power and of love and of calm and well-balanced mind and discipline and self-control." Timothy 1:7
Sometimes the reason we don't make a decision isn't because we don't know what to do, it is because we're afraid to do it.
Afraid we might fail.
Afraid we won't be able to do what's necessary.
Afraid we won't like the end result.
Afraid of the effort it's going to take to accomplish our goals.
You owe it to yourself to follow your dreams and never settle for failure. You only have one life. You must not let fear stop you from doing the things in your life that you want. DON'T BE AFRAID!!!
"Satisfaction lies in the effort, not in the attainment. Full effort is full victory." Mahatma Gandhi
Share in the comments about how you handle your failures?
Score Your Way To Good Health - With Our Healthy Lifestyle Plan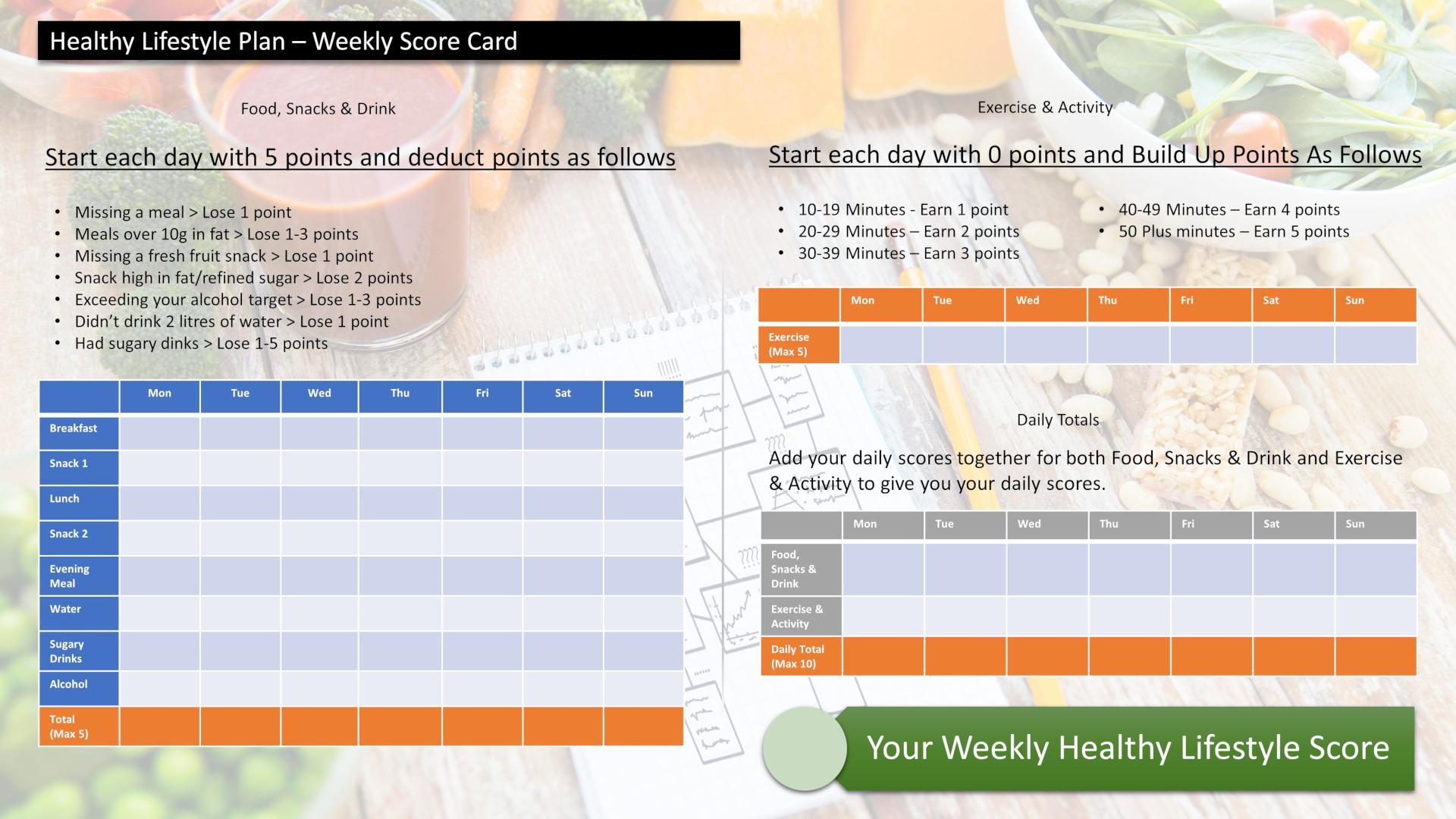 Score your way to good health with our healthy lifestyle plan and it's unique 70 point weekly scorecard!