No matter what life throws at you its important to never give up on your dreams. Even when things get really difficult, don't stop. The journey that your dream takes you on is part of the reward itself, and who you become in the process is what makes you the great person you were destined to become.
We all have dreams we want to achieve in life. We may face obstacles, difficulties and hardships where we feel like giving up. Sometimes we give up just before we are about to realize these dreams. The message I bring you is to never lose hope! Never give up!
Always let your dream burn deeply in your heart. It is your vision and it's achievement will no doubt impact and inspire many. Before every breakthrough, there is often a crises. Before the dawn there is the darkness. But if you persist, you will succeed.
As my regulars readers are aware one of the most important and powerful messages I enjoy putting is that you must never give up. Recently I began posting a daily Never Give Up Song which has proven unbelievably popular.
Yes difficulties may occur when you are trying to achieve your dream. I say again never give up on your dreams. At times things can sometimes seem tough and it can be easy to give up hope. You might sometimes wonder if your dreams will ever happen. You may even consider abandoning your dreams altogether, feeling as though you have given everything and not seen the light at the end of the tunnel. These are the moments that it is easy to give up. These are the moments most people give in. This is the time you have to make sure you carry on.
People may call you crazy, unreasonable, unrealistic. As I will demonstrate shortly with a story about Walt Disney, nothing significant has ever been produced by dreaming small, and believing in your limits.
If your dream has meaning to you, the pain in denying it is a excruciating. In denying your authentic dream, a part of you will die. Just show courage!
If you are facing one of those challenging moments in life, but feel your dream to be truly authentic to your heart, then you must commit, continue and trust bigger than your fears.
Acknowledge and commit to your dream..
Spend time everyday taking action towards your dream..
Surround yourself with positive people that believe in your dreams..
Find small ways to live your dreams daily.
Trust in the end result
"All Our Dreams Can Come True, If We Have The Courage To Pursue Them." Walt Disney
One of the most successful people that we all know and love is Walt Disney. The creator of Mickey Mouse and so many other wonderful characters, movies and let's not forget the magical holiday destinations. His achievements in the world are known by most of you. I know that the best holidays of my life, both as a child and again as an adult were at his resorts. Just think about the vision that Walt Disney had. His legacy will live forever . He turned his dreams into reality
"All the adversity I've had in my life, all my troubles and obstacles, have strengthened me… You may not realize it when it happens, but a kick in the teeth may be the best thing in the world for you. "
Walt Disney had humble beginnings; he was not born a success, instead he made his own success. I was in awe as I read the story of how just before his death he spoke about his vision of Disneyworld. Hardly able to speak clearly, he demonstrated his continued determination to fulfil his dream, and his 100% certainty that one day it would be built.
Finally his dream was completed in 1971 alas he wasn't there to see it. He created something completely new like no other in the world. Anyone who has had the pleasure of visiting Disneyworld or Disneyland, the minute you enter the gate, you feel as though you have been transported to a magical land. You are seeing a dream that was built in one man's head that very few others believed in.
"When you believe in a thing, believe in it all the way, implicitly and unquestionable." – Walt Disney
So live a life where you believe 100% in your dreams, do everything you can to bring them to life, and no matter what happens, never give up.
Score Your Way To Good Health - With Our Healthy Lifestyle Plan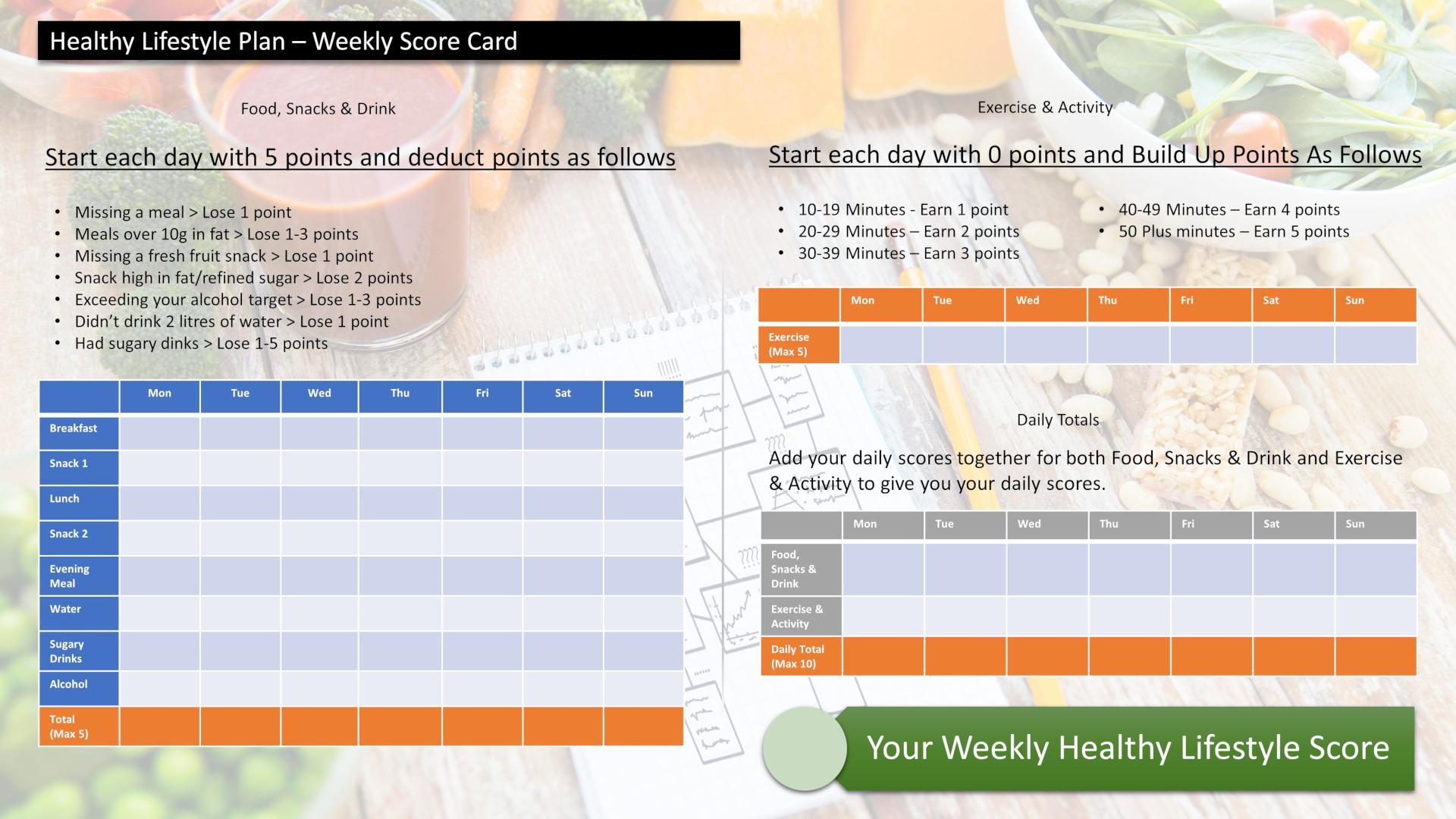 Score your way to good health with our healthy lifestyle plan and it's unique 70 point weekly scorecard!