Today I have received many kind happy birthday wishes and want to thank all those who have sent messages or e-mails; they are really appreciated. I would like to thank you all from the bottom of my heart. I have always loved birthdays and the fact you get thoroughly spoilt for the day makes them all the more enjoyable.
I wanted to take a moment to send some love and positive energy to everybody that connects with this my blog. I send to you positive energy, may its vibrations help lift you to a state of prosperity, success, and joy.
The law of attraction tells us that the more powerful positive energy we put out there to ourselves and others, the more powerful positive energy we will attract.
What kind of energy are you putting out to the world right now? What kind of energy are you getting back?
Today I ask you to think about helping to ease the burden of just one other human being. Think about offering a spark of hope to someone living in a difficult situation. Just release them positive energy, by quietening your mind, and focusing on them. Then, trust that what you have done has had some impact, even if you never see it. Please just give all you have to another for just one minute.
Now that you have practiced sending energy, practice receiving it. Think of something you have wanted to accomplish that has been difficult for you to achieve. Sit quietly and tune in to all of the people in the world who have already achieved what you want. Draw their energy into you. Feel the energy of success. And of achievement. Visualise yourself now achieving your goal. Simply close your eyes and imagine that you are connecting with them. Imagine yourself drawing the energy of these people to you. They know what it's like to accomplish what you want to accomplish. How does it feel to know that you, too, can achieve this? Can you allow yourself to touch feelings from your probable future? Take yourself there now!
My final note for today is to make sure that you enjoy at least 5 minutes of happiness today and every day that follows. Have fun, take a real pleasure in something, wish those around you well. Meditate, show gratitude or laugh, do something positive around you, or just quite simply be aware of being happy for a while…all the time realising within yourself that, even if you are not aware of it, the happiness that you are experiencing is shining out around you, and will radiate positive energy for others ! So just make a conscious effort to have your 5 minutes of happiness today.
I am so thankful for having had the opportunity to cross paths with you on this special day to me. My birthday wish is for you to radiate positive energy in support of others. Thank you.
Score Your Way To Good Health - With Our Healthy Lifestyle Plan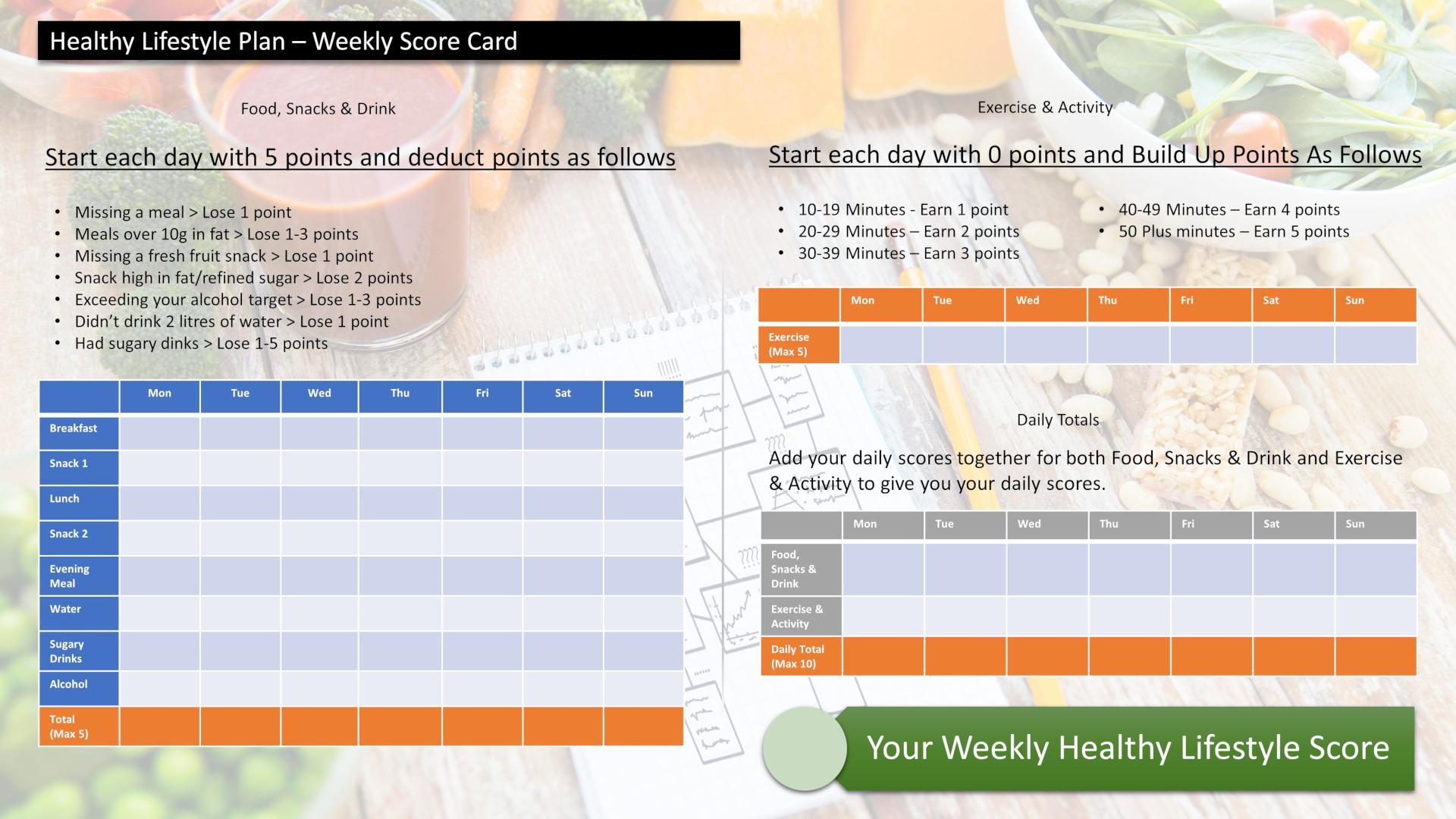 Score your way to good health with our healthy lifestyle plan and it's unique 70 point weekly scorecard!