The Digital Age is a period in history characterized by the shift from traditional industry to an economy based on the information computerization. The internet is having a profound effect on the way we work, live and learn. I'm very fortunate to have in the last three years built a business that has very much benefited from this as it is totally online.
Through the power of blogging I found an incredible powerful way to communicate my passions and excitement for healthy lifestyles living and personal development. I found myself enthused by my ability to write on subjects that I believed really mattered and know people were not just reading them but appreciating them. I suddenly found myself not only being able to inspire, coach and motivate others through blogging but also make money from doing so.
The combination of blogging and selling products that I believed in, that aid healthy lifestyles living through my ecommerce stores have just taken over my life, and allow me to bring all my dreams together in building the business that can truly make a difference.
It doesn't matter what type of business that you own, it is very important for you to make sure that you're always moving forward. If you're not improving your business, you will find that it becomes stagnant and very difficult to maintain. So we are moving things up many notches at the moment and this is taking a lot of time and effort. The strange thing is no matter how long I may spend at the keyboard, or how many meetings I have, I'm loving every second, because this is the business of my dreams.
Yet I am aware that one must not over extend themselves, and be able to retain a clear focus on the things that matter. So the rapid growth we are enjoying together with a few other circumstances has made me have to look at my options and come to make a very difficult decision.
Our lives are shaped by the decisions we make. The better decisions we make the faster we will advance towards our dreams and goals. Throughout our lives we are making constant decisions, and it is the wisdom of the choices we make when making these decisions that determines the quality of our lives. Well the decision I have had to come to, I know is absolutely essential to my development, but yet was so hard to come to.
For the past 12 years I have owned or managed fitness clubs. Working out is not just something I believe everyone needs to do it is something I love doing myself. Alas the last two to three years have been difficult for me being an owner of a gym, and even working out. Since my eye operation and the cyst on my brain, my physical fitness has declined greatly, and has meant that I could no longer perform my role as an instructor. It was for this reason, and the time I had to take out of the gym that got me started in blogging. Remember every cloud has a silver lining. But owning a gym and not really being able to work within it has been very hard.
Things have been made even harder for the business by the fact that my partner Rachel has also suffered greatly with ill health. At a time when she had been able to take over many of my classes and built up a fantastic following she was also taken out of the equation when her ill health struck. This resulted in a major operation, which alas has seemingly failed and therefore she now has to contemplate having yet another operation. Having us both out of the gym for over 18 months has made the running of it extremely difficult.
The problem has been compounded by the arrival of a new gym in our town, located on the side of town which seems to be getting all the investment and development. They have not just a great location, plenty of parking, massive passing traffic, but also brand new state of the art equipment. There can be no doubts they have been able to take a lot of the business that would have previously come to us.
We also know the economy has been hard on everyone, and certain industries are feeling it more than others. For some people, their gym membership is the first thing they drop, viewing it as a "non-essential. There are also so many different options now for people to look at for their fitness regimes. Whether it is using computer technology like the Wii Fit or one of the multitude of online programs, there are so many options to choose from.
It has now got to the point where we have had to make an incredibly difficult decision. After twelve years we have reached the end of the road and now have to close the gym down.
To get the best out of our life we really need to think of our own personal management at times, and what changes may bring benefits. What are some of those changes that can be made? When health comes in you can't be taking risks.
Also you need to regularly analyse your business so that you can see the direction that you should go. I know my business and passion lies online. That's where I want to be, that's where my future lies. So it means letting go of the past.
I feel very sad for my members who are not comfortable in a co-ed gym and who have benefited over the years from our wonderful circuit. But we have done everything possible to keep the business going in a very difficult period. With both our health problems this has required an increase in staff costs at a time while the economy has seen a major downturn in the area with many businesses closing down already, and of course fierce competition doesn't help.
We find ourselves unable to renew our lease. We have rented our property from a very supportive landlord but we are both in a situation now where we cant find a mutually agreeable arrangement. We have been prepared to run at a small lost that we have been doing for quite a while. But the effect this new business is having on us things could only got worse, and we knew we had reached the point where we had to make a decision so we have to secure our future and close down.
We had a good innings, there for 12 years but it's still a very sad day. And I have a business now that has captivated my passion and utilises all my skills and talents. So this is now a move forward that I can focus on 100% of my time, and it allows Rachel to have her operation without worrying about the gym.
Your life will really begin to expand in a positive way when you are prepared to make those difficult decisions. Nothing must stop you from achieving your destiny and at times those difficult decisions are the ones that can truly catapult you forward.
Score Your Way To Good Health - With Our Healthy Lifestyle Plan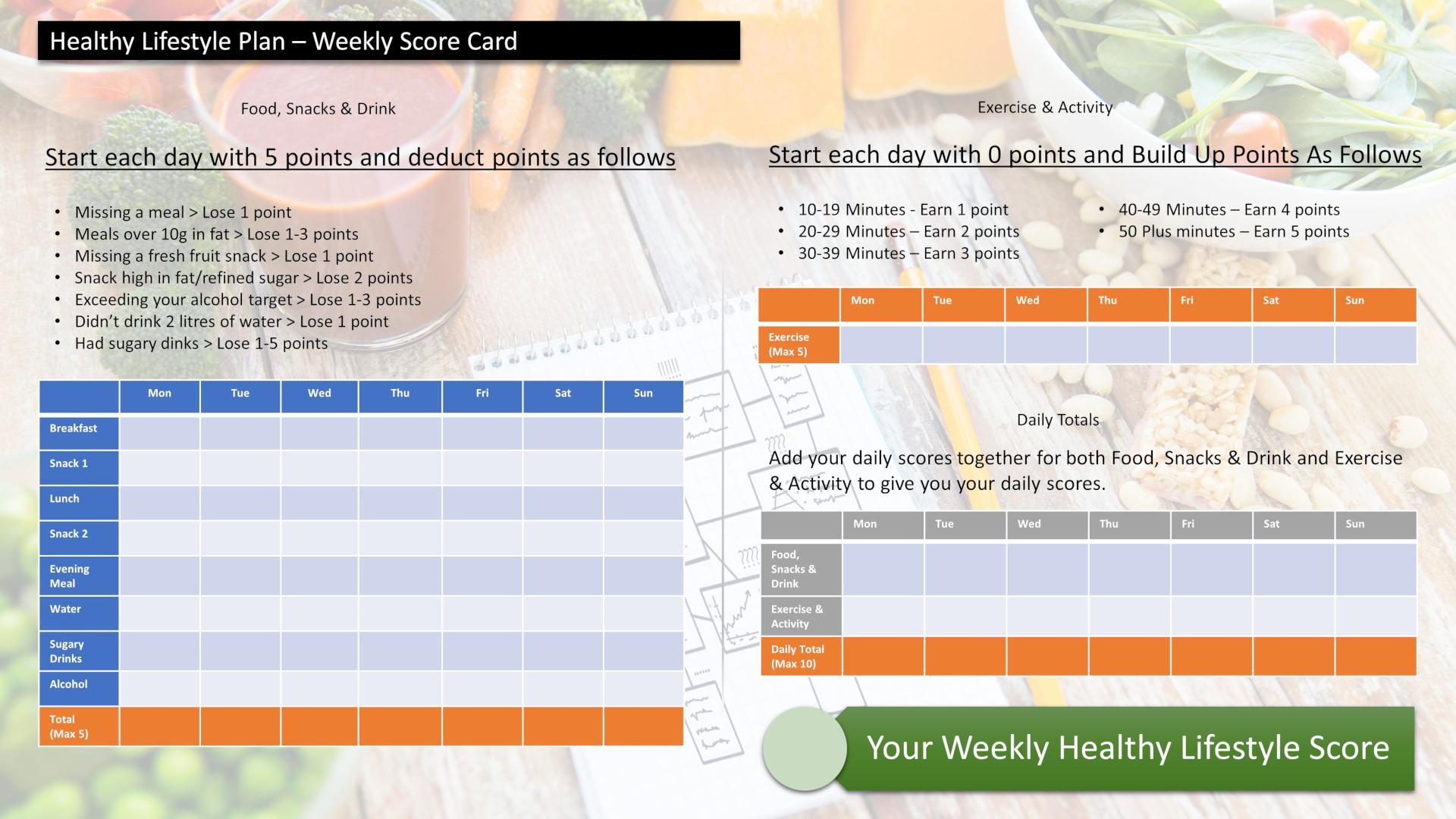 Score your way to good health with our healthy lifestyle plan and it's unique 70 point weekly scorecard!