"I do not know anyone who has gotten to the top without hard work. That is the recipe. It will not always get you to the top, but it will get you pretty near." Margaret Thatcher
Starting out on the first day of your new job can be nerve-racking. You'll be excited by taking this first step on your new career path – but you would also be nervous about meeting new colleagues, learning office etiquette, speaking with customers for the first time, and learning your new role. When this job start involves a transition from your university lecture hall to your corporate office the pressure and nerves you feel is even greater.
"All great journeys start with a single step" the old saying goes. Starting your new career is no different. At the same time, another saying is also true "taking the first step is the hardest". Getting through the first few weeks in a new job is tough, but in the long term can prove very rewarding.
This post is inspired by a young lady who has begun what I am sure will be a very rewarding, successful career in the marketing field, this week. She brings with her a passion and desire to be the best she can be, and from what I've seen so far she will go along way, and help make the difference to her clients, and organization, both with her enthusiasm, talents and communication skills.
In her early development I see myself as a mentor which can be defined as a trusted guide who has knowledge and experience in a certain field and is willing and able to share it, I enjoy helping a new mentee defined as a person who is in need of guidance and support and is willing to receive it. I see mentorship as a personal development relationship in which a more experienced person helps a less experienced person. Mentoring is a process for the transmission of knowledge and the provision of support.
"A mentor is someone who sees more talent and ability within you, than you see in yourself, and helps bring it out of you." Bob Proctor
Mentoring is an incredibly motivating role. To be able to help others grow and develop is highly rewarding. I see the relationship as a dynamic win-win situation. Both individuals must be fulfilled in order for the relationship to be successful, and it is especially important the mentee be receptive to the ideas and suggestions given by the mentor, and the mentor being prepared to offer all they know.
By becoming a mentor, you can create a legacy that has a lasting impact on your mentee. Not only will you gain the satisfaction of helping to develop a new talent, the knowledge you foster in your mentee can inspire new ideas and the quality of work that you yourself would be proud of. In Emma's case I see mentoring as a way of passing the baton to a younger, go getter, who can make me proud in what she achieves now and in the future.
We all affect others deeply; in my life I want to leave a significant and important mark on the world. I hope to achieve this through my children, my business, my blog and the people's whose lives I touch.
To me my legacy is about building on who I am and designing my life to make a significant impact on everything that's important to me. It's about the impact I make on the lives of others.
It is not to late to start building your legacy. No matter what your story is to this point you can always add a new chapter. Today you can begin building a legacy that will last forever.
Maybe look for the opportunity where you can pass your knowledge and wisdom to another, so become a mentor
There are certain things that are fundamental to human fulfillment. The essence of these needs is captured in the phrase 'to live, to love, to learn, to leave a legacy'. The need to live is our physical need for such things as food, clothing, shelter, economical well-being, health. The need to love is our social need to relate to other people, to belong, to love and to be loved. The need to learn is our mental need to develop and to grow. And the need to leave a legacy is our spiritual need to have a sense of meaning, purpose, personal congruence, and contribution" Stephen R. Covey
Score Your Way To Good Health - With Our Healthy Lifestyle Plan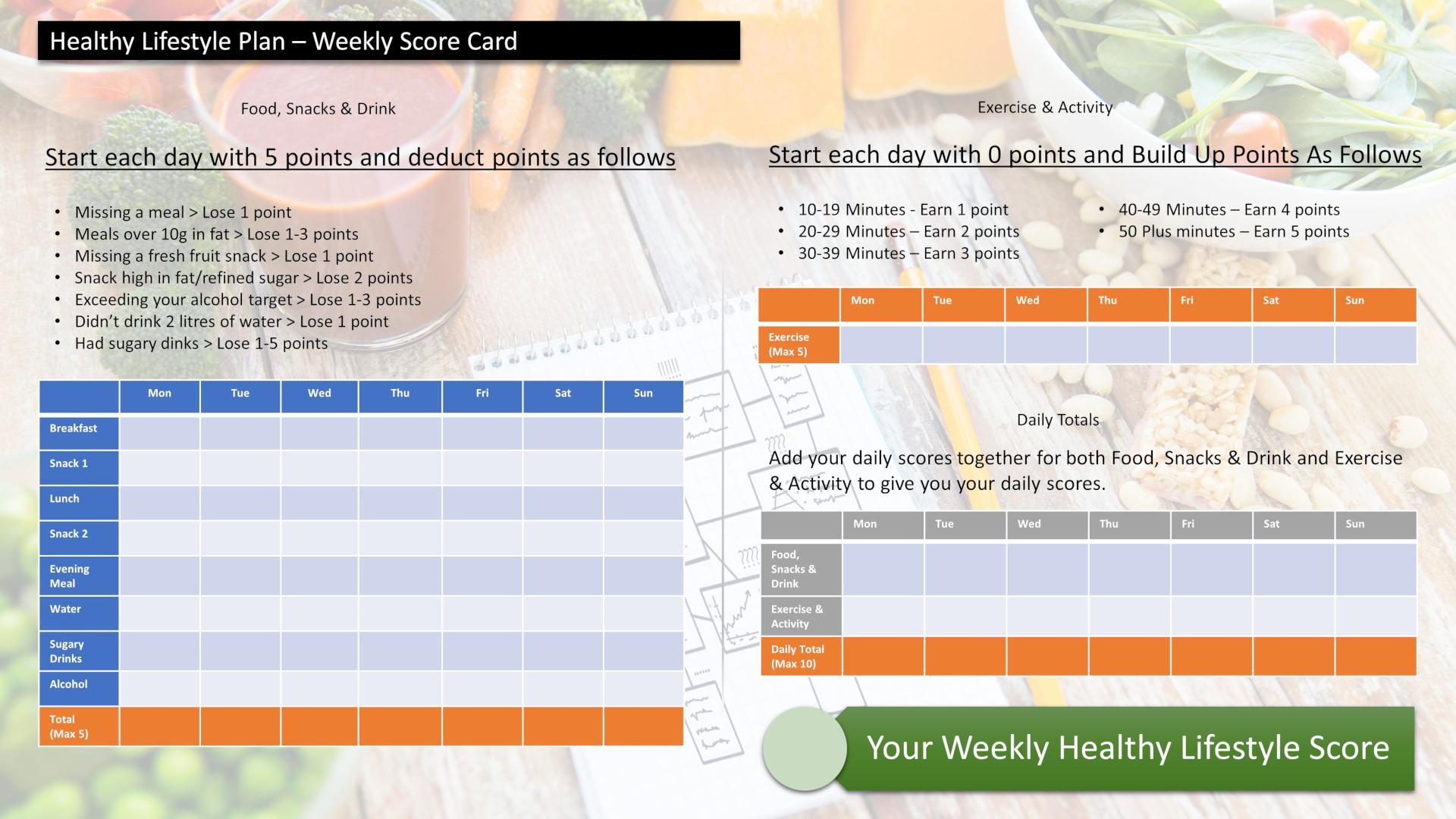 Score your way to good health with our healthy lifestyle plan and it's unique 70 point weekly scorecard!