Life is a jigsaw puzzle. My pieces all began to fit together once I chose to follow my passions. One of my principles, which I know many find hard to comprehend, is that business is not about making money but about making a difference in people's lives.
It is so easy when you get involved with everyday issues, to forget the all-important 'why am 1 here', your purpose.
For the last seven years I have very much stayed true to my vision and purpose having kept in perspective the big picture. My success as an online entrepreneur I put down to me following my vision of making the world a better place through personal development.
As an entrepreneur I've learnt to always seek out advise, but to never forget the answer to every problem lies inside of me. My personal development background has helped me in a big way as an entrepreneur. I trust myself, trust my feelings that tell me when something is right.
I also have brought into my business my belief that business is about people. It is not about the company or the products and services. It is about the people you can help with your products/services and the opportunities it provides them with. People are at the heart of your business and you will do well to remember that. My business you can be sure will never forget this very important principle.
When I built my online business, I wanted something that could address issues that were important to people. I wanted to make a difference in some people's lives through my blog. And to do this, I had to write articles on the various subjects, that I hoped would be read by the general public.
When I first began to receive communications from my readers finding out that indeed I was making a difference in somebody's life, it was one of those WOW moments in my life. To awaken human potential, inspire and transform human lives I assure you is a humbling, but incredibly fulfilling role.
As a blogger I write to educate; to inform; to teach; to inspire and motivate; to entertain and provide support. Every time I write an article I appreciate that it has to have value to my readers and could make a difference in a person's life. Most of the time, it will be the reader that will know for sure if the article had that kind of effect.
Most of the time I will be totally unaware if I've made a difference in a person's life, but the desire of wanting to, and trying to is all that I need.
Did you know you have the power to make our world a better place?
By simply living a life where you are happy, passionate, with the desire to change the life of people you come into contact with, whether you know them or not. Always make sure you are having a positive and profound impact on those you touch.
Blogging is the most phenomenal form of communication, and offers everyone an awesome platform. For me the words of George Adams describe why to me that no matter how successful my online business comes I will never turn my back on blogging "There are high spots in all of our lives, and most of them have come about through encouragement from someone else."
Through my writing and words I set out to enhance the lives of others. I want any of you bloggers, or those considering entering the blogosphere, to know that your genuine and positive words can make a difference in a person's life.
Mother Teresa said, "Kind words can be short and easy to speak, but their echoes are truly endless."
As a personal development blogger I believe that personal development posts have a huge capacity to help people change their life. The goal of a personal development blog is to help you change your life, and I feel truly privileged to be doing this. But I also believe that through blogging everyone is capable of providing inspiration, motivation and support to others.
I can only hope that my articles continue to have a positive effect in a people's life, and that they have the power to help others in a positive way. And my hope, is you, that's right you, also see the wonderful opportunity you have to make this world a better place through blogging.
Would love to read your comments!
Score Your Way To Good Health - With Our Healthy Lifestyle Plan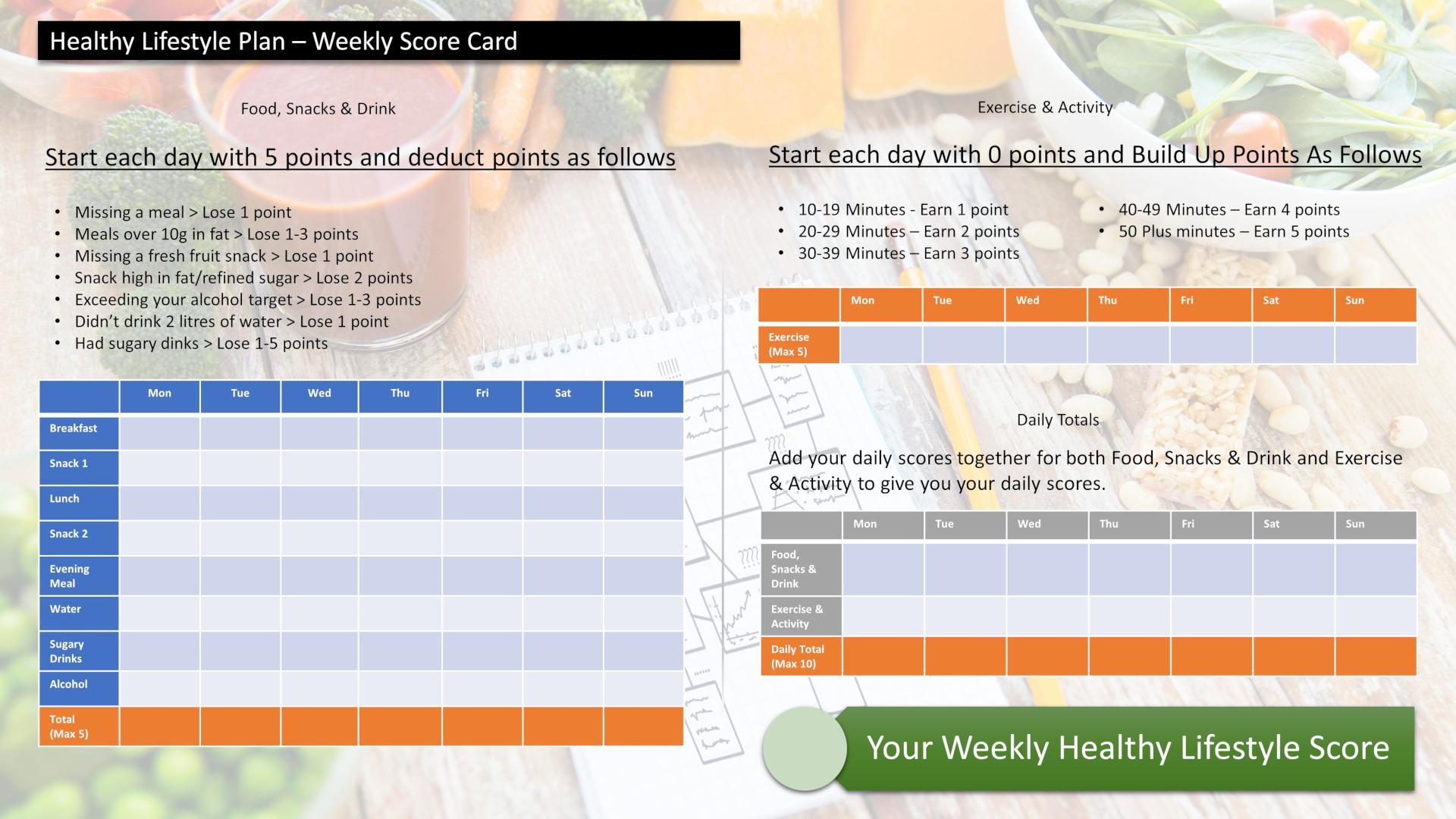 Score your way to good health with our healthy lifestyle plan and it's unique 70 point weekly scorecard!