This is your life, not a dress rehearsal. There is no delete or rewind button that you can use! You get one life, so you owe it to yourself to make the most of it. That's where Personal Development comes in.
For many, today's economic reality has hit hard. Thousands are jobless – digging into savings just to survive. Others are dragged down by problems or things from the past. Whatever your reasons for being stuck where you are, this article is here to remind you that your Personal Development awaits you, whenever you are ready to start.
Maybe it's time for you to give yourself a wake-up call right now. Turn away from all the negativity you've surrounded yourself by, for long enough to remember that nothing in this world is as powerful as your focused self. How did your life get filled with so many meaningless things and so devoid of real satisfaction? Isn't it's time to change that? Your dreams are too important to just let them go. It's your choice – but the clock is ticking!
Punishing yourself with overly demanding work hours without taking breaks, criticizing yourself for not doing enough, blaming others for all your problems, letting your sorrow determine your life, or denying yourself by not enjoying the fun and relaxation you deserve – won't bring you the growth, peace of mind, or the overall results you are in search of.
You were meant for better things. Now is your chance to make your potential come alive. That's why you're here, isn't it?
If you have been reading Healthy Lifestyles Living for some time then you may well have already incorporated some personal development activities into your routines. If you haven't maybe now's the time to take a closer look at your daily, weekly and monthly routines to make sure that you are giving your all-round personal development the attention it deserves and the attention it requires for you to improve your life in all aspects.
Personal development is all about you improving your capability as an individual so that you can become all that you are capable of becoming, and unless you commit yourself to personal development the chances are that it just won't happen. If you don't intentionally choose to move forward and improve yourself then at best you will remain exactly where you are right now, or you will actually see things get worse. Always try and make positive decisions, seize your day like its your last and make choices which will improve your life instead of hold you back. That is what personal development is all about.
We are talking here about personal development that lasts a lifetime, rather than short-term motivational fixes that you might experience at the odd times having read something motivational that struck a chord with you.
"Work harder on yourself than you do on your job." Jim Rohn's
How thirsty are you to make a change for the better? Be committed to constant and never ending improvement. I don't care who you are, or what you have accomplished. I guarantee you that there are many areas of your life that could benefit from improvement. What changes could you make that would make the quality of your life better?
Make a commitment to keep getting better and better every day in every way. If you do, you'll enjoy the feelings of increased self-esteem and self-confidence that come with self-improvement, as well as the ultimate success that will inevitably follow.
If you define your success as a "journey" rather than an end-destination, you can take comfort in the fact that personal growth and satisfaction can come from constant and never-ending improvement. There is a very talented lady that I know, a blogger, she is constantly striving to get better every day in every way. She recently wrote a post, dedicated to me, that truly touched me, which you can read here
http://motifsonthewall.blogspot.com/2011/08/life.html
Personal development will keep you moving forward in your personal life and professional life, providing you a momentum that you will never have seen before. So pursue personal development and get the very most out of your life!
Living your best life, having full control of your life, living life on your own terms, and having a balance in all areas of your life are amongst the best things that can ever happen to you as a person. And that's where personal development comes in, because that's what personal development is all about, living your best life and bringing out the best potential in you.
Personal development means being able to understand that you are 100% responsible for your life, your finances, your relationships, your habits, your emotions, your career basically everything in your life. It is understanding that you work from the inside out to achieve whatever it is you desire. Your thoughts feelings and actions work together to help you create the life you truly desire.
As my conclusion let me Bring to you Brian Tracey's 12 critical steps to making your life a masterpiece.
Principle 1: Your Potential Is Unlimited—Take complete control of your mind, and learn to unlock your special powers to attract whatever you want into your life.
Principle 2: Clarity Is Critical—You must be absolutely clear about the things you want to achieve and the person you want to become.
Principle 3: Knowledge Is Power—Learn everything you need to know to be an expert in your field.
Principle 4: Mastery Is Magical—Resolve today to become absolutely excellent at what you do. Develop your skills to a high level, and resolve to be among the top 10 percent in your field.
Principle 5: Attitude Is Everything—Become a totally positive person, so that people like you and want to be around you and help you. Think and talk only about the things you want, and refuse to think or talk about the things you don't want.
Principle 6: Relationships Are Essential—Develop a strategy for expanding your network of contacts and improving your key relationships in every part of your life. The more people who know you and like you, the more doors they will open for you.
Principle 7: Money Matters—Make a habit of saving your money. Start with 1 percent of your income, and then gradually build up to 10 percent, 20 percent and 30 percent. A person with money in the bank attracts more opportunities and good fortune than a person who is broke most of the time.
Principle 8: You Are a Genius—Unlock your inborn creativity by constantly looking for ways to get results faster, better, and cheaper. There is no problem that you cannot solve, and no goal that you cannot achieve by applying the incredible power of your mind.
Principle 9: Results Determine Rewards— Concentrate single mindedly on getting the most important results possible in everything you do. Focus continually on your highest priorities, on the most valuable use of your time, every minute of every day.
Principle 10: Seize The Day!—Develop the habit of action orientation, the essential quality of all successful people. Get going, get busy, move fast. Practice a sense of urgency. Stay in continuous motion in the direction of your goals.
Principle 11: Character Counts—Become a thoroughly good person. The better a person you become on the inside, by practicing the qualities of character that you most admire and respect, the better will be the quality of your life on the outside.
Principle 12: Fortune Favors the Brave—Have the courage to begin and the persistence to continue. Resolve in advance that you will never give up.
It is not a quick fix, it will not happen overnight. If done on a consistent basis, you will find your life changing and becoming what you only dreamed of. This site will help you live life more consciously and give you the courage to pursue anything you desire.
PS – I'd love to hear your thoughts and suggestions on the different ways you incorporate personal development into your life…..leave a comment.
Score Your Way To Good Health - With Our Healthy Lifestyle Plan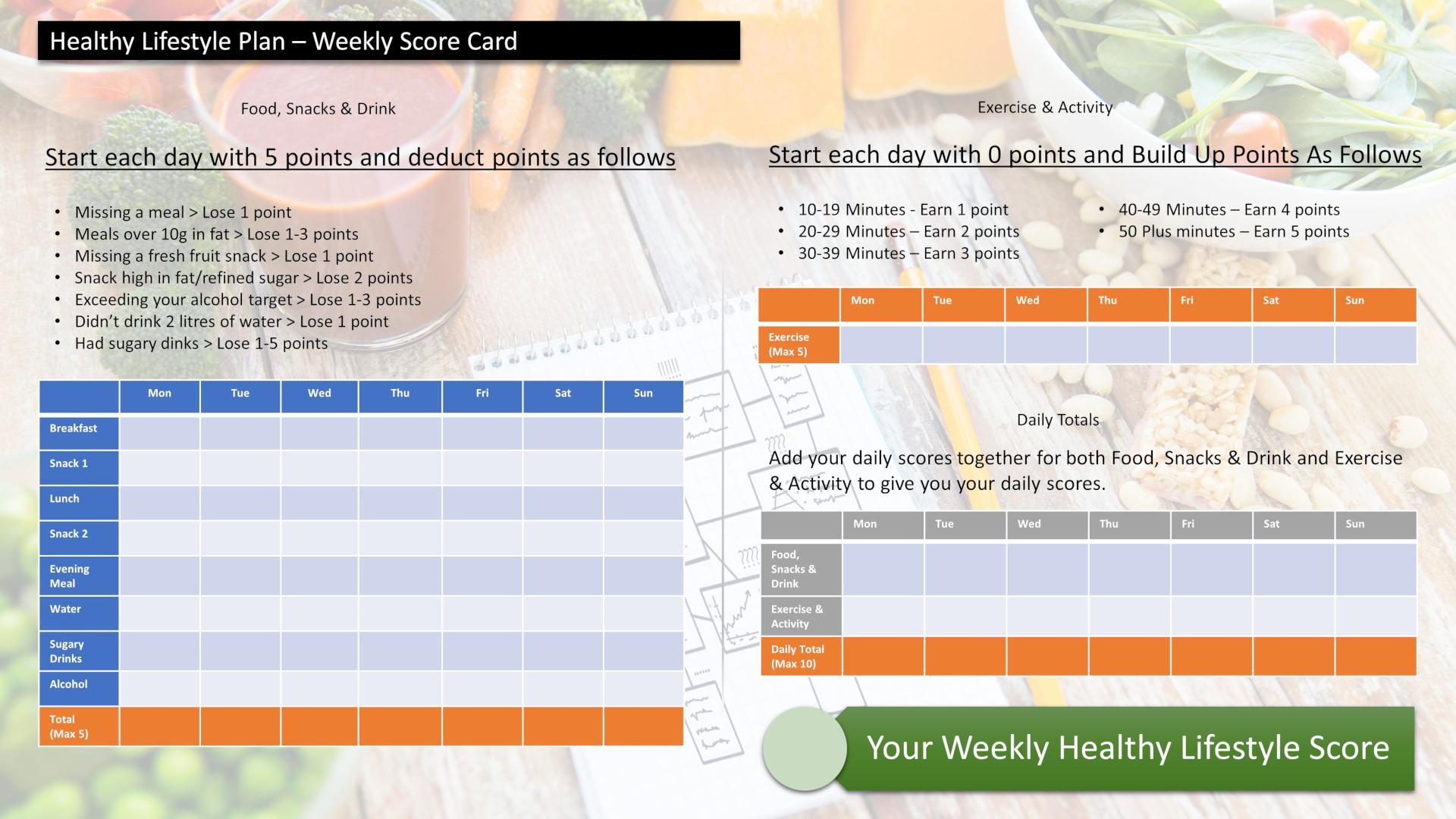 Score your way to good health with our healthy lifestyle plan and it's unique 70 point weekly scorecard!