To me an important part of self development is learning to live life with no regrets. When you are older reflecting back on your life, will you wish you had done anything different? Will there be any opportunities you wanted to take but did not, any great ideas you didn't act upon, or big dreams you let go unfulfilled?
If you want to have no regrets at the end of your life, that means you must live each day of your life with no regrets. Don't wait for some time in the future until you start making sure you do the things you want to do.
You know you are living without regrets when you are fully engaged, energised, successful, enthusiastic and happy in your life. You see problems as possibilities and obstacles as opportunities and you are constantly learning and progressing.
Regrets to this point would be a waste of time as you can't change the past, but you can look after the future. So, let go of the past and decide to choose to live your life with no regrets from this day forward. Get your future right.
Everyone has regrets. It's best to learn from them and move on remembering the past is gone, and what's important is to focus on what's in front of you.
Your time is now and your place is here and your future is yours to make. You have an amazing future ahead of you, but it's for you to seize it.
He who spends time regretting the past, loses the present and risks the future. Quevedo
If you are focused on the past, the present moment will pass you by. Before you know it another moment has passed. Then you will soon be living with regret, so don't let yourself do it. Look forward with anticipation and excitement. No matter where you are today it's not to late to make great things happen for you.
In teaching and blogging on self-improvement, I love showing others they have the power to change their own lives. This is the single most important message in self-improvement. You do not have to settle for a life you're not happy with.
If what you are currently doing doesn't serve you, you can choose to change it right now. You can choose to start by taking small steps. You need to start by having a day without regrets.
In times of uncertainty, you may wonder which path to take, which course of action is right for you. We never know for sure, we just have to take a step and have faith in what we are doing. Otherwise we will regret opportunities we let slip away and regret those things we didn't do because we decided not to take action, because we weren't absolutely positive what to do. We have to experiment, we have to take risks. We just can't stand still doing nothing. Life will have no regrets if we put ourselves at the edge and give everything we want a really good go.
No one wants to lie on their death bed and wish their life had taken a different turn. It is never too late to take those steps to move your life forward, and start dreaming again.
We are still at the early part of the year 2013. Like this time every year, many of us are looking back to what we did in the year before, asking the big questions once again: How did the year go? Did I spend my time on the things that matter? Do I regret what I did, and those things I didn't do?
So this year make sure you work hard and you give it your best. Make your life more meaningful do the things that are important to you. Do those things that should be centre stage in your life.
In a world where you have the possibility to literally do and become anything you want, are you living your life in such a way that you can look back on it later and say you wouldn't do it differently?
What would you do with your time if you knew you couldn't fail?
Well give it a go and live with no regrets now or in the future.
Live life from your core, listen to your heart and follow your true desires. That's the best advice I can give to live life with as little regrets as possible.
So live life with no regrets! What will you regret not doing in your life if you continue as you are now?
Score Your Way To Good Health - With Our Healthy Lifestyle Plan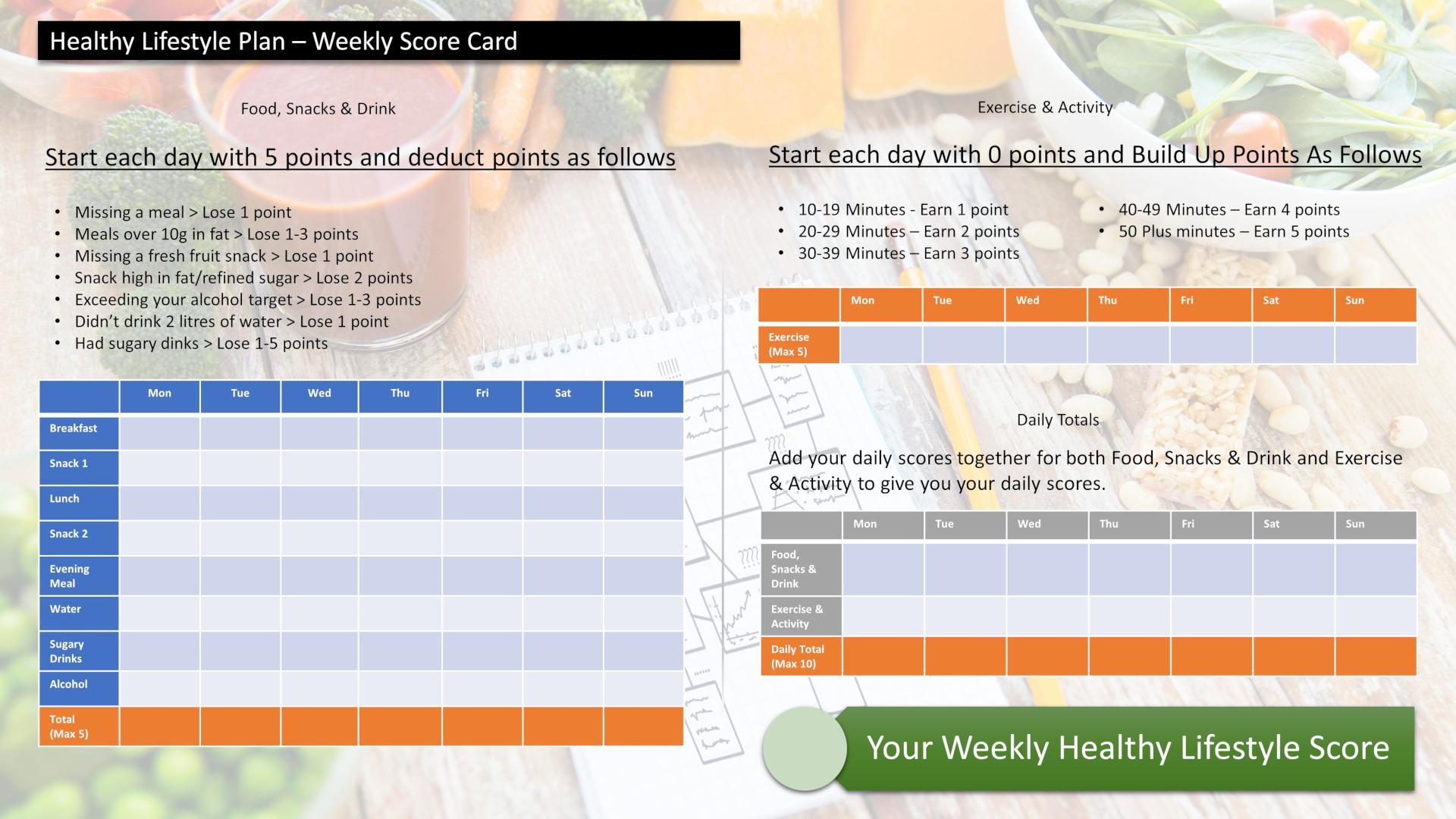 Score your way to good health with our healthy lifestyle plan and it's unique 70 point weekly scorecard!