Take time to consider your Life's Big List. In my blog the other day I mention how precious our time is. Once it's gone it's gone. What a tragedy it would be if we spent all our time absorbed in have to do activities and never make the time for our want to do ones.
I've been thinking to myself about the things I would like to do within the time I have left on earth. The big goals that I'd still like to achieve.
I don't want to be one of those people who promise themselves that they'll go for their dreams but never get around to doing it.
To many of you are always putting things off for another time but that time never comes. Have you been talking about a goal for years, but have never started it?
Thinking big and setting big goals give you a purpose to live and die for. It gives you something worth pursuing. Those who dream and create their Life's big List of goals are providing themselves the catalyst they need to change their lives for the better.
Start asking yourselves some big questions to determine what goals you truly want to go for.
What Are Your Big Goals?
Do something every day that scares you. "Continue to push yourself to do those things that scare you, darling. Take those risks and see where you land, for they are the very things that make this journey worthwhile." Eleanor Roosevelt
Ask yourself this powerful question:
What do you want to do before you die?
Set about making a list of all the things you want to do before you reach the end.
We all have a list of things that we keep telling ourselves we'll do, things that we know would improve us, make us better persons… yet we keep putting them off! No longer allow yourself to do this.
I'm going to share with everyone 3 of my Life's big list goals.
Create a best seller book
Live abroad 6 months a year
Bring success , happiness and inspiration to 1000's of people through my blog, coaching and speaking
Every one of you has a list of things that you keep telling yourself that you'll do, but you just keep putting them off. Well don't let yourself any more.
Create a goals book— basically a journal with a separate page for each of your goals. Write the goal at the top of the page and then illustrate it with pictures, words and phrases from that depict your goals perfectly.
To help you determine your 3 major life time goals consider these things.
Here are several questions that you should ask yourself:
If you could wave a magic wand and have whatever you wished for in any part of your life, what would it be?
If you could design your perfect lifestyle, day in and day out, what would it look like?
If you could create your perfect calendar, how would you spend each day, each week, each month, and each year?
How would you change your life if you received $1 million cash, tax free, today? What is the first thing you would do?
What parts of your work do you enjoy the most and do the best? Where do you excel? What sorts of activities make you the happiest?
What would you do, how would you spend your time, if you learned today that you had only six months left to live?
What one great thing would you dare to dream if you knew you could not fail? If you were absolutely guaranteed success in any one goal, small or large, short term or long term, what would it be?
When you ask and answer these questions honestly, you dramatically increase your awareness of who you are and what you want. Invariably, you will find that there are things you are doing today that you should stop doing as soon as possible. In addition, you will realize that there are things you should be doing more of and new activities that you should be starting.
Think about these:
To be financially wealthy.
To grow and learn new things.
To have my name known by many people.
To have good friends that I can count on.
To work for the betterment of society.
To have many expensive possessions.
At the end of my life, to be able to look back on my life as meaningful and complete.
To be admired by many people.
To share my life with someone I love.
To have people comment often about great I look.
To assist people who need it, asking nothing in return.
To choose what I do, instead of being pushed along by life.
To be famous.
To work to make the world a better place.
To know and accept who I really am.
To have my name appear frequently in the media.
To feel that there are people who really love me, and whom I love.
To help others improve their lives.
To travel
To build a business around my passions
Now create your list.
Leave the 3 main goals from your Life's Big List in the comment box below.
Score Your Way To Good Health - With Our Healthy Lifestyle Plan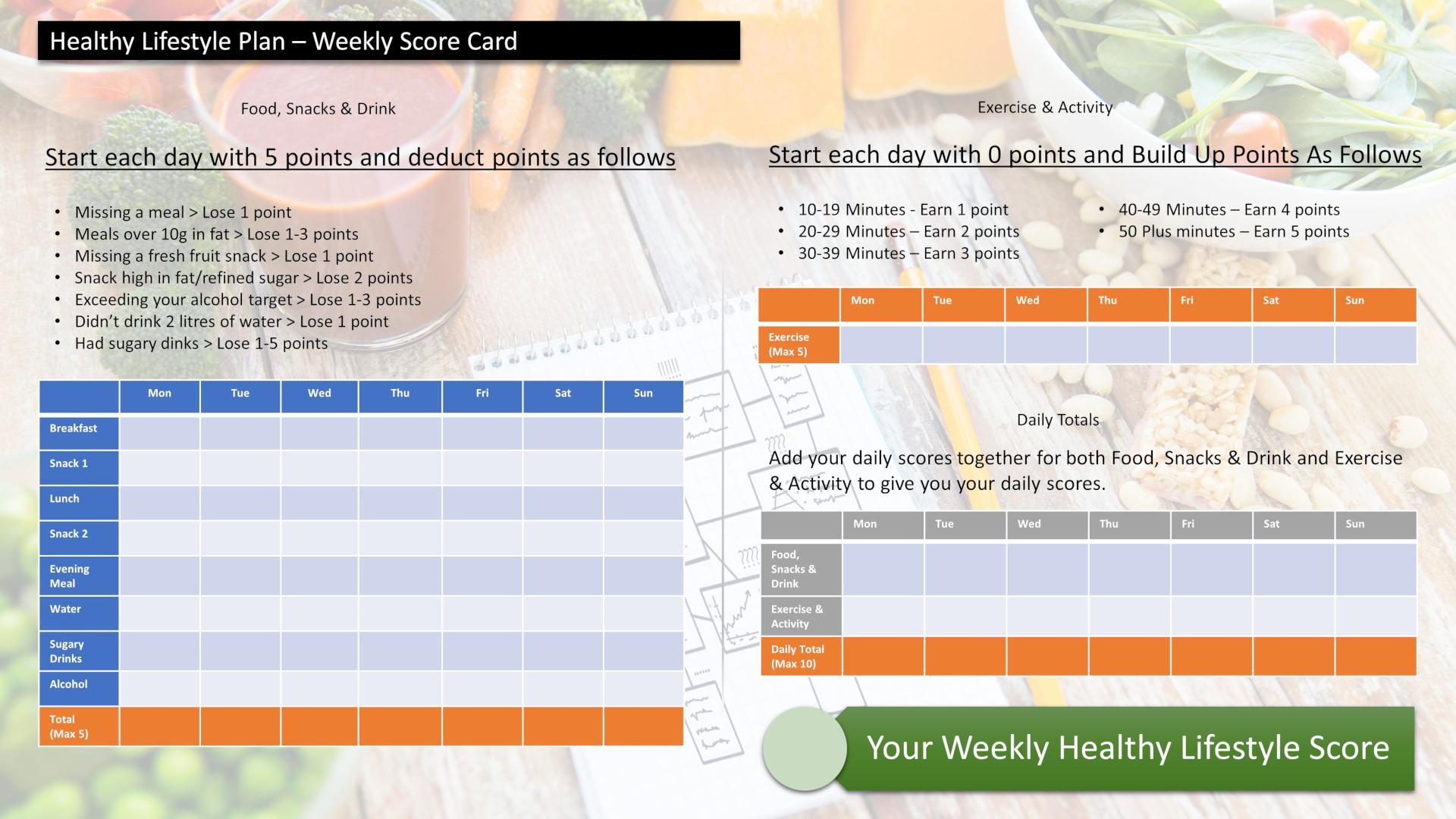 Score your way to good health with our healthy lifestyle plan and it's unique 70 point weekly scorecard!