Have you taken the time to map your journey, chart your direction and create your dreams.
Surely anything worth having is worth working for. We know to get the best out of ourselves, and to make the most out of our lives requires effort, mental strength and dedication.
It was Dale Carnegie who said "Anything in life worth having is worth working for!"
We are besieged by a plethora of options, different paths we can take on our life journey … so how do we decide what direction we want to go in.
As a majority of your hours each and every day are spent at work, isn't one of the essentials for you to live a life worth living is doing a job that you love.
Whether you are a creative writer, an aspiring artist, a potential entrepreneur, a budding inventor or simply someone who wants to carve out a life worth living, you have every right to discover your true path. Slogging away in a soul-sapping monotonous is not what you are meant to do.
Do you have that inner feeling of satisfaction that you're living a worthwhile life?
I believe anyone that has stopped to take stock of their life has felt a sense of disappointment with some parts. This is especially true in middle-age. The realization that you have gotten to a point in life where you feel dissatisfied with your accomplishments.
I lost a sister over 10 years ago, and I miss her as much now as I have from the day she passed away. This weekend I had a brief conversation about her with my youngest daughter. We only spoke for a few minutes but I could feel the tears welling up in my eyes. She died so young, and had so much more to give. It is her loss that makes me strives to ensure I live a life worth living.
What do I mean by a life worth living?
Life is on going process of discovering oneself; educating oneself, cultivating oneself.
The value of our life lived is not measured by the quantity of our possessions, but by the quality of existence. The value of life comes from who we become, who we are and what we do. Not from what we may have.
A life worth living is one where you will find the real riches of existence, and you will also find that these riches will so increase your personal power and worth that you will become able to take advantage of those opportunities that lead to things of tangible worth.
It is therefore evident that when we learn to live the life that is really worth living, there is no reason whatever why a single moment should be empty, dull or uninteresting in the life of any person, because there is so much to live for that has real worth, so much to enjoy that holds real enjoyment, so much to do that is thoroughly worth doing;
You feel your life is off track right now. Here is an exercise for you to give you a shove.
Go to a quiet place. Turn off the phone, the TV, the computer and keep yourself away from any distractions.
Sit down comfortably with a blank piece of paper and a pen in front of you.
Set a timer for 20 minutes.
Now create "The 100 Things I want To Do In My Life"
Start writing down all the things you want to do with your life, the sky is the limit. Get carried away. Dream big. Write everything down that comes to mind that you want.
Don't think about whether or not to write down an idea — just write. Write everything that comes to mind, even if it doesn't make sense. Just keep on writing, and don't stop until that timer goes off. Don't stop.
Stop at 20 minutes no matter how many you've listed.
Leave the list alone for a day. Try not to look at it, and certainly don't revise it in any way.
The following day, sit down and look at your list. How many of the items on it are feasible? Can you see your way to accomplishing any of it?
Did anything come out of the list that you hadn't actually really thought of until you wrote it down in a hurried attempt to get to 100 items in the time limit? Any surprises in there?
The true purpose of this exercise is to open your mind to the possibilities that lie waiting for you. Anything is possible, the rewards are waiting for you, once you start living.
Remember you are writing the story of your life, don't let someone else hold the pen. Make conscious choices every day that align your actions with your values and dreams. Because the way you live each day is a sentence in the story of your life. Each day you make a choice as to whether the sentence ends with a period, a question mark, or an exclamation point.
Here's the good news – you can get what you really want out of life. It's difficult to achieve what you want out of life unless you are committed to working consistently and productively on making your goals happen every day. This kind of focus takes effort, but the rewards are worth it.
"You can do anything you put your mind to,"
Score Your Way To Good Health - With Our Healthy Lifestyle Plan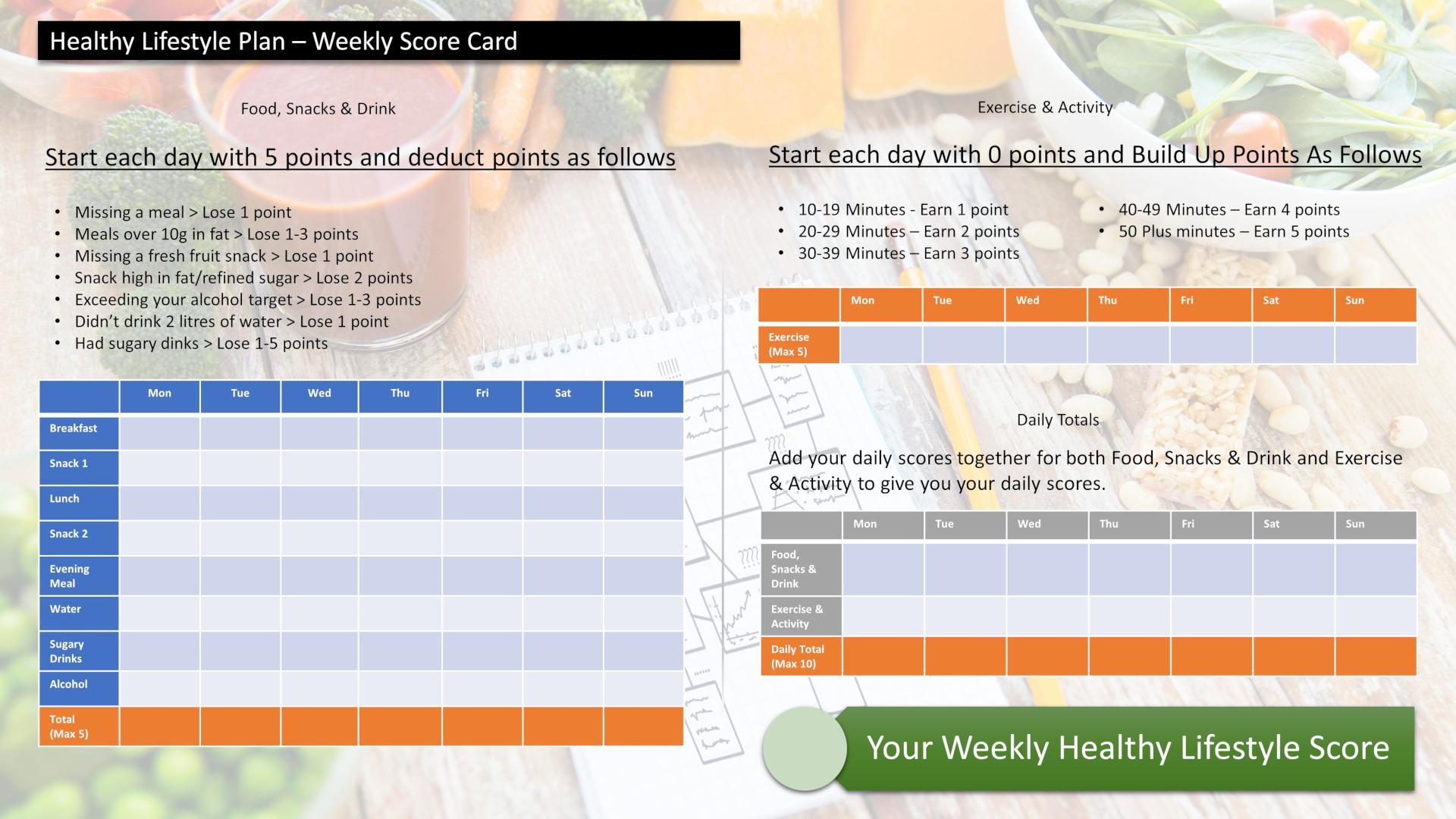 Score your way to good health with our healthy lifestyle plan and it's unique 70 point weekly scorecard!