We're only here for a time, and life is too short to waste. If you're not enjoying most of your 'living moments' right now but you're not doing anything about it… it's time to change before it's too late.
When I was growing up, I remember my mother saying dozens of times, "Live your life so that at the end of it you'll have no regrets."
Alas for way to long I ignored her advice.
It has taken the shock of ill health to wake me up to what she tried to teach me.
Now I believe in living life so that at the end of it you have no regrets.
Live every day as if it were going to be your last; for one day you're sure to be right. Harry "Breaker" Harbord Morant
But be warned don't leave it too late. One thing that I have become acutely aware of through this period of ill health is how uncertain our future is and more so how precious the time we have is.
Who knows how long we have until we draw our last breath?
There are things that I've committed to since I made the decision that I would leave nothing for me to regret at that moment I am no more.
" The secret of the change is to focus all of your energy, not on fighting the old, but on building a the new". Socrates
The majority of the time, many of us live as if there will be no end to our days. We stay in unfulfilling careers. We remain in unhappy relationships. We tell ourselves that we will travel the world one day but never will. We fail to tell people how much they matter to us. We hide our true selves from the world because we are scared of being judged and criticized. We can't afford to waste any more time.
We need to realise life is short, precious and the most valuable asset to be treasured. I'm even more aware of this today, writing the day after my baby daughter reached a quarter of a century old. Have I made the most of 25 years of such a reward? I don't think so…
Life is too short to waste. We must enjoy the time we have here.
We have built lives where we are just too busy. This disease of being "busy" is destroying our lives. It exhausts us and robs us of the ability to be fully present with those we love.
We allow our life to move at such a fast pace that it seems to pass us by before we can really enjoy it.
Life is short, God's way of encouraging a bit of focus. Robert Brault
We are in reality only here for such a small time, less than a blink of an eye but will we be forgotten?
Our lives are important. It is down to us to make them meaningful.
Every day, I look for ways to enjoy life. I seek to make the difference as well as be the difference.
I make the best of each day. I seize every opportunity to create special moments for myself, because I know that I only have one life to live.
YOU HAVE TO DO THE SAME! Love life by living life. Don't let your time waste away!
My life matters. My life is important. I have been created with passion and purpose; therefore I live passionately and purposefully. There are dreams that I can hardly wait to see fulfilled. I greet each day with excitement and expectation knowing that great things will come out of my life.
Make the most of every day to do the things that matter most; and if you don't know what that is yet, find out!
Imagine getting to the end of your life and realizing you have no regrets. Now set out to ensure this is what will happen, that not only have you lived knowing life's to short too waste but that you lived it to have no regrets..
Score Your Way To Good Health - With Our Healthy Lifestyle Plan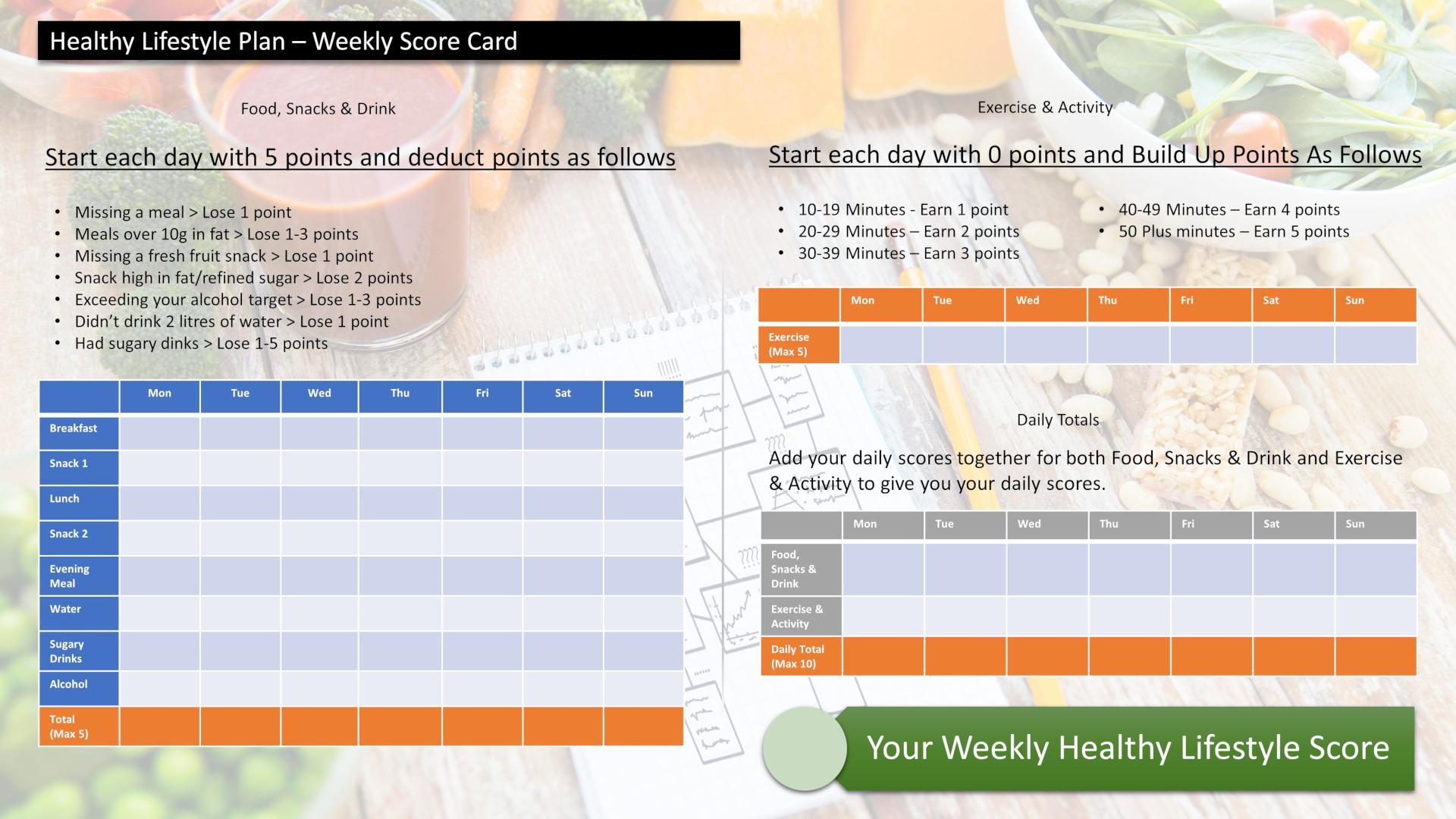 Score your way to good health with our healthy lifestyle plan and it's unique 70 point weekly scorecard!