Are you burdened down by life? Feeling as though you are carrying a heavy load around with you. Fighting a lack of energy on a daily basis. Always suffering from one or other physical complaint, such as headaches, backaches, aches and pains and frequent colds.
Do you feel 'run down' so that you keep getting ill?
Do you feel tired and lacking in vitality
Do you tend to get low and depressed?
Do you find it difficult to appreciate the positive things in your life?
Do joy and happiness elude you?
Do you suffer from lack of confidence?
Does anxiety make it difficulty for you to feel intimate with others?
Are you isolated and lonely, or resentful and bitter?
Do you feel out of touch with your path in life?
The body expresses what the mind represses. Tim Lawrence
What is your mind and body telling you? What is dragging your life force down?
You have a lot of negativity stored up inside of yourself. You have issues that our frustrating you, limiting you, and probably keeping you in conflict.
Maybe you are storing up resentment to people who you feel have harmed you in someway.
• The boss who won't promote you or give you a pay rise
• The lover that left you
• The school teacher who seemed to single you out as a kid
• Your parent who was too controlling, smothering or abandoning
• The business partner that put you in financial turmoil
A wise man once said, "Resentment is a poison one takes hoping to harm another."
Resentment is the incapacity to forgive, for which you pay a heavy price. Investing your emotional energy in past events prevents you from living fully in the moment. It drains your life force. It will consume you if you let it. It will devour your life and everything you've ever dreamed life could be.
Resentment is like taking poison and waiting for the other person to die. Malachy McCourt
Long-held resentment can lead to physical symptoms as well; muscle tension, migraines, high blood pressure, poor concentration, sleep and appetite disturbances, and a surpressed immune system, to name a few.
You need to release that resentment out of your physical body and mind. Repeating negativity over and over in your mind is not good for you and it will eventually bring about disease that usually manifests in a physical way.
Ask yourself these empowering questions: "Am I willing to give away more of my life to the person who offended me? Do they really deserve all this energy and attention? Do I choose to give them more of my thoughts, energy, passion and focus? What am I taking away from those I love by holding on to this grudge? Who am I really 'making pay' for my anger?"
Resentment always hurts you more than it does the person you resent. While this other person has probably forgotten you and what they did to you and gone on with their life, you continue to stew in your pain, perpetuating the past.
Those who have hurt you in the past cannot continue to hurt you now unless you hold on to the pain through resentment. Your past is past. Nothing will change it. You are hurting yourself with your bitterness. For your own sake, I challenge you to learn from it, and then let it go.
"To worry yourself to death with resentment would be a foolish, and senseless thing to do." (Job 5:2)
As your spirit lifts, your mood changes and your outlook becomes more positive. In reframing your attitude to your life circumstances you can rediscover the personal meaning of your life and reconnect with contentment and joy.
Once we begin to focus on the good in life instead of hanging on to the challenges, we will find that beauty, life, love, and peace become the dominant experiences in our lives.
Score Your Way To Good Health - With Our Healthy Lifestyle Plan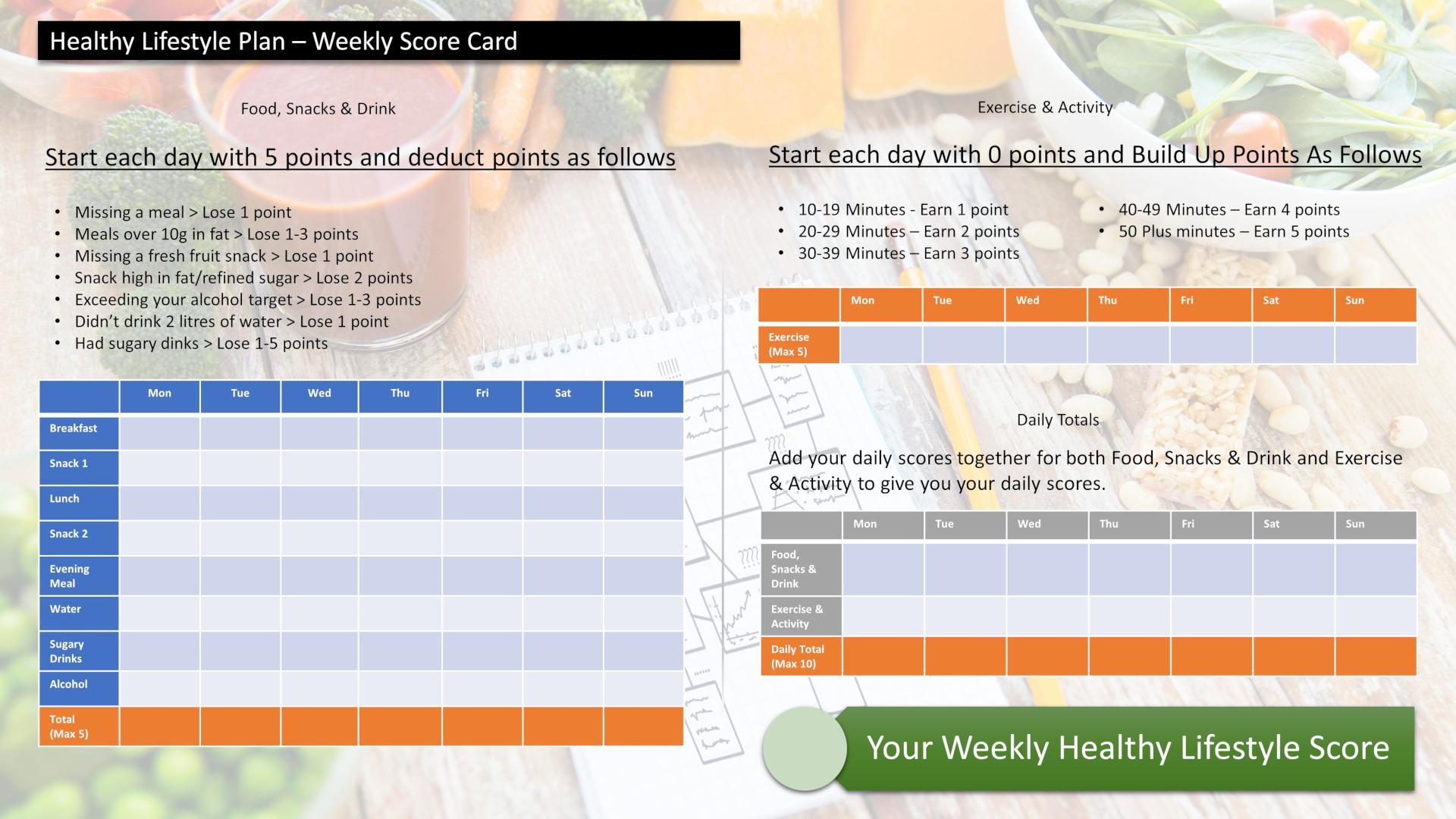 Score your way to good health with our healthy lifestyle plan and it's unique 70 point weekly scorecard!