Are you frightened by the thought of putting yourself or your ideas out there?
Do you find it nerve-racking, spine-numbing and absolutely intimidating to get out there and tell the world about yourself and your ideas?
We having a saying in the North East of England, 'Shy bairns get nowt!'.
So no matter how terrified you are to lift your head above the parapet, at some point, if your desire for success is strong enough, you will have to let go of your fears and inhibitions and just do it. You have to take the initiative.
"I've had a lot of worries in my life, most of which never happened." Mark Twain
If there's something you're good at, you should let the world hear/see/experience it.
My focus, as a personal development coach and blogger is getting people to take that next step on their life journey and to give them the skill, insight and mindset in order to do so.
My reward is I'm happier than I've ever been, pursuing my passion, touching lives through my personal development blog, coaching people and helping improve other's lives every day. I am now entering a phase of my life where I have huge plans to transform even more lives and I can't wait to make this a reality. I know there no limits at all to what can be done!
When you help others, you not only help them grow, but you also grow yourself. So it's worth putting yourself out for others. Although you should never see it like that, in whatever you do.
Success, in whatever your endeavor, is hard work but very achievable for those who are prepared to commit.
You are reading my blog so I know you are not a quitter and you're not prepared to sell yourself short. It's easy to give up and to give in, quitting is just not an option for you. That's not your way. You know that you won't need to put up with an undesirable situation for too long.
I know you – you have the courage to put yourself on the line, strive for something meaningful, even to risk the embarrassment of failure.
You focus on the positive upside of life, having a positive outlook which will ensure your quality of life, giving you the momentum to move onward and upward. Seize your day and outline whats important in life. You can then see where you are heading and what you need to do to get there.
Whenever you're faced with something that makes you feel uncomfortable or uncertain, you know it's telling you there waits an opportunity for growth.
Many of life's disappointments and miseries come from our inactivity. We bring them about by doing nothing. Most people often spend a huge amount of time thinking about things and planning things, but then do nothing, they take no action.
I have learnt and acquired many things through experiencing failure. I discovered some of my strengths and weaknesses, and many of my life's victories followed they soon after one of my perceived failures..
Don't waste your time on things that you cannot change. Instead focus on effecting the present, so you can shape the future and progress your life.
Whether you are going through a rough point in your life right now, facing up to massive challenges, the best thing you can do for yourself is to get out there. Instead of looking at these situations and thinking "woe is me," now is the time for you to challenge yourself, break out of your mold, do something new and seize the day. If you spend the majority of your time feeling sorry for yourself, and doing nothing to get yourself out of the situation, you are missing out on an opportunity to grow.
In order to create momentum, you must throw off the old restraints. You have to embrace discomfort until it becomes comfortable. That's where the hard work comes in; but at the same time, imagination and focused effort can produce for you amazing results.
You have the opportunity in every moment of your day to move forward, to bring order and success to your life.
For whatever challenge you may be facing in life now, think in terms of actionable steps. What can you do in this situation? How can you act to move yourself closer to where you want to be?
Score Your Way To Good Health - With Our Healthy Lifestyle Plan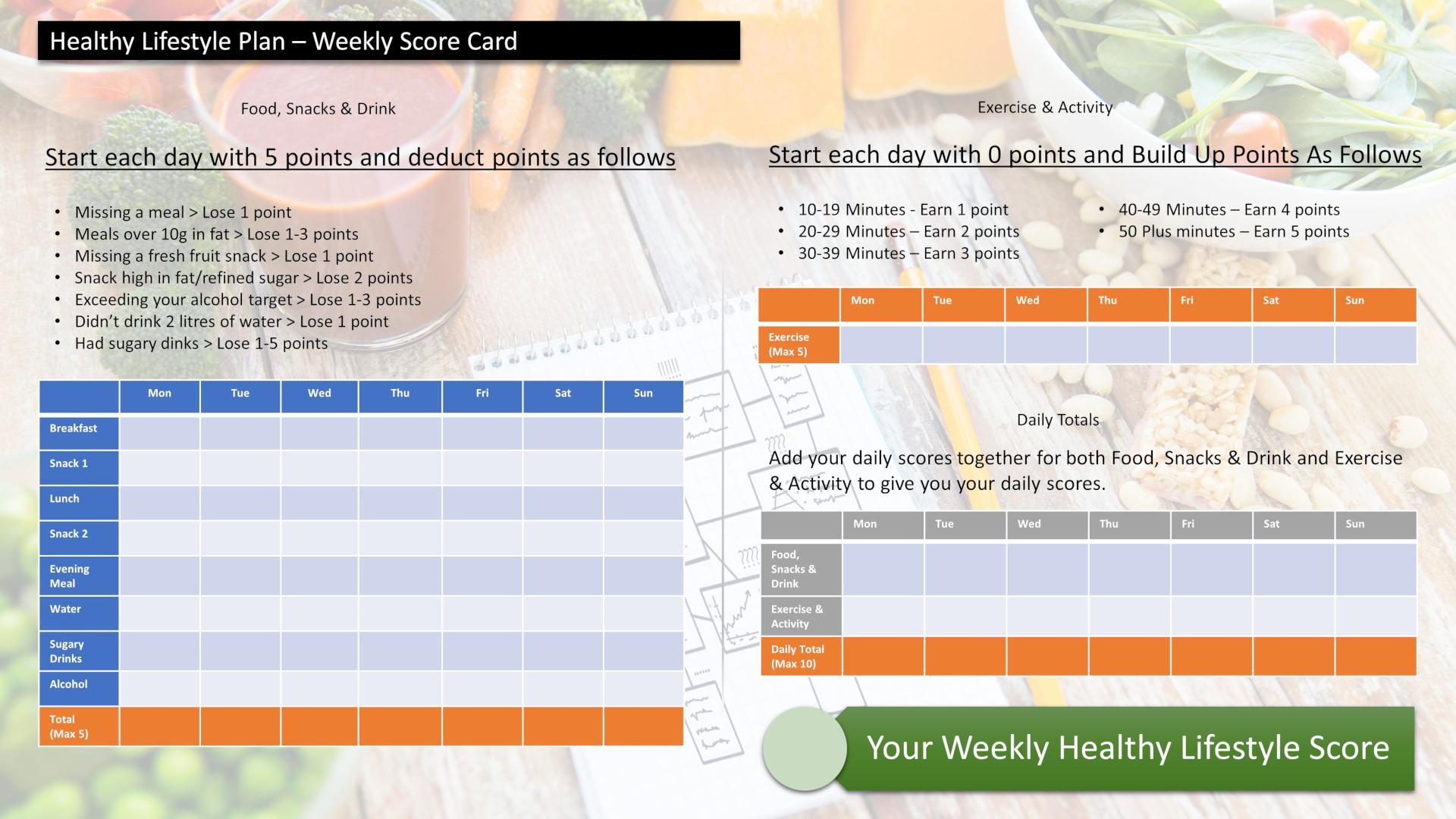 Score your way to good health with our healthy lifestyle plan and it's unique 70 point weekly scorecard!