Always remember its your life! What are you going to do with it? This question can only be answered by one person… YOU!
Have you given up on those hopes and dreams you once had?
Sadly, too many of you have at one time or another given up on those beautiful inspiring dreams you once held on to. What a tragedy that really is.
I know that it can be difficult to keep them alive with all the ups and downs of our everyday lives. But is a life without dreams truly a life worth living?
Think back to when you were a child. The only limits on what you could become were those placed by your imagination. In your mind you could foresee almost anything was possible for you. Wasn't that exciting? Do you remember how much enthusiasm you had running through you, and how your future prospects kept playing through your mind.
But as you got older, you started to expect less. Anything was no longer possible for you, and survival became enough. Your childhood hopes and dreams melted away. Well I for one, maybe 50 in years, well nearly, but I must be a big kid, because I dream big, and love my life and have fun every day bringing those dreams into reality. And I want the same for you.
For you has anything magical replaced your dreams?I think probably not. For so many of you, your life feels boring just filled with routine. Mundane is the word that comes to your mind when asked to describe your life. That's so sad, so unfulfilling.
You wanted to do big things with your life. But you've fallen into your day-to-day habits and routine and slowly, quietly you're dreams have just evaporated, faded away.
It's time to shake things up! You don't have all the time in the world. So I want you to make every second, minute, hour and day count!
We only have a short time here. So live like it could all end tomorrow.
We could stay insignificant, and just play it safe. But that's not a life, that's just surviving. I'm driven by leaving a legacy, and living a life that makes my children proud of me their father.
How did I begin to create the life of my dreams? What is it that I'm telling you to do to get started? Start to go to work on yourself. Think about the life you really want to create. Get clear about what you want. Imagine how it will feel to accomplish it. Imagine how proud you will be of yourself. Once you have done this work on creating empowering habits for yourself, because it is these that will make you come alive. Only then will you begin to reclaim your dreams.
Make the conscious choice right now to create the life you want and to be the person you need to be right now!Remember this is your life! You are the one with the power to make it as great as itcan be!
Let your life be fun and exciting, and for it to be so, you must pursue your dreams. No longer settle for mediocrity or worse being miserable.
Recognize that the minute you decide to once again follow your dreams you'll be working towards experiencing one of the best years you've ever had. Please remember, your hopes and dreams can come true. It happening to me, so why not to you?
Score Your Way To Good Health - With Our Healthy Lifestyle Plan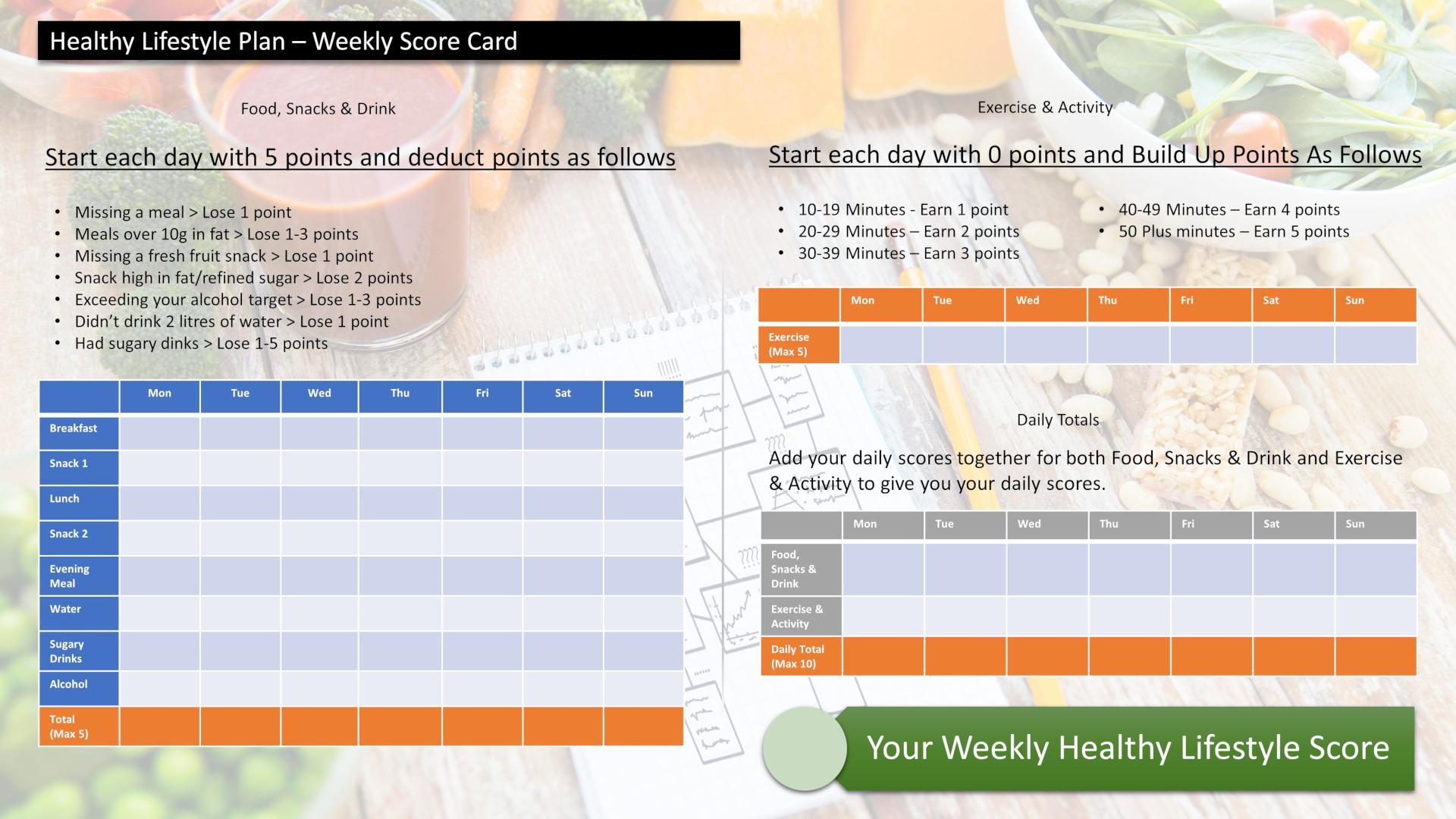 Score your way to good health with our healthy lifestyle plan and it's unique 70 point weekly scorecard!