We all have to travel on a winding journey throughout our lifetime. Often it seems our journey is haphazard meeting many obstacles on our way, making our ride bumpy and at times really uncomfortable. There's no stopping, we have to continue, and try to get more control over both the direction and the way we move along.
Life for me has certainly been a journey of many ups and downs. I can look back to amazing times, but equally to dreadful times. Throughout my life there has always been one constant and that is I've been striving to reach specific destinations, being very goal driven. I set my targets and do everything I can to get there. When I reflect on this I've actually been more successful than not. I've achieved many of my goals as I'm sure I will do in the future.
Yet I've come to realise something very important in the last few years. There can be no doubts that this is a lesson I've taken from my period of serious health problems. It's the good I've been able to find that's made sense of everything that's happened, and of course I want to share with you this important lesson.
Let me start with a famous quote:
"Life is a journey, not a destination." Ralph Waldo Emerson
To build on this let me now use words take from a Greek poem written by Constantine Cavafy titled "Ithaka:"
"As you set out for Ithaka hope your road is a long one, full of adventure, full of discovery…"
Later it says:
"…But don't hurry the journey at all. Better if it lasts for years, so you're old by the time you reach the island, wealthy with all you've gained on the way."
This is telling us that it's all about the journey, not the destination. Which I really struggled to understand for a long time. Being a goal orientated person surely where I wanted to go, the things I wanted to achieve were of the most importance. I was at times going to have to make sacrifices, go through pain, paying the cost to get what I wanted … and I did. And there is where I think I made my mistakes, I was wrong. Life is for living, enjoying the time you have, while you have, because it's limited, and one day you're going to be gone.
We are not meant to ignore the present and focus only on the future, but savour every moment of each day, making sure we create worthy moments. We can't put our joy and happiness on hold to some distant destination. We need to focus on enjoying our journey, taking the time to "smell the roses," and appreciating what's really important in life. This doesn't mean that we have to give up on our dreams and our goals. It's good to be striving for more; you just have to find the right balance between goal getting and appreciating the moment noticing the "little things" that make life worth living.
When I look back at the things I missed with my children I realise I missed out on the things that really matters in pursuit of the things I wanted to achieve. I was driven by my destination and didn't appreciate my journey, and I was wrong not to. Don't make the same mistakes I did.
So by all means strive for bigger and better success, but allow yourself to appreciate life as it is now. So keep changing, growing, and learning but don't put your life on hold as the price for doing it.
"He who looks forward to tomorrow, but enjoys today, will find both happiness and success"
Not knowing the day things will end for you, or how things will turn out, live where you recognised it's the journey that matters and not the destination.
Score Your Way To Good Health - With Our Healthy Lifestyle Plan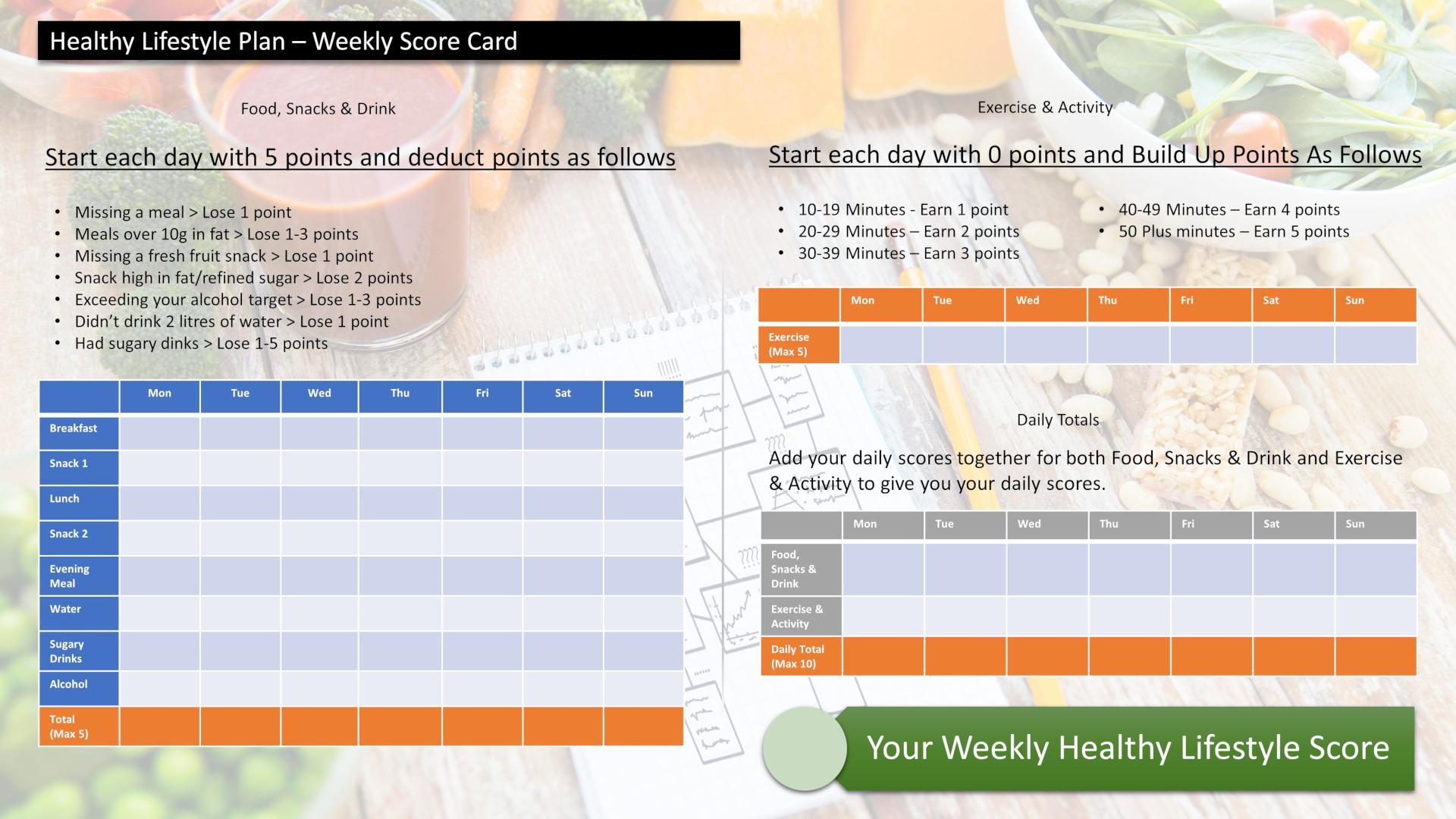 Score your way to good health with our healthy lifestyle plan and it's unique 70 point weekly scorecard!