I had a dream back when I was a teenager. I would day dream constantly seeing myself standing on stage talking to a packed auditorium about personal development. But adult life took me into a totally different direction. But I now know it's never, never, ever too late to go for your dreams.
Somebody asked me what created my passion and belief for personal development. That was easy for me to answer. For much of my early teens my family life was one of turmoil and troubles. We lived through the nightmare of drug addiction and all the craziness that brings. Often I would hide away in my bedroom in an attempt to escape what was happening and lose myself in one of my many personal development books. These showed me how to visualise, create wonderful dreams, providing me an escape and gave me the strength to get through all troublesome times.
I remember going with a few clients to an Anthony Robbins 4 day convention many years later. I sat there in awe at his performance and the way he motivated his audience. The message he provided and the tools he gave were of course life changing. My mind automatically went back to my dream from my childhood and I thought how I would have loved following that path and been able to provide audiences with personal development knowledge just as he was providing.
But my life had taken a different path. I was a marketing consultant in the fitness industry and was enjoying the lifestyle it brought me. It gave me a wonderful house, nice cars and many of the trappings of a successful life.
What I wasn't to know and had never even considered was that everything I had created and built would be lost. But between 2008 and 2009 that's exactly what happened. For a year I not only lost all my material possessions but I lost myself. I went into myself and seemed to hide from the real world. I merely existed but not in a way that exhibited my natural talents, skills or knowledge.
EVERYTHING THAT I knew and had used all my life taught to me through my personal development learnings was forgotten or buried so deep I couldn't call on it to begin transforming my life. It was though I'd shut down.
I was only to be woken by the onset of ill health. The 5 days I spent in hospital were to put me on the road to my reinvention. Unbeknown to me at this time I was to find myself going through the reinvention process that later I would use yo help others through my life coaching and ultimately in the course I've developed.
I lay there and for the first time I allowed myself to review my life where it was right at that point. No longer hiding away from the truth but reflecting on where I was and knowing that my discomfort and disappointment could be used to power up the next stage of my life. It took until for this moment for me to adjust to my new reality. But this very moment allowed me to move on and start over.
Then I began to look at what I didn't want. I no longer wanted to stay on my current path. My illness and my age made it obvious to me that running gyms and taking classes was not what I wanted to do. Nor was going back into doing marketing for clients as I had done previously and made a significant income. I also knew that I no longer wanted to be a failure and I now wanted to do something significant in my life.
So I then began to think about what I did want. I was now 49 and maybe the choice I would take would be my final path. The one thing I knew was that I loved personal development and sharing my knowledge with others to help them change their life. I then began to rediscover my dream from my youth and realised that here was my opportunity to at last take the path I turned my back on when I entered my adult years. So I realised that here was my second life period offering me a chance to reinvent myself to become the person of my dreams. I knew it's never, never, ever too late to go for your dreams.
My journey soon began. I qualified as a life coach and began building my platform. Instead of choosing a traditional website I began writing a blog.
From this point onwards my life has been very much one of reinvention. And now I am going in to teach others how to reinvent their life. And who knows this may lead me to be on that dream stage one day. The same is possible for you, it's never, never, ever too late to go for your dreams.
If you are interested in your personal revention check out our Reinvention University
Score Your Way To Good Health - With Our Healthy Lifestyle Plan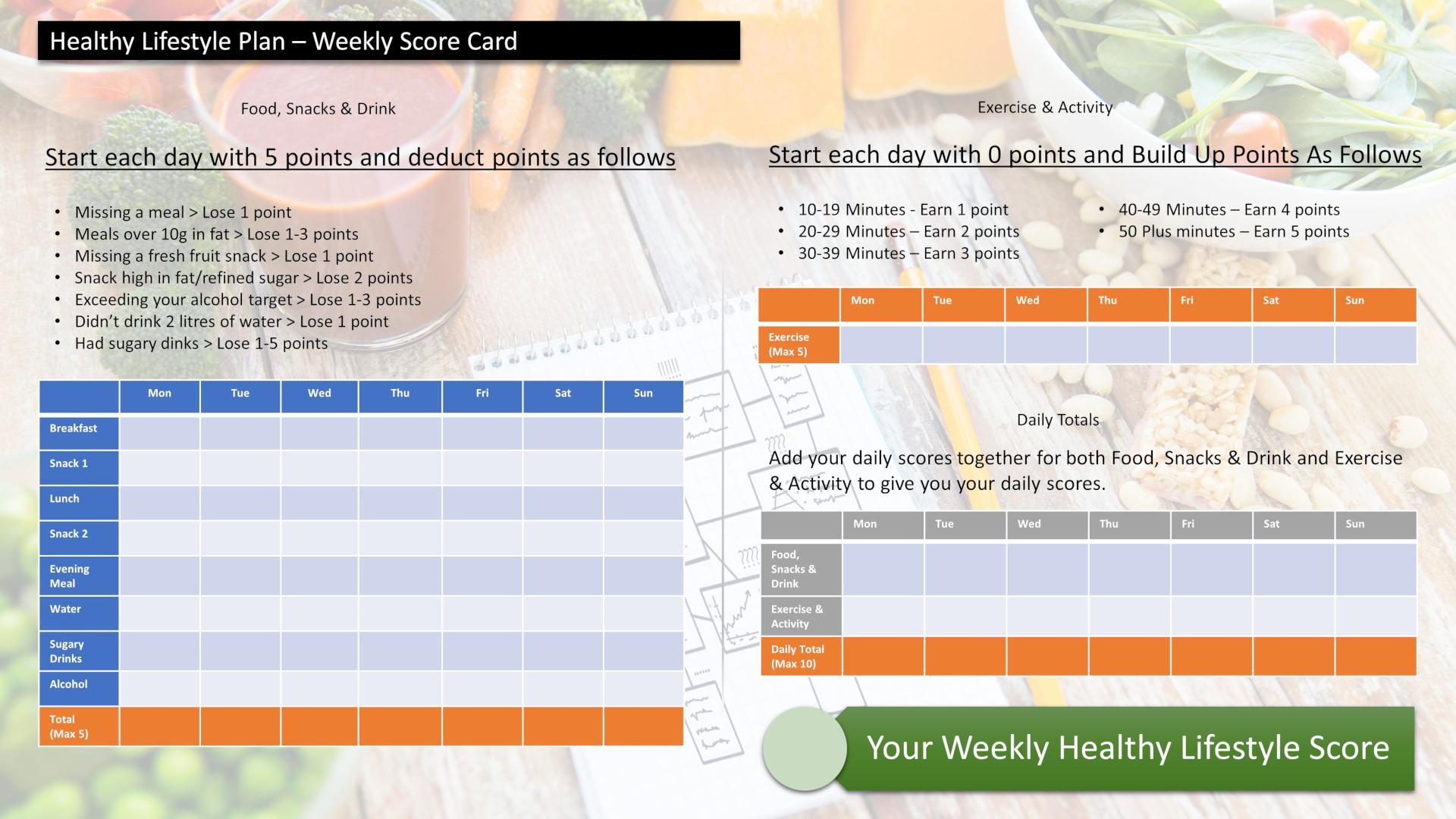 Score your way to good health with our healthy lifestyle plan and it's unique 70 point weekly scorecard!