Challenges are part of everyone's life, but there are those tougher times when a challenge turns into a crisis. The outcome of our lives hinges on the choices we make at those moments. Will they be breakthroughs or setbacks?
Are you someone who will always see the worst-case scenario in crisis situations?
It is our choices…that show what we truly are, far more than our abilities.
You can't control everything in your life, much as you might want to.
But you could start to look at these things that happen in your life as an opportunity. Ok so this needs you to be bold and courageous, and sometimes work dam hard and be really focused so that you can make a situation work in your favor. It's going to take guts and vision, but the difference this will make to your life will be so worth it.
Every critical moment you face has the potential to become either a crisis or an opportunity. What happens is often down to the choices you make. Of course circumstances play their part, but it is so much down to you how you deal with those tough moments, as to what the end result will be.
What is often the most daunting thing for most people is the feeling of helpless and not being in control of your life. It is also hard to admit you do not have all the answers. But every cloud has a silver lining, and everyone of us can cope no matter what life throws at us. Deal with everything, and expect that things will work out right. Choose to be brave and take everything head on.
To this point in life you've had defeats.
So what, sh*t happens.
But those moments don't have to define you, hold you down, or stop you from moving on.
Accept that who you are now is the result of all the choices you've made to date.
You may not be where you want to be with your life today. You might not have the job you love. You might not be earning the income you want. Life may not match up to your dream lifestyle as it is right now.
No problem.
You can be something else tomorrow.
You just have to choose to deal with things differently. Make better choices.
Making choices consciously is how we can change our lives.
Sometimes our circumstances will cause us to lose hope. We don't see anything but the dark days that lie ahead of us. But it's in our darkest hours that character is built. The worst thing you can do is not take any steps forward.
The quality of our lives is determined by the choices we make. Our choices determine our destiny
The person that sees their world as a world of opportunities will make their choice from the prospective of possibilities and a positive attitude of what they will do and achieve.
Rather than looking at the situation as a problem they see it as an opportunity for a breakthrough.
So face your challenges with optimism. Choose to make your life great.
Score Your Way To Good Health - With Our Healthy Lifestyle Plan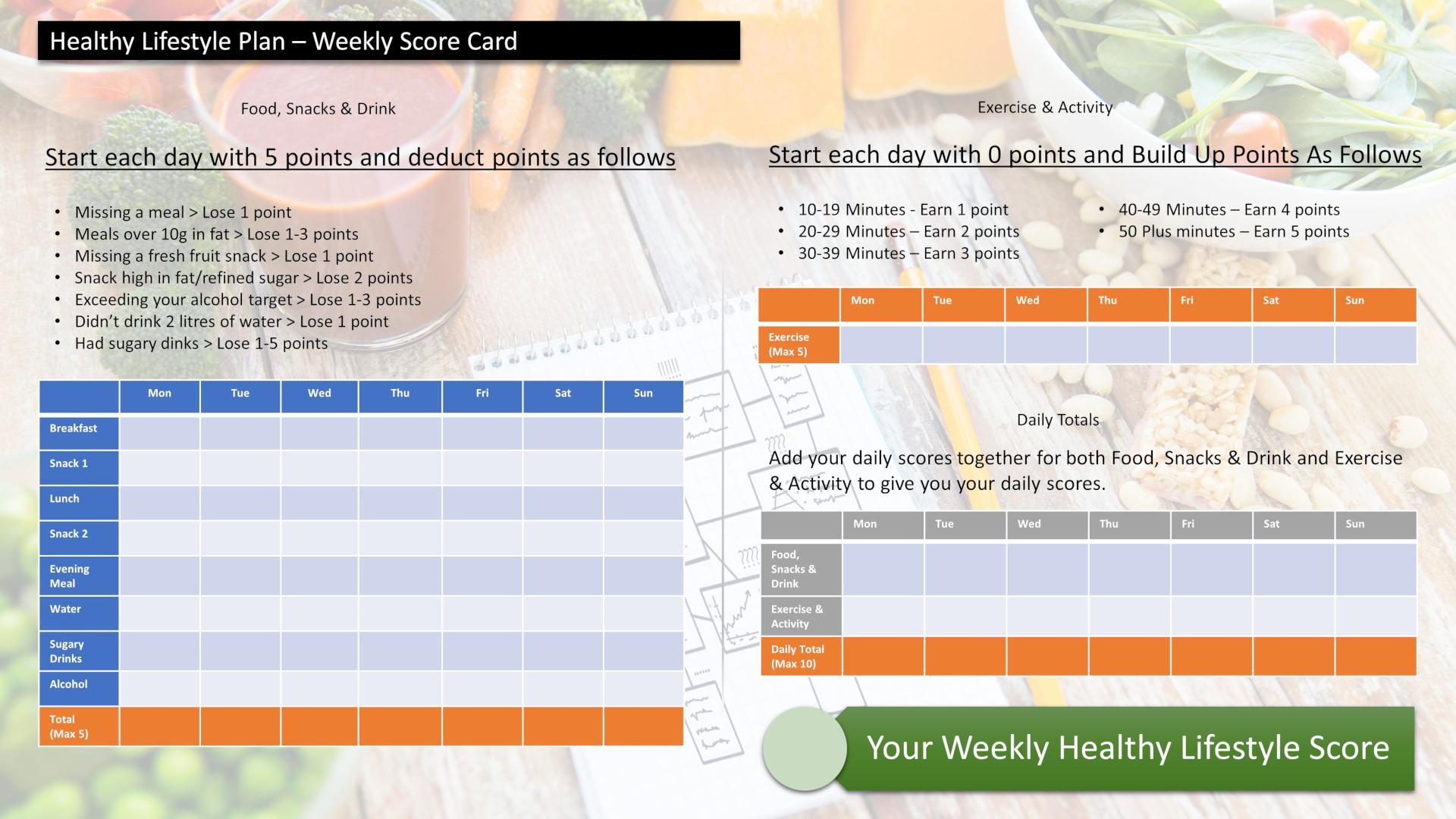 Score your way to good health with our healthy lifestyle plan and it's unique 70 point weekly scorecard!