Improving your lifestyle is one of the most effective means of reducing mortality and improving health in this modern world in which we live. However, there seems to be no significant enhancement in the general wellbeing or lifestyles of people in society, in fact there are rising levels of inactivity and obesity.
Living a healthy lifestyle depends on you making the right choices. You have to consciously make good decisions to do what is best for your mind, body and soul. There are many temptations to stop you from implementing or maintaining a healthy lifestyle, but the payoffs are incredibly worthwhile.
I believe that my path which led me to become a healthy lifestyle coach and blogger as well as physical fitness trainer started when I was just a young child with my love for sport. I was never happier than when I was down the park kicking a football around, in the back garden playing cricket or in the garage with my Dad or friends bat in hand knocking a table tennis ball over a net.
I didn't do these things because of their health benefits but simply because I enjoyed them. I went into the fitness industry for the same reasons. I loved exercising, particularly weight training and putting my body through strenuous work outs. I couldn't think of anything I'd rather be doing, and I loved the fact that I could help other people improve their lives by getting them into this wonderful activity. The added advantages were the health benefits it brought to them.
The positive effects that physical activity brings to people is absolutely fantastic, and is essential to a healthy lifestyle. As we get older our fears increase of the threat of many of the chronic diseases that are plaguing our society, such as cardiovascular disease, diabetes, cancer, hypertension, obesity, depression and osteoporosis. Engaging in regular physical activity is one sure way to give yourself the best chance of preventing these happening to you. It is a fact that prevention of diseases is a strong means to improve health. Not only do sports improve physical health, but they also give a boost to mental health. So all in all it is so beneficial to you to take up a sport.
Going back to how I started on my journey, one of the best ways to stay active and fit is to participate in some kind of sport, it doesn't mean you have to train in a gym. Playing most sports help you to burn calories, keep muscles fit, and look after your health. Another great thing about sports is that you have so many to pick from, so you are certain to find one that is suited to you. A few gentle laps in the pool, a brisk walk in the park, or a kick about with friends, gets you using your muscles and helps to improve your fitness.
Lack of activity destroys the good condition of every human being, while movement and methodical physical exercise save it and preserve it. Plato
I've always enjoyed sport – watching, playing and supporting, it's been a big part of my life. And getting bigger by the day something I'll be explaining more over time. But soon here at healthy lifestyles living you will find a sports and fitness ecommerce store offering all the top brands for sporting goods and equipment. It's so excitement, simply amazing, I think about it now all the time thinking how insane this all is, and how fortunate I am. More soon I promise.
Score Your Way To Good Health - With Our Healthy Lifestyle Plan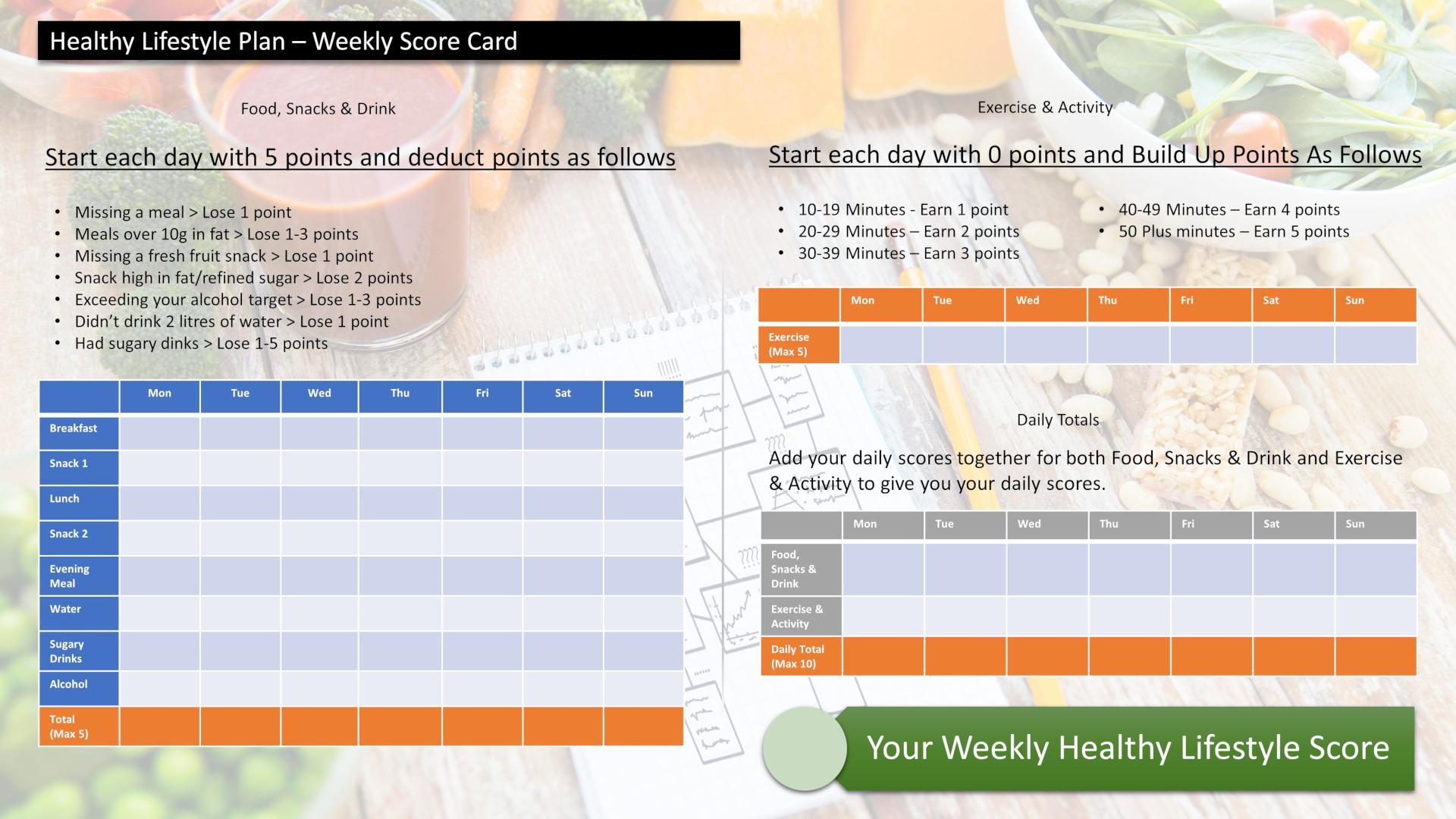 Score your way to good health with our healthy lifestyle plan and it's unique 70 point weekly scorecard!