I'm one HOT guy! What a statement to make. Have I finally lost it? No, not at all, I really am HOT. I believe that it is essential to be Honest, to be Open, and to be Transparent.
You can't really connect with someone if they aren't open, honest and transparent about who they are, how they feel and what they want in life. Yet it seems that over the past few years these words don't mean very much to people.
If you want to build trust, whether in personal relationships or in business, I believe these traits are absolutely essential. I also passionately believe that they provide the true path to human fulfilment. Aristotle defined happiness as "activity of soul in accordance with perfect virtue."
As a blogger I understand the importance of transparency, and you need to as well. Being transparent on the world wide web is essential for your blog to succeed. When you are open to your readers about yourself and what you think and want, you will gain more trust. It is equally important to be transparent with the people you connect with in real life, and that is what this article is about today.
Trust, honesty, humility, transparency and accountability are the building blocks of a positive reputation. Trust is the foundation of any relationship. ~ Mike Paul
To me these three core values of honesty, openness and transparency reflect what is truly important to me as a person. These are not values that change from time to time, situation to situation or person to person, but rather they are the underpinning of myself. By maintaining these core values throughout everything I do I preserve the identity I wish to demonstrate.
As a personal development blogger and coach, it is important for me to envision my future, passionately believe that I can make a difference, and inspire people to achieve more than they may ever have dreamed possible. To achieve success it is crucial for me to align my vision with a clear set of values and through living those values I will harvest the trust and motivate with energy those I effect, allowing them to see the exciting opportunities and possibilities for their future. Being 100% open, honest and transparent builds trust & protects and nurtures relationships.
The relationship which I have found helpful is characterized by a sort of transparency on my part, in which my real feelings are evident; by an acceptance of this other person as a separate person with value in his own right; and by a deep empathic understanding which enables me to see his private world through his eyes. ~ Carl Rogers
These three core principles are fundamental to the effective development of all relationships – no matter what type. Honesty, Openness and Transparency are pre-conditions of trust and believe me are really important ingredients of successful relationships.
In all relationships we work towards achieving specific benefits for each involved over and above the common benefits to both, and for the continuing commitment of each to the relationship and its sustainability transparency is essential. When we are seen as not being this, others feel unsafe and untrusting around us, we are perceived to be as lacking credibility, reliability, dependability and trustworthiness. On the other hand when you share your thoughts engage in lively, free expression, openly and honestly disclose how you feel it can create wonderful relationships.
I'm sure you have had at least one experience where you have had to deal with some betrayal or dishonesty in a relationship. It then takes a lot to forgive, to believe in the other again, and to trust their words and actions. To rebuild and preserve a relationship after this, you need honesty, truth and openness. Transparency is a must. All conscious, healthy relationships thrive on the basis of trust, integrity and transparency.
We can all change. We are all capable of creating fantastic, fulfilling relationships. Be committed to making all your relationship the best they can be, build them with trust and honesty. Even when you mess up, if you both want to really try and rebuild then it is even more important to be completely transparent. You may find that after rebuilding things, having given total openness, honesty and transparency things will be better than they ever were before. Your dreams don't have to die, just the walls you put up have to be taken down.
Never hide the truth, your thoughts, emotions or feelings. When you do it will always end up with you lying, deceiving, cheating, and then trying to blame others. How much more complicated does life get when you have to keep protecting a lie. You are always walking on egg shells, having to be careful as not to let the façade slip, so the truth seeps out. Never be afraid to be yourself, to be open, honest and transparent. Never be afraid to tell others how and what you really think and feel, and why. We all make mistakes. Mess up. It doesn't have to always be this way. Life can be wonderful when we learn to develop trust in our relationships. So my advice to you is be a Hot lad or lass.
By showing transparency through our voice, feelings, and emotions, allowing ourselves to be honest and open, we become genuinely alive and secure within ourselves, not afraid to nurture healthy and trusting relationships which result in real true connections. This is the way things should be, we would all be so much happier this way. Surely happiness is all that we all seek.
Life is so much better when your relationships are great, whether it be with your lover or spouse, children, friends, business colleagues, clients, and anyone you come into contact with. Being honest, open and transparent helps you make fantastic relationships of all kinds.
People are unreasonable, illogical, and self-centered. Love them anyway. If you do good, people may accuse you of selfish motives. Do good anyway. If you are successful, you may win false friends and true enemies. Succeed anyway. The good you do today may be forgotten tomorrow. Do good anyway. Honesty and transparency make you vulnerable. Be honest and transparent anyway. What you spend years building may be destroyed overnight. Build anyway. People who really want help may attack you if you help them. Help them anyway. Give the world the best you have and you may get hurt. Give the world your best anyway ~ Mother Teresa
The Merriam-Webster dictionary defines transparent as: free from pretence or deceit; easily seen through; readily understood; characterized by visibility or accessibility of information, especially concerning business practices.
By the Definition given of Transparency, do you feel like you are a pretty "Transparent" person?
Score Your Way To Good Health - With Our Healthy Lifestyle Plan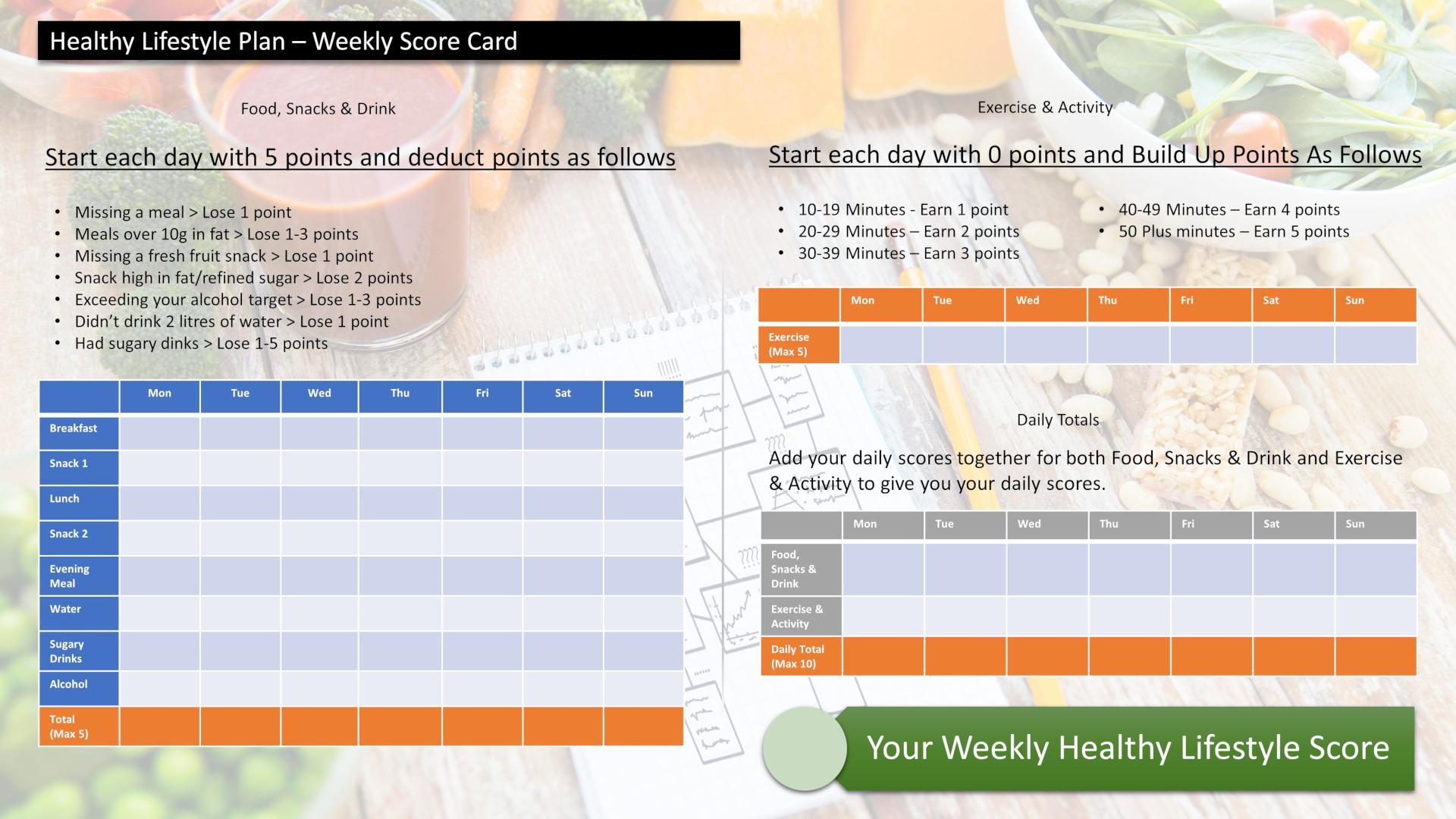 Score your way to good health with our healthy lifestyle plan and it's unique 70 point weekly scorecard!