Today's message is to never forget how fragile life is. We often take life for granted, but I want to give you a reminder that in fact life is precious and a gift to be cherished.
My up and down struggle with ill health has woken me up to the fact how fragile life really is. We let so much time pass us by without trying to make our life exceptional. Maybe it takes our health breaking down to remind us of the importance of the dawn of every day.
You get one chance of life and it is totally up to you whether you make the most of this. Even if to this point you haven't, it's not too late while you still breath to make the most of every moment.
I remember my life in my 20s and 30s. I felt invincible. Life was so happy-go-lucky. I lived for the future, and didn't worry too much about anything except work and the things money could buy.
How many days have you wasted because of things that really don't matter? Like many others, perhaps you let senseless, pointless things steal your focus, occupy your day and make you down and depressed. You let things that shouldn't have any effect make a big impact on you.
It is so easy to do. For the last 10 days or so recovering from my latest illness, I sat home alone, trapped between 4 walls just waiting for others to bring me joy. To text, call or visit. I left my happiness in their hands. How senseless is that? Now I have a life to live, and live it I will.
If you don't count your blessings every single day and aren't thankful for them before your day is done, what a waste it would be if tomorrow sees you reach the end. That's how I'm now starting to understand our need to make the most of every single day, to not let them pass without creating special memories.
We humans tend to get caught up in everyday worries, living life trying to please others, but what if this day was all you got left. How would you spend it? Who would you call? Where would you go?
We gain strength, and courage, and confidence by each experience in which we really stop to look fear in the face. We must do that which we think we cannot. Eleanor Roosevelt
Never again let fear stop you in your track, worse still let it influence what you do. Life is precious but so fragile you owe it to yourself to create incredible memories and enjoy many wonderful experiences. Be dependent on nobody, invite others to share your experiences, but you are your own person and owe it to yourself to live a life building new memories.
One of the most important things that I have learned in my 57 years is that life is all about choices. On every journey you take, you face choices. At every fork in the road, you make a choice. And it is those decisions that shape our lives. Mike DeWine
Focus on the present, let the hurts and disappointments go, and begin to live for you today and every day for the rest of your life. Let others be so busy living from day to day they forget how completely fragile and uncertain is this thing called life. Better still try and demonstrate to them the true value of living an exceptional life. Remind them that life is fleeting and uncertain. Tell them and demonstrate to them from your own actions that life is to be lived and loved.
Start living a meaningful life, pause and appreciate what's really important. Realise how fragile and beautiful life is and how important it is to appreciate every minute you have. Because tomorrow it may all come to an end.
Make sure each day, every day you do something significant, like:
• Offer support to someone poor, ill, lonely, struggling whose lives you have the power to better.
• Do something to make the world a more loving place.
• There is so much, I will
• Explore and enjoy the beauty in nature
• Engage in words and actions of love and friendship
• Seek adventure and excitement to fill you with joy
• Fill your day with happiness
• Create one magical memory
Never forget how fragile life is . Now live it fully and make sure you are appreciating the gift of life. Live each day as if it were to be your last. Because one day it will be.
Score Your Way To Good Health - With Our Healthy Lifestyle Plan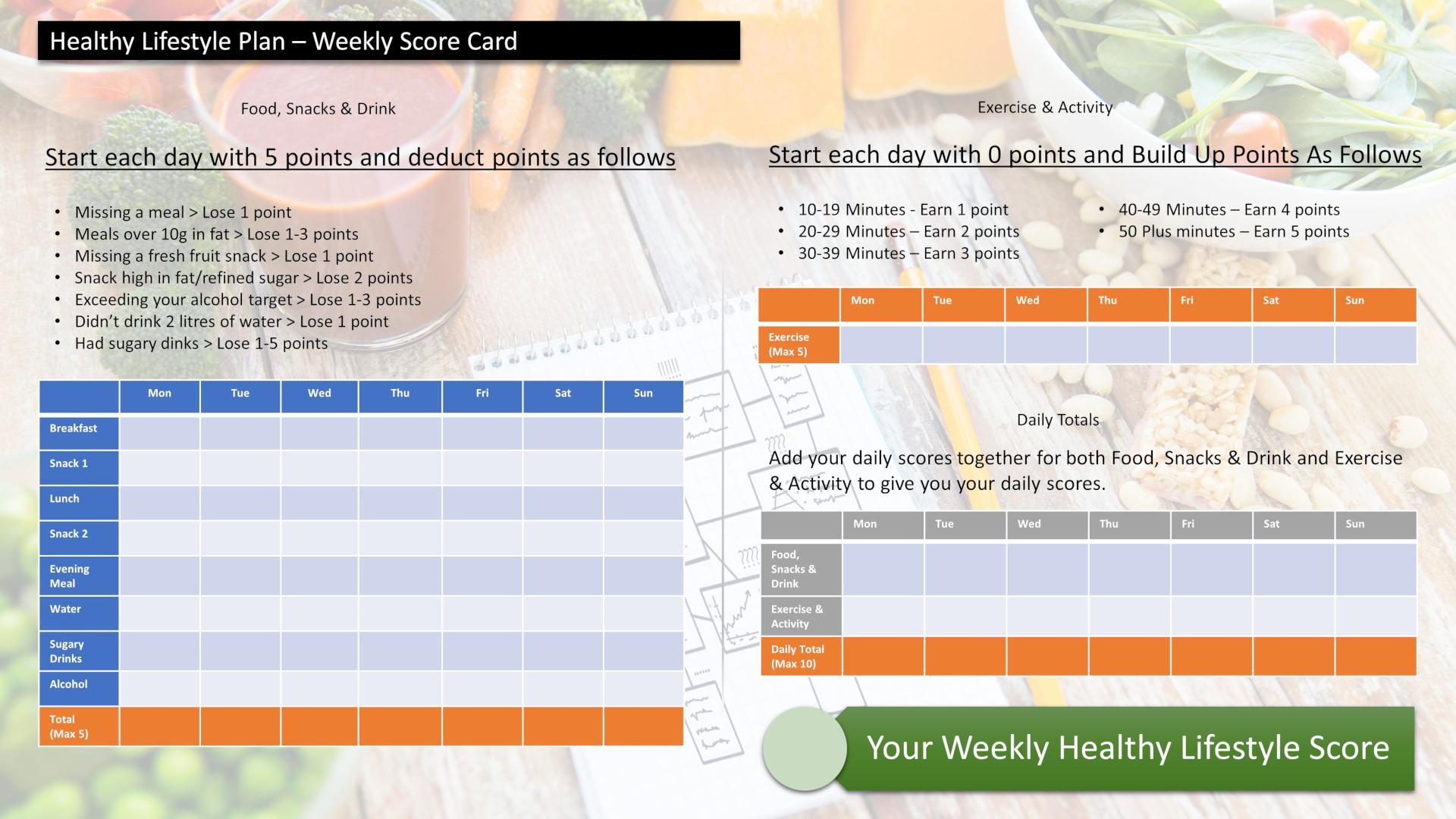 Score your way to good health with our healthy lifestyle plan and it's unique 70 point weekly scorecard!