One of the most important lessons I teach is to run your life as it is today under the microscope to determine whether things are exactly like you want them to be or whether you need to do a lot of work to get to the place you want it to be.
Most people doing such a review of their life, when asked to do an appraisal will mark themselves as a failure, completely discontented with life and their achievements.
In fact give them half a chance and they'll press the rewind button so as to start all over again, hopefully this time getting things right. Well of course the bad news is you don't get your time all over again, nor can you delete what you've done, or forget what you haven't done. But there is good news.
No matter who you are, what you've done, where you are, or how old you are we can all go on to make dramatic changes in our lives and make them so much better than we find them right now.
We simply can't have our time all over again, but wouldn't it be crazy to let time slip by without making the changes you want, putting right the things you feel you've failed to do. A famous saying is 'don't waste time crying over spilt milk.' What's done is done, and you can't have your time all over again. We don't have a Tardis that we can jump in and travel back to earlier in our life and then do the things you've realised you should have done.
I know that my life went badly wrong at 47. I lost everything. I was left with nothing more than the clothes I had in my suitcase. Well them and everything I carried within myself, including my talents and skills. Now I could have spent the rest of my life regretting the mistakes I made, regretting the 47 years that I had spent getting me nowhere. Yet if I went back to start over would I risk then not having my two beautiful girls who never fail to make me a very proud father. I wouldn't want to sacrifice that. They are the best thing I've done with my life and could never be improved upon.
Now you expect me to go down the line of being grateful for what we have. Well I could do that. I did spend time while contemplating my road of recovery to think of the things I could be grateful for. My daughters of course, my health, the skills I possess, my ability to believe in myself. But in truth I leave the feelings of gratitude to those who spend far too long feeling sorry for themselves, they try to find things to cling on to make them think that maybe, just maybe, things aren't as bad as they actually seem. And when they're not been grateful they're looking to blame everyone and anything for the way life's worked out for them.
So no showing gratitude, although a positive thing to do isn't what I would suggest as being a key step to stop living with regret. Instead I'd tell you to take life by the scruff of the neck and waste no more time, set your sights into the future, and determine how you want your life not just to change, but what you want it to become, and essentially what is the legacy you want to leave behind.
Right now you may feel that you've messed up during those years you've lived, maybe like me you found yourself after a series of disasters back at square one. You've decided this is no way to be living your life.
You can't have your time all over again, and there's certainly no restart button for you to press, but you can start anew today. Every day presents you with new choices — with new opportunities, and you just have to grasp them. You can't delete your history, but you can make your history not yet written far better than that gone before.
Take everything you have learned over the years and apply it. Fix the mistakes. Right the wrongs. And make better choices this time. You can create a wonderful life, so don't throw any more time away.
Score Your Way To Good Health - With Our Healthy Lifestyle Plan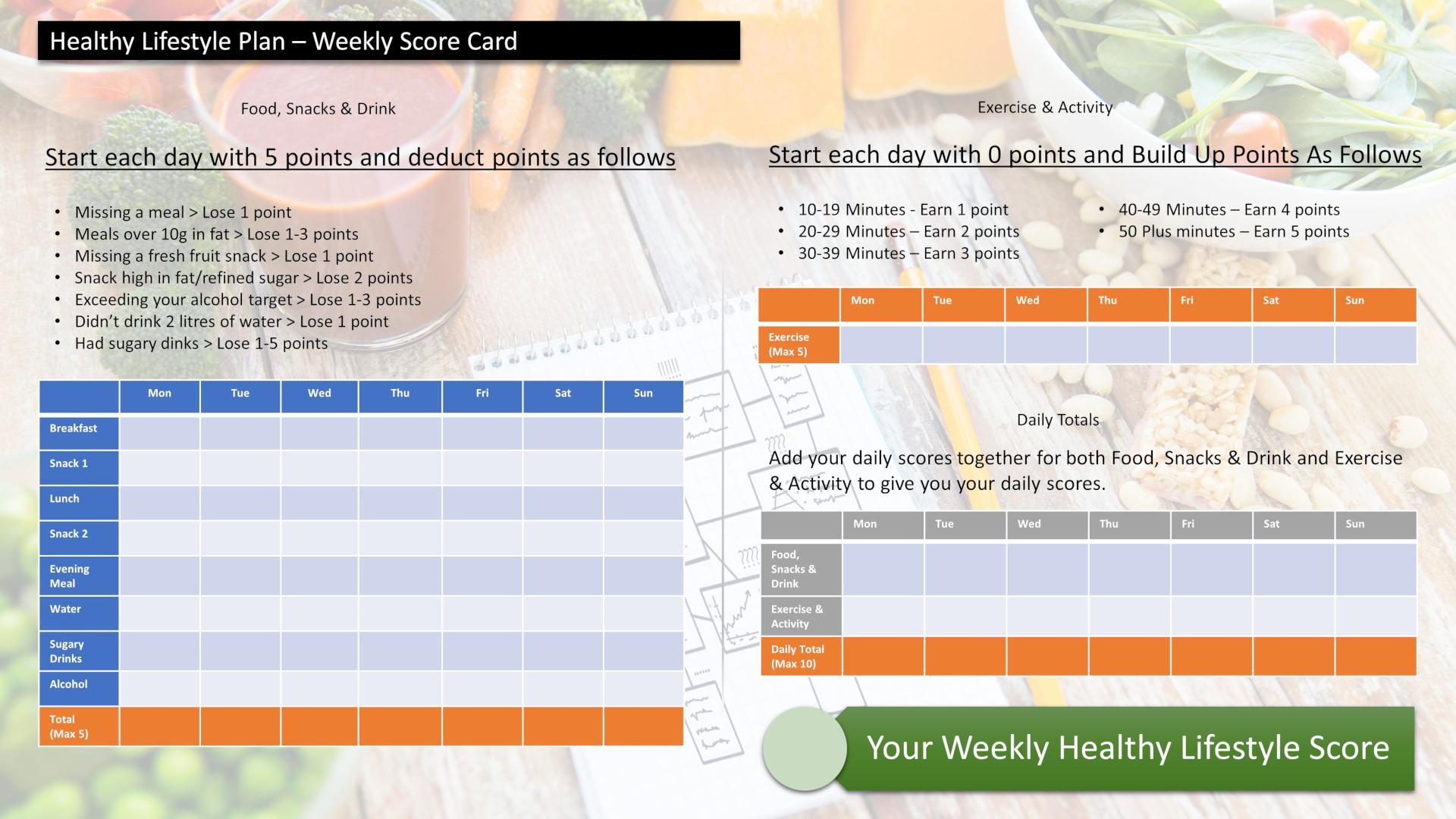 Score your way to good health with our healthy lifestyle plan and it's unique 70 point weekly scorecard!