As a blogger one of the things I enjoy doing is visiting other blogs and reading their latest articles. There are a few that I read regularly, written by wonderful, talented ladies. Their skills with using words put me to shame. They write the most intense, emotional poetry you can find. They are also very supportive in my social networking community, they are often chatting, helping others out, and in their terminology 'spreading the love' by commenting on many other blogs. Normally I would introduce them and their blogs by providing a link, but in this case I've decided it wouldn't be right.
Without going into detail, they both have been hurt by circumstances in their lives. Things have happened to derail them from their path. They find it very difficult to let go and move on.
Often it seems they tend to look on the dark side of events, and the dark side of themselves. At times it seems their heads are overwhelmed by negative thoughts. Our minds are very powerful things, and when we constantly put ourselves down, or let situations overwhelm us we programme our minds to accept them as true and embrace their essence.
Of course life has ups and downs and as humans we are fallible. When life throws a few curve balls our way we too often let the problems overwhelm us and continuously go over them in our minds. This repetitive cycle does not bring answers and simply increases our focus on the unhappy or unhealthy situation.
Time heals most wounds, if we let it. But until this happens we allow our hurt to ruin our lives. At best you're sad most of the time because you hold on to these thoughts and allow them to control you. At worst they send you into a spiral of depression.
I care about these particular ladies, as I care about all other human beings. They might be the catalyst for this article, but I know so many others of you live your life in a very similar way.
A good friend of mine, has split from his partner. He knows he has to move on. He has no choice. I know he tries, but way to frequently his thoughts go back to her, and he just crashes. I personally know how hard it is to recover from a break up of a long term relationship. His world for to long has seemed to him to be falling apart. His life, his emotions and everything seems to be caught in a storm, and it just feels like it will never come to an end.
I have read a wonderful quote that helped me and I would like to share it:
When people walk away from you, let them go. Your destiny is never tied to anyone who leaves you, and it doesn't mean they are bad people. It just means that their part in your story is over.
The Bible said that, they came out from us that it might be made manifest that they were not for us. For had they been of us, no doubt they would have continued with us. (1 John 2:19)
The end of a relationship is not the end of your life. There will be other chapters of your life with new people coming in and out of your life. One day the perfect partner will enter your world, you just have to believe it. You have to let that other person go so that you can get on with your life and live it the way it is meant to be lived.
The starting point is to pick yourself up and move on. You have to change your attitude and mindset from a non-productive one, into one that is positive and progressive. Positive thinking is the key to having a happy and optimistic outlook on life. Let your attention focus on more productive tasks. Get stuck in to trying to achieve one of those long term goals that you have let slip.
You have done your grieving, felt the pain of loss, so now you have to pull yourself out of this rut and get on with a new and better life. Life is an adventure, and without challenges, where's the fun? There are good times and there are bad times, but that is part of the reality we live in. It's a rollercoaster ride that's fascinating and scary, enjoyable and sad, exhilarating and frightening .
Life is not a piece of cake, as we all know. As there are happy moments, there are bad moments too. Everybody enjoys happy moments. The problem is when bad times reach us, expected or unexpectedly. It hurts, we feel like crying and we feel so sad and depressed and angry, we feel helpless & worthless.
Wouldn't it be wonderful if you could just get over your problems and move on? Just letting it go.
Look within yourself. What are some qualities you have that you like about yourself? Are you pretty ? Are you intelligent? Are you a good friend? Are you generous? Try focusing on the positive things in your life. If you feel good about yourself, first the rest will follow. What goals could excite you?
You must turn to positive thinking, imagine a happy future, a positive one! Our thoughts shape our moods, so positive thoughts can put us into an energetic, hopeful mood, while persistent negative thoughts make us fall into despair
"If you see a difference between where you are and where you want to be – consciously change your thoughts, words, and actions to match your grandest vision." Neal Donald Walsh
Believe it or not, it is within your power to create positive thoughts allowing you to accomplish anything you set out to do. Its time you get out of that depressed mood and start living again. Your reactions are due to how you interpret events – whether you view things from an optimistic or a pessimistic viewpoint.
"We can never turn back the pages of time, though we may wish to relive a happy moment, or say goodbye just one last time, we never can, because the sands of time continue to fall, and we can't turn the hourglass over." – Unknown
We tend to blame ourselves when things go wrong. We heap guilt on our shoulders. We don't weigh up situations or feelings rationally. We become so overwhelmingly negative that we don't allow for any possibility of positive.
You need to give constant, moment-to-moment monitoring of your every thought, word, and feeling. It will involve being conscious of everything you do, of what you are choosing in the way of thoughts, words, and feelings, and aware of every action you take.
When you tune into your self talk and hear you being hard on yourself, interrupt it. Challenge that thought! Is it really true? Or are you repeating something that you were told by someone else? What can you say to yourself that would be supportive, rational or calming? Our thoughts are the basis of what we think about ourselves, our self confidence and what we "think" will happen to us. These images have a strong influence on the quality of our life.
Choosing your thoughts and, more significantly, "choosing how to react to those thoughts" can make all the difference when it comes to everyday life experiences.
"A man is but the product of his thoughts. What he thinks, he becomes." Mahatma Gandhi
So do you have moments when you're really stressed out, feeling sorry for yourself, bewildered at the unfairness of it all?
If you enjoyed this post, please help promote it by leaving a comment or sharing it with your friends. Thanks!
Score Your Way To Good Health - With Our Healthy Lifestyle Plan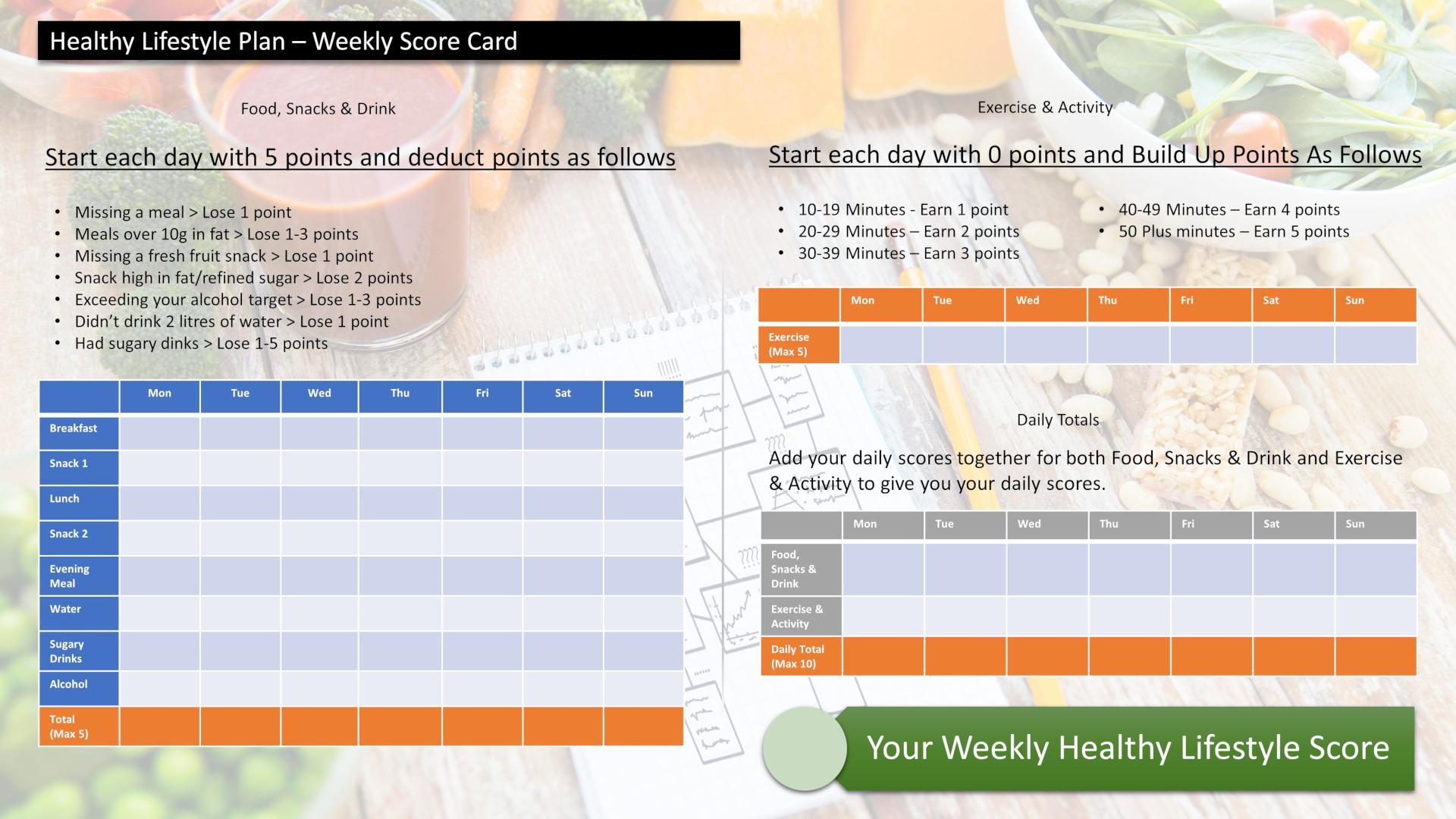 Score your way to good health with our healthy lifestyle plan and it's unique 70 point weekly scorecard!