Everyone has a story. Your story to this point is made up of various chapters that span the course of your lifetime. Those chapters will contain good and bad days, happy and sad memories, wins and losses.
The chapters are written, your story has been lived, yet there is more to come, new pages to be written.
As a life coach there is one thing I strongly believe in and that is that it is never too late to change your story.
We cannot change our past but we can design our future.
Your past may tell a story of struggle, it could be an intensely dramatic and compelling read. Yet to have lived it a living nightmare. So finish your book by living your dream.
We all have our stories, but that's all they've been stories. And those unwritten chapters are truly for you to determine. They can be brilliant or they can be disappointing. You get to choose.
Surely everyone wants to be the hero of their story. Just like Walt Disney, an inspiration in his own rights and through the wonderful creations coming from his organisation. Here is a man who went bankrupt several times, and was fired from his job at a newspaper for lacking imagination and creative ideas. Yet as we all know he went on to enjoy incredible success.
Then there are the characters from his movies. Always finding themselves facing hard times and struggles, battling through to finally achieving happiness and success.
The beautiful princess who pricked her finger on the spindle of a spinning wheel and became cursed. Of course we're talking about Sleeping Beauty.
The Little Mermaid is a fairy tale about a young mermaid willing to give up her life in the sea and her identity as a mermaid to gain a human soul.
Poor Cinderella lived with her wicked stepmother and two stepsisters. They treated Cinderella very badly.
Young Simba saw his father King Mufasa die and then ran away from the rest of his friends and familyin a Lion King.
A young lion prince is born in Africa, thus making his uncle Scar the second in line to the throne. Scar plots with the hyenas to kill and Prince Simba, thus making himself King.
No matter how difficult their life journey persistence ultimately pays off, but they had to show courage, as will you to rewrite the story off your life.
The good news is that you are the author of your story. You are the one taking this journey through life and navigating the course. You are the one who writes the story and you have the ability to change the direction at any time. But where do you begin
We all can find the motivation to make our life better.
Read back over your life story to discover the answers to these questions.
Where are you in relation to where you want to be in life?
What is the current reality in every area of your life, is it good or is it bad?
Where do I want my life to go?
What do I want to be, do and have?
What is my dream?
What legacy do I want to leave?
What do I want to change my story?
As I frequently write, I don't want you to have regrets. There is no bigger pain than reaching the end of your life wondering what could have been. Regretting the things you didn't do, rather than enjoying the memories of what you did do.
Now go on and be courageous and rewrite your story. Nobody can go back and start again, but your ending that's not yet written.
Score Your Way To Good Health - With Our Healthy Lifestyle Plan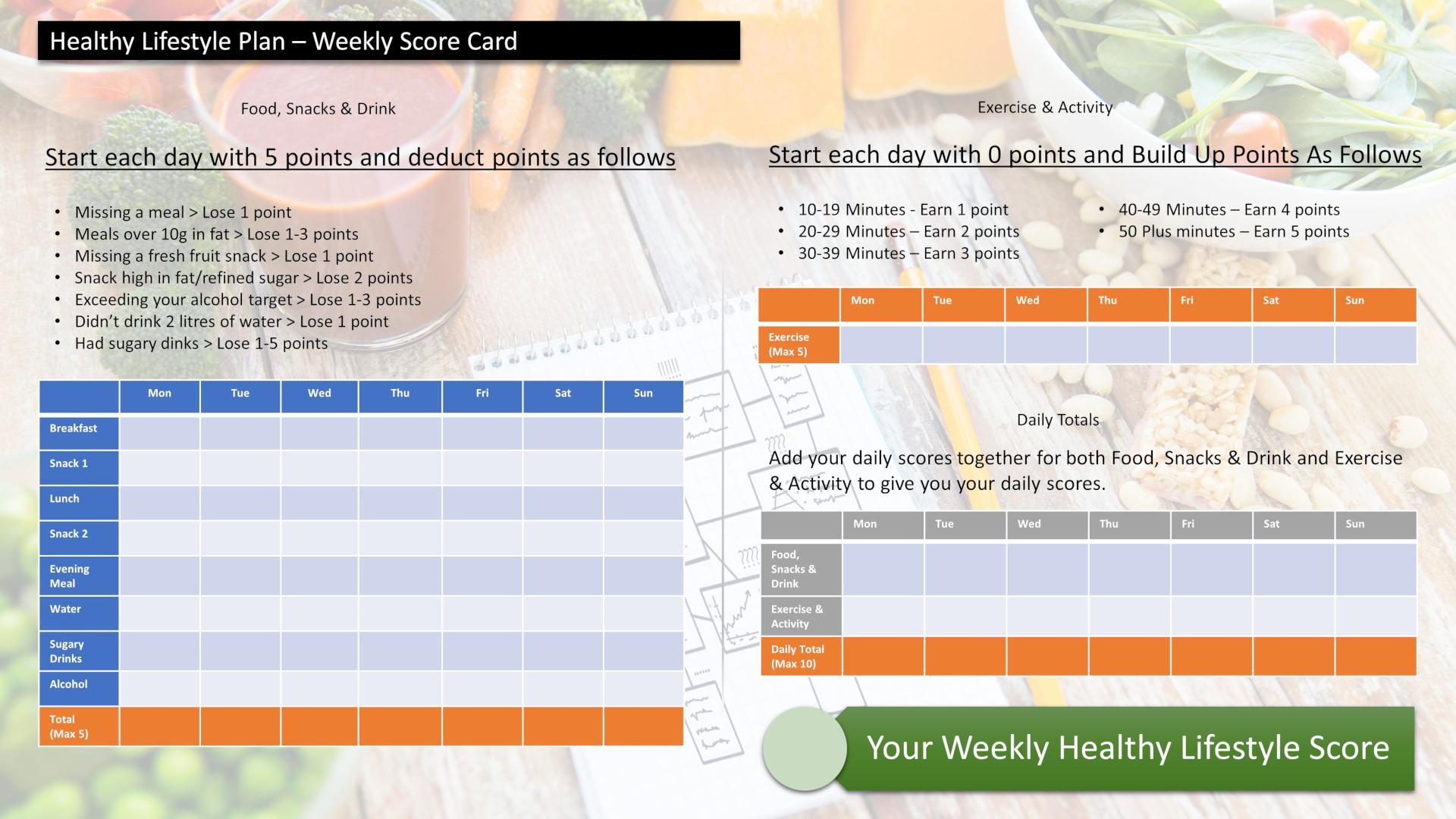 Score your way to good health with our healthy lifestyle plan and it's unique 70 point weekly scorecard!