How many of you are feeling increasingly unhappy about your job? Do you find yourself day dreaming about other things you could be doing with the time you spend at work? Do you dread the thought of Monday mornings?
You spend nearly half of your life at work. If you are unhappy, do you really want to surrender that much of your life to something that simply grinds you down? Think of the impact it has on your life, your happiness, for god's sake your health. Work related stress is a massive problem in this day and age.
Day by day, month after month, year through year you are just going through the motions. You wake up at the same time every work day, eating a quick breakfast, going on the same commute, doing the same boring unsatisfying job, coming home, eating dinner, watching TV, sleeping, and then repeat. Is this really the cycle you want to retain for ever more?
How much better would life be if you woke up in the morning excited by the day ahead thinking to yourself "I've got a great day ahead, I can't wait to get to work". You feel alive, inspired, doing something you love. You have connected your work with your passions. Take it from me there's nothing better.
Passion makes your days fly by. It helps you get more done in less time. It helps you make better decisions. And it attracts happy times to you. You are filled with purpose and totally committed to your mission, and boy do you feel rocket fuel energy coursing through you. This kind of passion comes from loving and enjoying your work. It comes from doing what you were born to do.
It's alright for me, you're thinking. His the lucky one. Yes you're right, I am, but so could you be. Anyone can find their passion and build their work around it. So how can you develop passion in your work life?
Ask yourself this question: If you had the choice to do anything you wanted to do, what would that be?
Steve Jobs of Apple puts it better than I can:
"You've got to find what you love. And that is as true for your work as it is for your lovers … If you haven't found it yet, keep looking. Don't settle. As with all matters of the heart, you'll know when you find it."
One of the keys to happiness — as well as productivity and effectiveness at work — is finding work you love, that you're passionate about. Work you want to do, instead of just have to do.
I finally found that calling when I began to blog. Everyday I'd sit at my laptop excited about writing and the challenges that running a blog gave to me. It was a steep learning curve, because I came to the blogosphere knowing virtually nothing about the internet, the way of blogging, and nothing about WordPress. With regards to the social networking side, all I knew was my daughters laughed at the very thought of me, their dad, going on to Facebook. Well I'm there, I use it, I even get it. Funnier still they both sneak on to read my blog, so hi Laura Jayne and Carly, love you.
Richard Branson the finest example in my mind of an entrepreneur, said:
"Look, if you can indulge in your passion, life will be far more interesting than if you're just working. You'll work harder at it, and you'll know more about it. But first you must go out and educate yourself on whatever it is that you've decided to do – know more about kite-surfing than anyone else. That's where the work comes in. But if you're doing things you're passionate about, that will come naturally".
I could sit at my computer for 15 hours a day, writing, working on my template, networking with others, responding to comments, reading other blogs and commenting on them, working elsewhere on traffic building, and reading tons of information, most of which was worthless, but I loved it. I was on a mission and doing something I truly enjoyed. Time just flew by.
At the same time it allowed me to fulfil another of my dreams. I'd always loved reading personal development books. I'd done many audio courses as well as attended various seminars. Twice I've sat watching Tony Robbins on a four day seminar wishing I could bring the power and inspiration to others like he did. Well blogging gave me a fantastic way to do this.
Without blogging, I doubt my coaching practice would have got out of 1st gear. All the qualifications I had achieved would mean nothing without this outlet of bringing it to the world. So as you can probably guess I can't wait to get up early and start working.
The difficult thing for many people is finding what that work is in the first place. They don't know where to start, and it seems a hopeless cause.
It's not. You can find the right business or career path for you, but it'll take some investigation work. Here's some questions to get you started.
1. Think about the things you already love. What about the hobbies you're passionate about? What do you like reading about? What do you enjoy talking about with others? Is there something you've always wanted to do but haven't had the chance, or were too afraid to get started?
2. What makes you feel alive? Get in touch with your feelings. When you are most excited, what are you doing? What activities empower you the most, think about how these could translate into your working area.
3. What are you good at? What do you excel at? What are your strengths? What would you say is your very best talent? Is there something you've always shined at?
4. What are your big dreams? Is there something you've always wanted to accomplish in life? What do you dream of? Are you thinking about those dreams, investing in their reality, planning for their fruition in your life? Are you willing to dream the big dream, and to take action to make it a reality?
5. What do you look forward to doing? Are there certain types of activities that you love doing? Activities that when you're doing them time just seems to disappear. You completely lose yourself in doing this one thing. What is it?
6. What do others say you do well? What do you do that other people always seem to complement you about? What is it they say you really know your stuff, or how you really helped them in that area?
You deserve a life where your work can be your passion, so start taking a few hours here and there to really think about these questions. It's worth the investment. Join my Power of Passion Community, its FREE after all, download the eBook, there are exercises which will truly help you to discover your passions.
Come on, really start to think about what you love, about your life, about what you want to be doing. Life can be so fantastic when you do.
No matter what your current work/life situation looks like, what are you doing this moment, I challenge you to infuse more of your day with passion.
I have released an article into our Power of Passion Members Only area today for prospective entrepreneurs giving them a way to determine the best option for their new passion driven business, with a worksheet to find the business that perfectly matches their passions. Alas so many potentially great successes are stopped before they're started, by people who have unbelievable passions yet can't see how to turn these passions into a business. Their biggest struggle is generating ideas for a new business that sparks excitement, holds promise, and drives action. This article will generate plenty of ideas for you. If you are not a member, it is a totally FREE community, so join here so you can read it.
Download How To Develop Passion In Your Work MP3
Score Your Way To Good Health - With Our Healthy Lifestyle Plan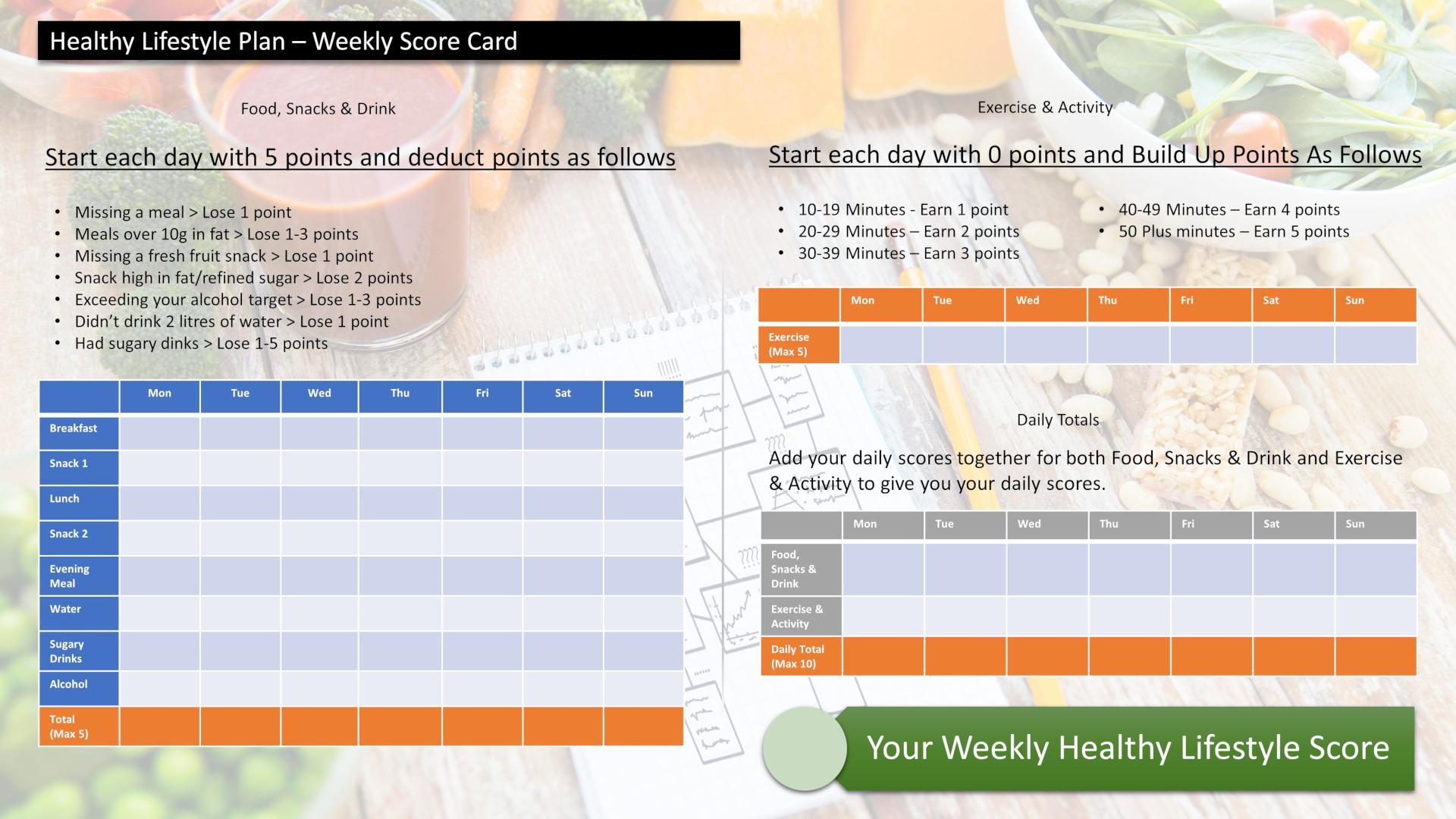 Score your way to good health with our healthy lifestyle plan and it's unique 70 point weekly scorecard!