Even I have been guilty of this one but its important to know how to stop getting off track!
"Life is a journey, not a destination" – Ralph Waldo Emerson
Wouldn't you agree that life can be difficult to direct at times? Sometimes we just don't know what to do or which way to turn. WE so easily can get off track, finding ourselves on the wrong path.
It's so easy to get lost and it's also so natural for you to be scared to take a wrong step. There are a multitude of factors that we face in life that make it so simple for you to get off track. Somebody I work with closely recently realised how past events in his life were being allowed the power over his mind to derail him from his path. If this had gone unchecked I believe that his dreams would never have been fulfilled.
He would have one day reached a point where he would say to himself "It didn't happen, so it wasn't meant to be." This would be the way potentially he actually saw it, but the truth would have been it didn't happen because he didn't do everything he could have done to bring it about.
In fact he was well on the way to finding that he'd taken a wrong turning and all of his dreams were now on a path which he wasn't following. He had reached the point where he was waking up every morning wondering "where is my life going?" He was experiencing major doubts about where he was heading and the direction in which he was going. He couldn't see which steps that he could take which would be the right ones.
The truth is this was actually good for him. These nagging feeling in his head were warning him that he had headed off-track and away from his dreams, visions, and goals. He was waking up to the fact that he was in fact spinning his wheels, wasting time on unimportant tasks, instead of doing the valuable and important things his journey required of him.
The fact is, life happens. And during times of challenge and difficult it's easy to lose a clear sense of direction. In fact, during challenging times, it's most important to take time to confirm the direction we are heading in, and whether or not our intended destination is really the one we want to reach, or if it's not is this why we're allowing ourselves to lose our way.
It is so easy to get off track given all the pressures, demands, and unforeseen circumstances of life today. Sometimes we don't know exactly why we're off track but we just know something feels wrong.
It is at this point that you need to find clarity for yourself. You need to see clearly what is behind your issues and then deal with them so you can get back on your right path. To me this is an essential lesson that everyone who is on a journey through life, trying to fulfil their dreams, achieve their goals needs to learn. You have to give yourself time on a constant basis to clarify everything. Determining what works and what doesn't, keeping an eye at all times to ensure you are on the right path and not getting off track. When you do this it allows you to make intentional decisions that help keep you on track.
By paying attention to the path that your journey is taking will lead to a major payoff. It will keep you on track and avoid any possible detours.
You can't control everything that happens in life, but you are in control of how you react to them. I assure you that it is you that gets to choose how you allow things to affect you. You either choose to allow things to derail you, or you choose to see things through to the end. You are totally in charge of your future and success is in your own hands! If you are on the wrong path…or allow yourself to be waylaid, deterred, or distracted from yourS goal…you will be responsible for where you end up!
My friend is back on track now and that is because he had the right things in place to ensure he didn't get lost on his journey.
He has the support of other people who will build him up and keep him motivated, and at times point out when he is off track.
He knows the importance of avoiding situations and people who have the potential to threaten his progress.
He takes time to just be aware of his situation and to observe his progress, noticing when things may not be working out just right.
He also understands the frailty we have as human beings. Each of us is capable of making mistakes and life will undoubtedly throw at us obstacles that will create setbacks, but we each also have the power and ability to constantly overcome adversity and failure.
What's important for us also to do is examine every aspect of our current life, and determine whether the things that are part of our day-to-day life are aiding us or deterring us from our journey. Too often we find things to do, which take up so much of our time, yet produce so little end reward. Examine all facets of your life (home, family, work, self) and see what your next actions should be to resume control. What steps can you take today, right now, to get you back on your right path? Why aren't you taking them?
A path lies between where you 'are' and where you are 'headed to.' It's a journey worth taking and persisting all the way ensuring that you never lose your way. As I've said many times before on this blog 'never give up.'
What keeps you on track? How do you get back on track when you have gotten off course? I'd love to hear what motivates you!
Score Your Way To Good Health - With Our Healthy Lifestyle Plan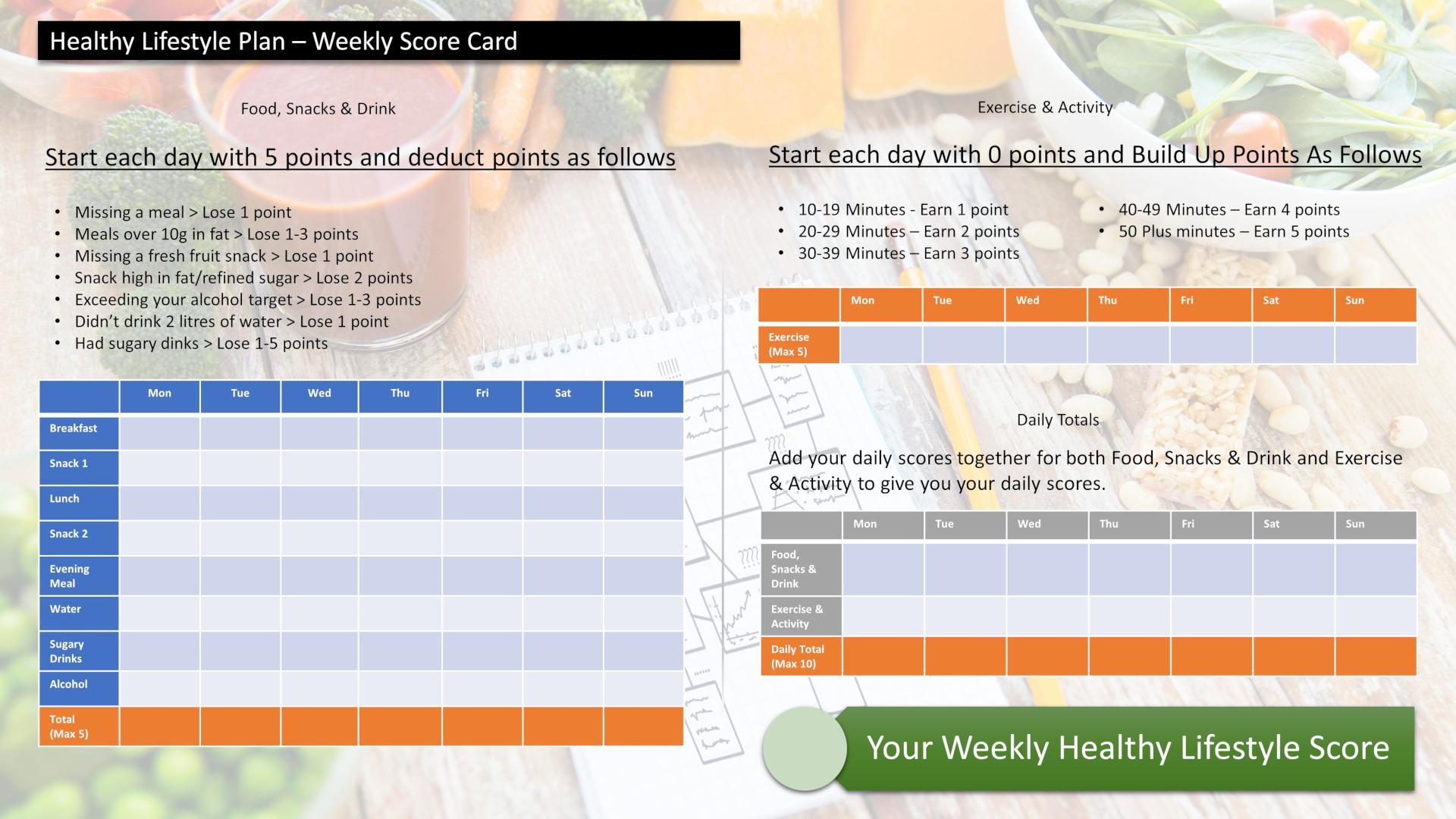 Score your way to good health with our healthy lifestyle plan and it's unique 70 point weekly scorecard!