One of my favourite books is written by Fiona Harold 'Be Your Own Life Coach.' I read this many years ago during my study's at Northumbria University as I was taking my qualifications to become a Life Coach.
One of the things we should be doing everyday is trying to make our life better. All of us have dreams about what we'd like to do, who we'd like to be and where we'd like to go in life. But most of us are never able to make these dreams a reality. Why? You need the answers to how to improve your life.
The reason is that so few of us actually take ownership of our lives.
We have to take ownership of our life and accept responsibility for every result that we create within it. When you choose to take control of your life only then can you create a fantastic, fulfilling and joyful life.
One of my favourite bloggers Michael Hyatt provides a brilliant process to enable anyone to take ownership of their life.
Start dreaming.
To determine your dreams you have to ask yourself:
"How do you want your life to look?"
"What have you always wanted to do?"
Determine what is holding you back.
Work out the reasons thus far you've not been able to live the life of your dreams. You have to ask yourself the 'why'questions:
"Why do you let other people rule over your life?"
"Why don't you go after that job you've always wanted?"
"Why do you keep finding excuses for traveling the world?"
"Why do you envy others for having the guts to constantly evolve in all aspects of life but you never step outside your comfort zone?"
Face your fears.
You now need to begin to understand what are your biggest fears.
"What creates my biggest fear of failure?"
"Do I fear failure greater than the fear of never trying?"
Make the changes.
Take action, and bring about the changes that will improve your life.
Source: http://michaelhyatt.com/take-ownership-of-your-life.html
Your life is a blank sheet of paper. You can choose whatever you want to do. Your ultimate destination in life is set by you, not somebody else. Where will you end up? The answer is wherever you choose to end up. The choices you make will determine the outcome of your life.
In our lives, I am sure many of us have been told "you can't do that", "get your head out of the clouds". We are moulded by these statements that we hear in our environment which later echo in our minds as our inner voice that chatters on and on about what we can and cannot do, what has happened in the past and so on.
Within each of us we have abilities we need to improve ourselves. The best version of you is yours to make. The choices we make, our decisions, and our actions these define where our life ends up.
No longer allow yourself to live life by focusing on what you have to do. Instead take ownership of your life and take it where you want it to go, improve your life from now on .
Score Your Way To Good Health - With Our Healthy Lifestyle Plan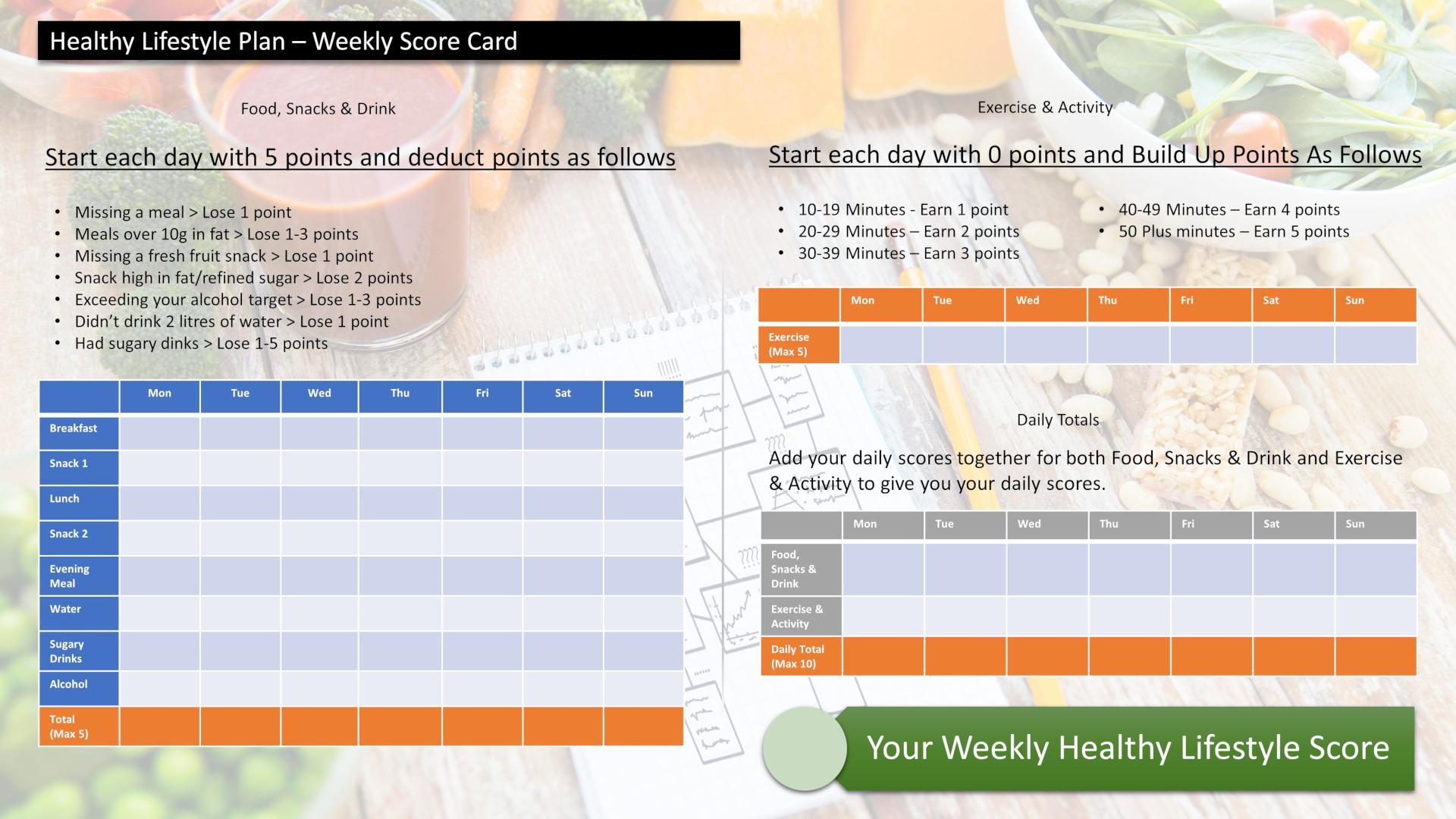 Score your way to good health with our healthy lifestyle plan and it's unique 70 point weekly scorecard!