"I've missed more than 9000 shots in my career. I've lost almost 300 games. 26 times, I've been trusted to take the game winning shot and missed. I've failed over and over and over again in my life. And that is why I succeed". Michael Jordan
Everyone fears failure. But breakthroughs depend on it. Successful people embrace their mistakes and learn from them.
Have you ever accomplished anything worthwhile that only required one attempt to get it right? I doubt it. My youngest daughter learnt about persistence when it came to riding a bicycle. She kept falling off. For a week it was a disaster. Despite all these failures, she kept climbing back on and trying again. Then suddenly off she went, into the distance, peddling her legs away. That was that, she could now ride a bicycle.
If you have had a baby you have seen that the process of going from crawling to walking involves lots of times of falling down. All of life is a learning curve, and you have to accept failures on the way. You just have to try again, till you succeed.
"There is no failure except in no longer trying. " ~ Elbert Hubbard
Success is only forthcoming after episodes of failure. You probably already know the story of Thomas Edison and his 700 attempts with the electric light bulb. When he was asked how it felt to have failed 700 times, his response was "I have not failed 700 times. I have not failed once. I have succeeded in proving that those 700 ways will not work. When I have eliminated all the ways that will not work, I will find the way that will work.
"I have not failed. I've just found 10,000 ways that don't work." -Thomas Edison
This means that most successes are preceded by a number of attempts that don't quite produce the results we were hoping for. Anytime we learn from our efforts we are in the process of succeeding. Each lesson brings us closer to our intended result.
If we allow ourselves to become discouraged during the process we may give up right before we reach our goal. How sad it would be to go through the learning curve and then never experience the benefits of our new knowledge.
"Failure is only the opportunity to begin again, only this time more wisely."~ Henry Ford
You can have success day in and out, but I've found that to sustain the energy and enthusiasm that's going to get you farther, you have to deal with more no's then yes's. Failure is a part of the process. You just have to keep yourself in the game. If you fail, you have to bounce back.
"All my successes have been built on my failures." ~ Benjamin Disraeli
Don't be discouraged by a failure in anything you do. It can be a positive experience. Failure is, in a sense, the road to success. It shows you the way not to do something , pointing out the error of your ways, which the next time of trying you will carefully avoid.
Here is my rule: There is a direct relationship between the number of different things you attempt and your likelihood of eventual success – so if you don't first succeed try try again. NEVER GIVE UP!
"Success is the ability to go from failure to failure without losing your enthusiasm." ~ Sir Winston Churchill
Every single one of us has experienced some kind of failure in our life and one thing that we can all be sure of is that we will do so again. Failures are part and parcel of life. The important thing is to know how to bounce back and recover when they occur. A lot of the problems which we encounter in our lives come about as a result of us not learning from the lessons which a certain setback or failure is trying to teach us.
Because we all want success so badly, we have a tendency to inflate the effects of failure. But failure isn't the end of the world. You won't die from it. With failure, you fail, you pick yourself up and you go on.
"Whenever you make a mistake or get knocked down by life, don't look back at it too long. Mistakes are life's way of teaching you. Your capacity for occasional blunders is inseparable from your capacity to reach your goals. No one wins them all, and your failures, when they happen, are just part of your growth. Shake off your blunders. How will you know your limits without an occasional failure? Never quit. Your turn will come". Og Mandino.
As an example of never giving up … that persistence pays off … here is a joke for you.
One night, as a couple lays down for bed, the husband starts rubbing his wife's arm. The wife turns over and says "I'm sorry honey, I've got a Gynaecologist appointment tomorrow and I want to stay fresh." The husband, rejected, turns over. A few minutes later, he rolls back over and taps his wife again. "Do you have a dentist appointment tomorrow too?"
So there you are, if you don't first succeed, try try again! You may get the result you are looking for.
Score Your Way To Good Health - With Our Healthy Lifestyle Plan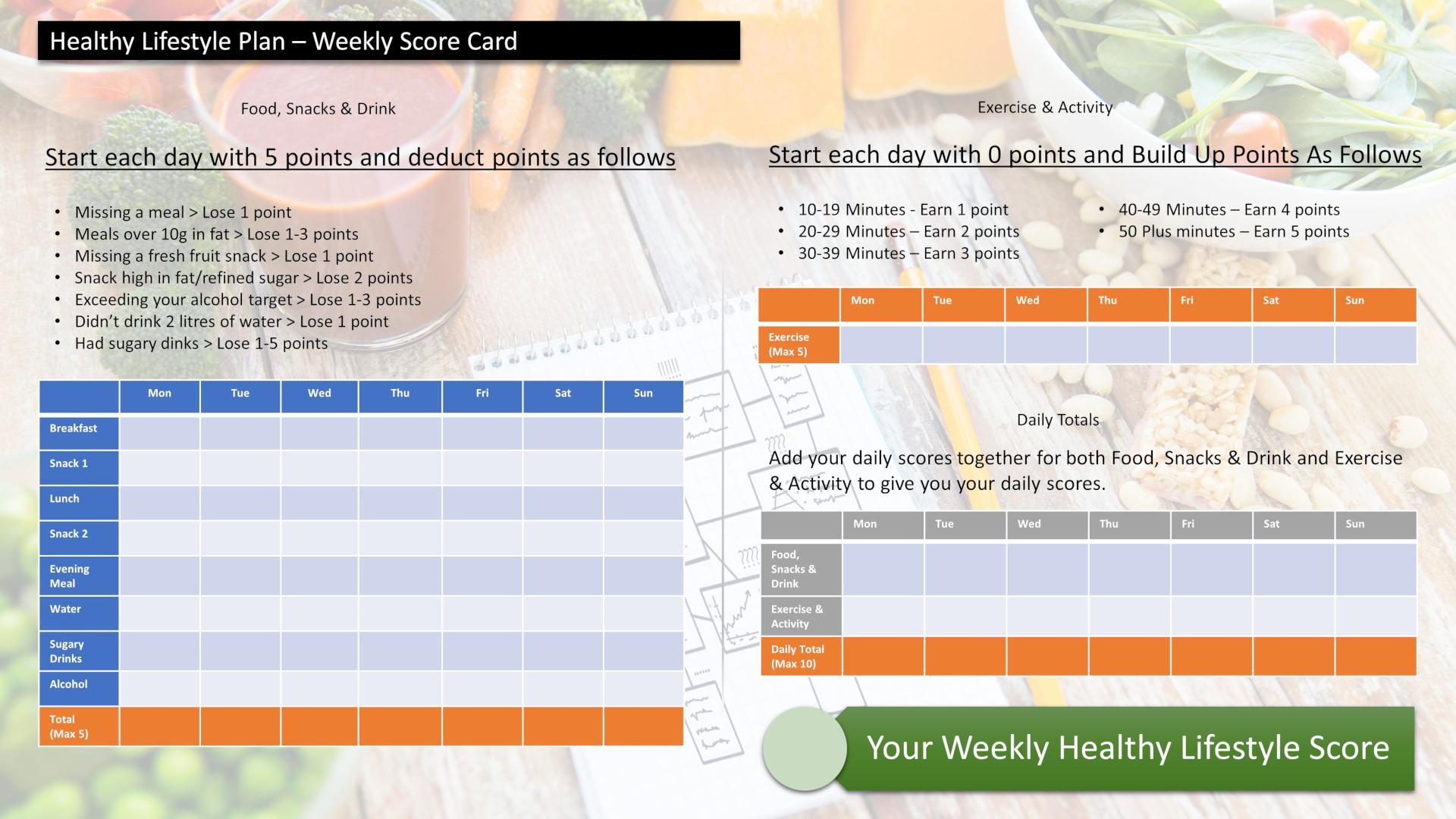 Score your way to good health with our healthy lifestyle plan and it's unique 70 point weekly scorecard!